INTERNET culture has always shone through the playful, cerebral, and innovative work of Savannah drag collective The House of Gunt.
Glitch-inspired graphics, created by local visual and motion graphics artists, flicker behind performers as they strut, gesticulate, and enrapture their audience. Tracks by C Powers often echo familiar YouTube clips or samples from advertisements that bombard everyday web users.
The name of their first church-themed show, "#BLESSED," simultaneously acknowledged the absurdity of curated online persona and celebrated the way a simple hashtag click democratically offers millions of perspectives and results.
Now, they're ready to take on the language of a generation, an art form born in the bowels of the Internet that spread like pixelated kudzu, helped define an election, and brings strangers together every day. Savannah, it's time to meet your Meme Girls.
Basing a show theme on viral Internet graphics has a brilliant specificity and broadness to it; as a form of communication, internet memes take on a life of their own, multiplying and evolving and spreading across the Internet as easily sharable and #relatable content. For renegades like House of Gunt, who blend performance art and improvisation into their captivating numbers, it's a goldmine.
"This is something we've been trying to do for a while," shares House of Gunt's Maxine Fishpaw. "Every show that happens we're asking, 'Is this going to be Meme Girls? Or this?' Finally, it's happening."
With their devoted student following, House of Gunt typically has a summer send-off bash in June, and 'Meme Girls' will make a fond farewell to graduating students.
"It just kind of fit with a mixture of enjoying the summer, working out some issues from the internet—that's a huge inspiration," Fishpaw says.
"I think everyone secretly has wanted to do meme-inspired numbers, anyway," says collective member Rainé Rainé, recalling Edna Allan Hoe's Pepe the Frog number at September's election-themed show, "Clock The Vote."
While House of Gunt is known to host a variety of events, including the recent and wildly successful '80s Prom at Totally Awesome Bar, Fishpaw is particularly proud of their recurring theme shows, like "Blessed," which riffs on religion, or House of Font, in which each queen brought a personality and message to their favorite typeface.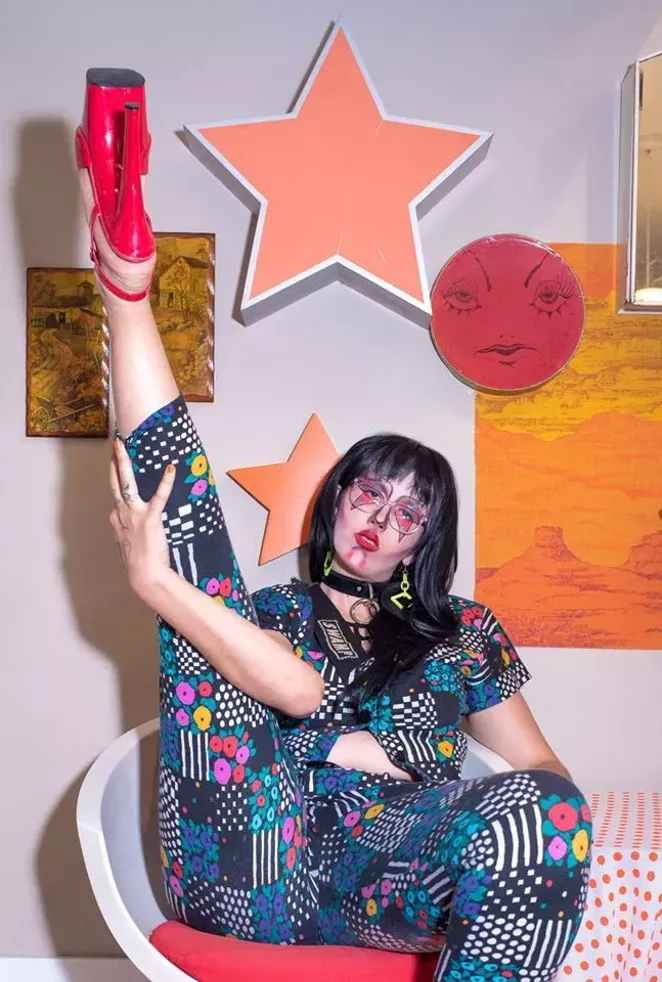 Given the fluidity and rapid-changing pace of meme culture, House of Gunt sees an opportunity to make the theme an annual event.
"It's all based around the infection of the Internet," Fishpaw says. "One person's version of a meme can be the same image, but their text applied is totally different. We could all choose the same meme, but add something different to it. That's why I like these shows—at the end of the day, these are all things that anyone has access to through having a phone or access to the Internet, which is becoming more common."
Of course, there are literally millions of memes out there, and even the dankest meme collector hasn't seen them all.
"It's about making the performance good outside of the meme," explains Rainé.
"You could watch the show and not have any idea what meme is being referenced, but the performance itself is still entertaining. It gives the performance more narrative to work with in telling the story outside of the meme. They're all going to be pretty hilarious without the direct context."
Local artist greg will create projections for each performance, which will provide visual framework for the audience.
"We'll see chopped and skewed versions of the memes, which will help people have more reference," Rainé adds.
Much like the creation and sharing of memes, House of Gunt uses performance as a way to externalize, connect, and process.
"It is about working things out," says Fishpaw. "We don't hold formal rehearsals, so within that, our numbers exist within a space of rehearsal and recital, in a sense. You never know what you're going to get, but there's always the battle between the personal and the social. You have to make things appealing to the general audience which sometimes can be like, 'Oh shit, I have to cater to these people.' But with drag, we use so much iconic imagery, especially audio and popular songs that people to latch onto and fuck with them. Which is kind of what memes are."
The show's also a hometown sendoff for Savannah garage duo The Lipschitz. Members Daniel Brady Lynch and Rachael Boswell move to Chicago this month, and this is their last local show.
"They're perfect for this," Fishpaw smiles. "'Meme Girls and The Lipschitz'—it just stuck out. It sounds like a little high school gang."
"I'd say, too, as far as the environment we're trying to curate...Rachael's been a musician in Savannah for a couple years and is one of the only female drummers," says Rainé. "She's a really talented drummer and I love watching her play, so it's awesome to have their last show together."
Fishpaw's Influenza Mueller, Toyota Mitsubishi, Lavender Mist, Rainé Rainé, Edna Allan Hoe, Aphrodykey Hoe, and Vegina George will perform at "Meme Girls," with a grand return from Burt Sienna and performances from relocated Gunts Biqtch Puddin' and Anita Shave.
After this show, the troupe plans to take a summer break to reconvene, make some merch, and make a plan for the next year.
"We'll be back in September," Fishpaw promises.
cs