We generally get a sweet spot of good weather a couple of times a year around here. March first-ish through Mother's Day—maybe a couple of weeks later, when it is not only beautiful out, but dining options practically demand that you consider sitting outside. The other is in the Fall, which for some reason feels like a shorter outdoor dining time of the year. I'm guessing because 1/2 way through it, nightfall starts arriving sooner and sooner. For the record, we will not speak of pollen today. Gross.
We have so many great options for outdoor dining in Savannah, it would take more time than we want to here to list a majority of them. We should note for the record that just because you have outdoor seats, doesn't necessarily mean it's a great outdoor experience. That's what we are looking for here. There's a spot I like to pop in on over in Hardeevile, South Carolina — Chicken Lick'n— that has some picnic tables overlooking the gas pumps at the BP. If that's your thing, rock on, but not what we had in mind putting together this list.
The Wyld Dock Bar - Most people who know the scene around here would agree that The Wyld has become synonymous with outdoor dining in Savannah. One of the few waterfront venues in the entire city. The Wyld sits on the marsh with beautiful vistas particularly as the sun begins to dip. In the summertime there are few things better. I had a boater from Hilton Head Island tell me last year that he rides up and down the coast most weekends of the year and The Wyld has the best food of any of the spots you can ride up and grab a bite. Hard to argue with that. The seafood is great, but don't overlook the burger.
Finches Sandwiches and Sundries - Finches is a little oasis in Savannah's Thunderbolt neighborhood 12-15 minutes from the heart of downtown. They are only open for lunch and/or weekend brunch but the scene is adorable. A majority of the seating is outdoors along the front of a storefront and old time converted gas station. The tucked neighborhood is quiet and the food is fantastic. The vibe more than inviting to enjoy a lazy weekend afternoon or stop in on your way to the beach in the Summer. Finches sits less than 30 seconds off of US Highway 80 on your way to Tybee Island. Their retail section offers beer and wine. The perfect grab and go if you don't want to hang around. Oh and by the way, they were winners of our Eat It and Like It Foodie Award for "Best place to bring your dog" they'll love it too.
Collins Quarter Forsyth Park - The reality is both locations of The Collins Quarter are great outdoor dining. They are, however, two very different scenes. The original location at Bull Street and Oglethorpe is as good as it gets downtown, but their spot in the middle of Forsyth Park is every bit a slice of Savannah. It sits about 50 feet from the two largest playgrounds in the city, so it is perfect to bring the kids along for a distraction if you have to wait for a table. On the weekends you may find some live music. There is indoor seating if the weather isn't cooperating, but when it does, this scene is hard to beat downtown. Their sister restaurant, The Deck on Tybee Island is Savannah's only beachfront restaurant.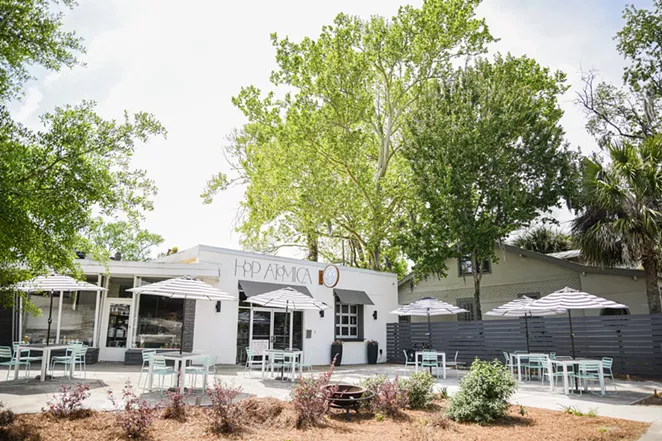 Hop Atomica - Another quiet neighborhood is home to this gastro pub and tap room just off of downtown Savannah near the Starland District. Several outdoor tables to go along with some indoor seating. The beers are creative and good, the food menu changes time and again, but the wood fire oven keeps the pizzas flowing regularly. If you are lucky, on the weekends you can catch their BBQ coming off of the smoker.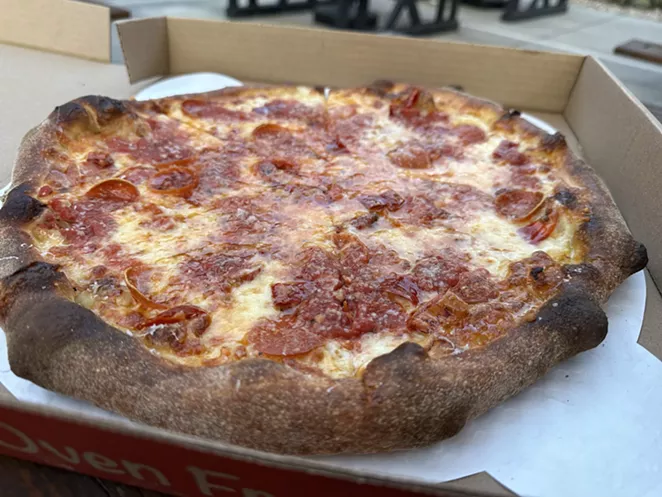 Pick a Pizza Spot - Vinnie Van Go Go's, Pizzeria Vittoria and Big Bon Pizza all have great outdoor scenes to enjoy. All three being a little different. Vinnie's at City Market, of course. Vittoria (Savannah's best pizza) inside of Starland Yard and then Big Bon Pizza, which is the most intriguing if you ask me. It's much quieter at Bull Street and 37th plus, during their night time pizza hours, it's BYOB. I've rolled up on them more than once with a bottle of my favorite Pinot Noir and multiple glasses to enjoy a quiet dinner on the street corner.
La Scala Ristorante Italiano - Spring and Fall just scream for you to enjoy the courtyard at La Scala. The decor at La Scala is beautiful, but that also includes the courtyard area, which is Savannah's prettiest dining courtyard, no question.
Erica Davis Lowcountry - From the 'local girl does good' department comes Erica Davis Lowcountry. Erica grew up watching her family's- seafood business thrive in Savannah for decades. I think it's fair to say she went on to become to become the best cook of the group. Erica and her husband Dwight offer some of the best lowcountry eats in town. Fried Shrimp, Lowcountry boils and more. The crab stew and brisket are outstanding. Really, it's all good and very popular. Lots of outdoor seating. During the best times of the year you'll even find live music. They sit right on US Highway 80 in Thunderbolt. A great place to stop headed to or from the beach.
Others to consider: Sea Wolf, Starland Yard, AJ's Dockside, Ards