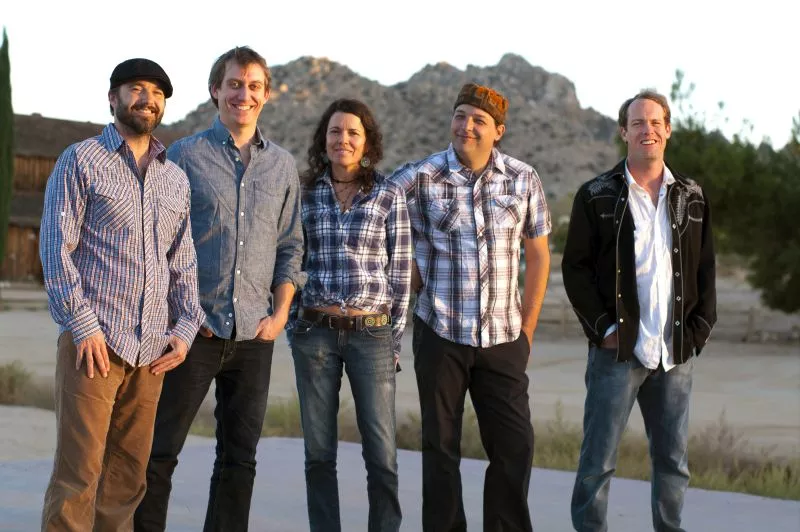 FOR 28 years, Donna the Buffalo has had music fans of all genres and generations kicking up their heels in the festival dirt, cavorting through the concert halls, and spinning the band's many releases on repeat.
Proudly touting themselves as "a band for the people," Donna the Buffalo formed while vocalist/acoustic guitarist/fiddle player/accordionist Tara Nevins was attending SUNY Potsdam. Having studied classical violin since she was just five years old, Nevins performed in her high school orchestra before pursuing a degree in classical violin at SUNY Potsdam's Crane School of Music. During that time, her love of old-time and traditional music led to a place in the old-time band St. Regis River Valley String Band.
Donna the Buffalo's formation comes down to a simple fated turn of the radio dial.
While in Ithaca, New York for a gig, Nevins and St. Regis River Valley String band performed live in Cornell University's WVBR studio.
At that very moment, Jeb Puryear, then of the Bubba George String Band, was cruising around and tuned into the radio broadcast. Puryear loved St. Regis's old-time sound, and he and some friends headed to the band's show that evening. There, he and Nevins met, played together, and a musical kinship was formed.
As Donna the Buffalo's songwriters, Nevins and Puryear began composing energetic tunes with vintage arrangements. A friend suggested the name "Dawn of the Buffalo" for the fresh project; when the band misheard it as "Donna the Buffalo," they knew it was the perfect blend of rustic and whimsy.
In 1989, the band self-record and self-released its debut cassette The White Tape. The Red Tape, produced by friend Mitch Easter of R.E.M.-producing fame, followed in 1991.
Donna The Buffalo's first official album, released on CD, arrived in 1993. On that album, Nevins' love of zydeco music, braided into folk, rock 'n' roll, and Cajun music, shone through.
The band has been touring since its inception, and trips down South provided great inspiration to Nevins.
"Traveling down Louisiana absolutely influenced us," Nevins says. "We all love it."
Throughout their ten album discography, Donna the Buffalo's sound carries a compassionate warmth paired with impish grooves. The delightfully eclectic blend of influences, seamless dynamics, and explorative flair can't keep an audience still: Jam band loyalists, hippies, mountain music aficionados, and folk music fans all swarm the stage when Donna the Buffalo comes to town.
Throughout the years, Nevins and Puryear have remained the band's only original members, bringing on players with a variety of musical backgrounds.
"Jeb and I have been at it for about 26 years, and the band we have now has been going for the better part of ten years," says Nevins. "It's definitely the best band we've ever had. The gelling, how we are as a band, how the songs have evolved, how tight we are...we've grown a lot over the years."
The founding members are constantly writing; despite a relentless touring schedule, most of their creative time happens while at home. They're currently in the process of making a followup record to 2013's Tonight, Tomorrow and Yesterday.
"We're always writing, and we've got a bunch of new songs, so we'll see what ends up on the record," Nevins says.
For Donna the Buffalo, songs come into full formation while playing in front of an audience.
"They evolve from the stage to the recordings," explains Nevins. "We rehearse them, play them live, and eventually go in the studio and record."
In addition to performing and recording, the band and its members have become synonymous with excellent festival booking. GrassRoots Festival of Music & Dance, established in 1991 in the band's hometown of Trumansburg, New York, was Donna the Buffalo's brainchild. These days, the festival is held in multiple locations, including North Carolina (Shakori Hills GrassRoots Festival) and Miami, Florida (The Virginia Key Grassroots Festival).
This year, Finger Lakes GrassRoots Festival in Trumansburg hosted Culture Camp, a pre-festival fest of instrument, dance, and movement workshops with themed nightly dinners and dances.
Nevins is proud of the new endeavor and the inspiring community that it's built.
"People learned how to play fiddle, banjo, guitar, mandolin," she explains. "We had a singing workshop...we have youth workshops, adult workshops, and everyone learns together, all-ages."
In booking GrassRoots Festival, Nevins seeks to showcase folk and roots music from all around the world. This year, she was particularly struck by DakhaBrakha, the Ukrainian world music quartet that's become a Savannah Music Festival favorite.
"We had everything from Drive-By Truckers to DakhaBrakha and back!" she says. "We have Cajun music, old-time, Del McCoury."
Throughout their time as a band, Donna the Buffalo has also become known for their activism. Recent efforts include "The Stampede," a tour to raise awareness to the inappropriate use of corporate money in politics. Teaming up with Ben & Jerry's Co-Founder Ben Cohen, the band used its platform to speak out against legalized corporate bribery.
Their work and sound will pave Donna the Buffalo's legacy, but their fandom is crucial to the band's existence, too. Affectionately called The Herd, DtB fans are an engaged and supportive bunch from all walks of life. The band honored their dedicated Herd with the song "I Love My Tribe" on Tonight, Tomorrow And Yesterday. Nevins looks forward to meeting more Herd members in Savannah.
"We're very fortunate to have the kind of following we have," she says. "It's definitely very much a community feel. We know so many familiar faces, it feels like a migration—no pun intended! I don't know where we'd be without The Herd. They keep us going, give us purpose. They make us happy. It's a beautiful give-and-take."
CS