Some artists might pack it in after losing a lucrative major label deal that followed years of hard work perfecting their craft. That wasn't the case for Donna Ulisse. Ulisse, who had a short-lived stint with Atlantic Records as a country singer in the early 90s, took some time to process the shock of her deal being ripped from under her, and then immediately kickstarted a career that was more firmly rooted in bluegrass.
These days, she's a successful songwriter and singer who most recently worked with bluegrass icon Doyle Lawson. She'll be bringing her incredible talents and catalog to Randy Wood's Pickin' Parlor on Sat., March 23, and we spoke to her about her storied career.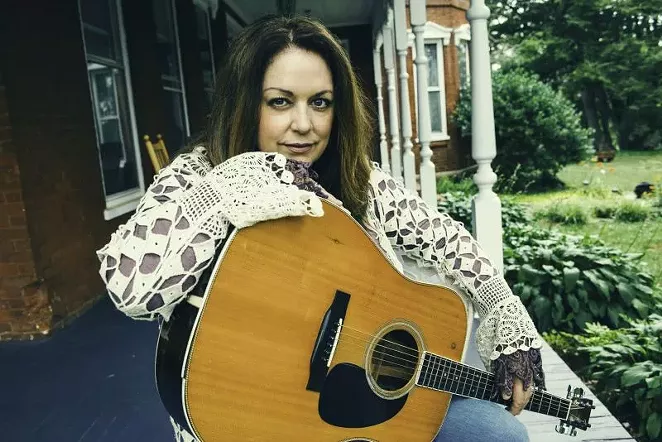 Tell me about your early life in music. How did you start playing and what led you to a career in bluegrass?
I think the first time I remember being on stage, I was probably around 3 years old. I don't really have another dream that I had other than being a teacher. These days I'm doing both - I'm teaching songwriting and singing. So both dreams came true. But I remember launching into the writing thing when I was about 10. I wrote a song on an old upright piano that my dad got me, for my cousin's wedding. A few years later, it ended up being the very first thing I cut when I came to Nashville.
One thing led to another - I came down here one time to do a little recording with Ray Edenton, who was part of the A-Team players. He and his wife said, "If you're going to do this thing, you're probably going to need to move to Nashville." So I just moved here from Hampton, Virginia, and never looked back.
I started out as a demo singer in Nashville, and then I got a major deal on Atlantic as a country artist in the early 90s. When that fell through after my first album, it really broke my heart. So I just kind of took a step back and really dedicated myself to songwriting. It was through that journey and through marrying my husband Rick Stanley, who's part of the Stanley family, that I started writing really mountain-themed songs. And that's what launched my bluegrass career.
I was going to ask about your experience with Atlantic. A lot of people don't realize how shocking it can be to have something like that ripped from under you.
Oh yeah, it was devastating.
Did you immediately think, "I've got to move on to the next thing"? Or did you take some time away?
I dealt with severe depression at that point. You groom yourself for your whole life to be this thing, and you finally reach this goal. And then they jerk the rug out from under your feet and you're not that thing anymore. It's too bad today that I didn't have a "me" advising me to say, "This doesn't define what you are. This was an opportunity and you'll have more." I didn't have that, so I grieved that artist thing like a death. It took me about a year after that to regain my footing. For six weeks I walked away from music totally and said, "I'm gonna go get a real job."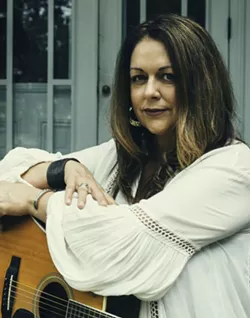 I went to a blue jean factory here in town, and they saw something in me for design so I did their displays for about two weeks. I'll never forget, Ray Pennington from Step One Records called and said, "Hey, I've got one of those karaoke accounts. It's like 100-and-some songs. Are you interested in doing the female songs. Are you interested in doing the female songs for this?" He told me what it paid, I turned around and gave my boss a two-hour notice [laughs].
It must've been kind of a blessing in disguise because it really gave you the opportunity to recharge and restart and then find your way again.
I do look back on it now as a true blessing. I promise you, I probably wouldn't have this wonderful man that I've had in my life for 35 years now. I think the whole pressure of being a country recording artist is so great - they did not want me to look married and made me remove my wedding ring because they didn't want that image out there. If it hadn't ended out marriage, it probably would've severely damaged it. And instead, we're doing this music that we both love so much. We're growing older and getting to ride down the road together, and it's really sweet.
So now you've got this great career, and I wanted to ask about your last record in particular. What was it like working with Doyle Lawson as a producer?
I just heard from him today [laughs]. I know he thinks I'm a crazy woman, but I scream every time his name comes up on my phone!
He gets me. We're getting ready to do another record together, actually. The last one was the first opportunity I had to work with him, but I knew him prior because he cut a song that Rick and I wrote. I've been doing this a long time and have worked with a lot of great, brilliant producers in the country world - I'm here to tell you that Doyle Lawson blew them all away. He's just that great at song selection and at guiding my vocal. His hand is on the whole process, right down to mastering.
If you had to choose one song that you've written that holds a special place in your heart, what would it be?
It's a song called, "Come To Jesus Moment." I wrote it about a friend of ours that Rick and I have had for years. He was a studio engineer, and he did a lot of my country stuff. I watched him get sicker and sicker - he had an addiction that he just couldn't lay down. I knew his sister really well, and she fought all of his battles with him. She tried so hard to save him, but he just couldn't be saved. So when she called to say that it didn't look good and he was in the ICU, I remember thinking that the only thing I could do for him was to pray for him.
I remember thinking that if it were me laying there getting ready to cross the big bridge, I hope I'd have gotten it settled in my heart and mind. And that's where the story came from. To me it's a powerful song.
cs