In March 2016, Dope KNife (Kedrick Mack) found himself onstage in Atlanta opening up for one of his heroes: rapper Sage Francis.
A few months later, he got an email that launched a new beginning.
Mack, a rapper, producer, director, and original Dope Sandwich member, has released several full-length LPs, EPs, and singles of his own, recorded up-and-comers, crafted beats, and shot videos, honing his own recognizable flow and shadowy boom-bap style over the years. When Francis asked Mack to release an album on Strange Famous Records, 33-year-old Mack had an opportunity to present Dope KNife to a whole new audience.
The album is called NineteenEightyFour, a title perfectly fit for the union of personal storytelling, literary digs, and searing sociopolitical commentary. Instead of using samples as a base, Mack called on a stellar crew of musicians, including Matt Duplessie a.k.a. Clandestiny, Broken Glow's Garrett Deming, Omingnome's Tony Bavaro, Aaron Fisher, Ceschi Ramos, Jeff DeRosa, Bradley Wilkerson, Tristan Brennis, and Hotplate's Patrick Hussey to create entirely original compositions.
Longtime Dope KNife followers will find a fresh, raw spirit and unapologetic consistency in NineteenEightyFour; newcomers will see the portrait of an artist who honed his craft in Savannah and is ready to take it all to the next level.
Mack talked to Connect about his production techniques, bringing back classic hip-hop, and how Dope KNife will greet the world on Strange Famous Records.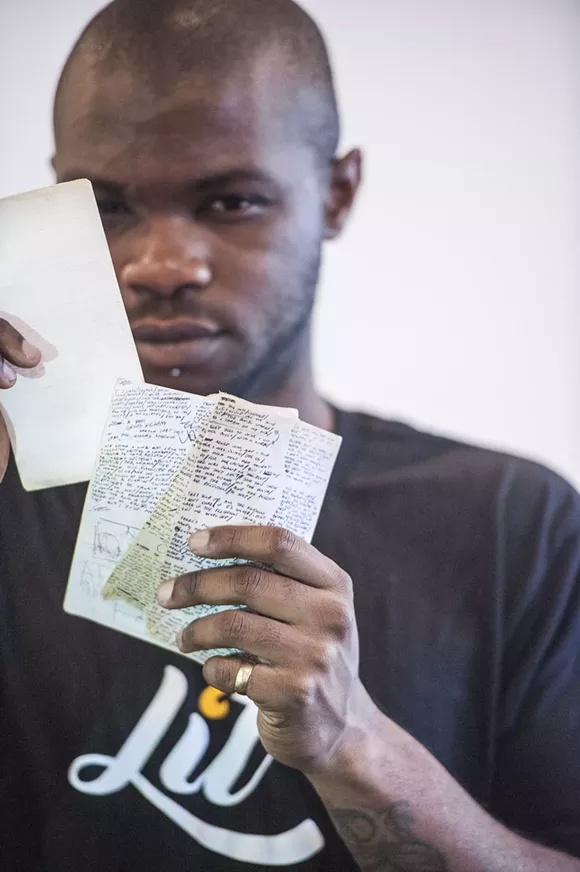 You've been working on this album for a while.
Yeah, May 2015 is when I started doing the beats and stuff. In January, all the beats were made and it was time to start writing. And around that time we were still putting out the [collaborative project with Miggs Son Daddy] Happy Thoughts album. When I started making it, there was a bunch of stuff that came out in between. I did the Cult Cyph project, I was working on that KNife "Smash" EP...
How did you balance and prioritize all that?
I just put it off because everything else that came out before it was when it was supposed to come out. It was like "I'll get to it when I can." By the time I started working on it, I didn't have anything but that to focus on.
How did you want to distinguish this release from your other work?
Well, I've never produced all the stuff. The average album that I've done, there are usually about 12-13 tracks...this started out with 18 tracks—it was going to be massive—then it got cut to 15, then cut to 12.
Lyrically, how did you approach this one?
I started really, really writing it around February 2016 and wrote all of it together in a one-month span. I knew it was going to be somewhat of an introduction. Normally, when I'm writing music, I'm writing it literally with y'all in mind: 'Okay, I know who follows my Facebook page, I'm going to put it on Soundcloud, I know who follows me.' This one, I was writing and approaching with a nameless, faceless audience. I wanted to make it feel introductory, but at the same time, I'm 33, I'm not a new artist. It can come out sounding kind of corny if you're not a new artist but are trying to pretend you are. So I was trying to find the balance: the majority of people who hear this one out of everything I've done don't know who the hell I am, and it's going to be their first time hearing what Dope KNife is.
Deciding on NineteenEightyFour being the title, I was born in 1984 and obviously there's the book. Everybody knows I'm on some, I guess, far leftist political views. I assumed everyone thought if was going to think if I put out an album called NineteenEightyFour, that's what it's going to be about. But it's about making aspects of Orwell more metaphorical. NineteenEightyFour is much more a reference of my age. The subject matter is stuff I felt would represent that.
My approach is, I have a bunch of terms and phrases from the book that I like. "Memory hole" means one thing in the context of the book—what does it mean to me? It means a literal definition of the two words. Let me make a song taking those memories and putting them in a hole so they don't stop you from moving forward.
It's much more metaphorical than it is conceptual. I've done concepts before...this is more a character portrait. I like to take that movie director approach...this is definitely my Taxi Driver. There's a plot to Taxi Driver...but it's a character portrait, and that's what is what NineteenEightyFour is about.
Well, that makes a good introduction. Were you consciously playing up certain elements of your style and character for a new audience?
One of the things Sage Francis told me when he wanted me to get down with the label was that I have a...not necessarily traditional hip-hop style, but there's a classic emcee element to it. The flow and the rhymes are very much the forefront of what I'm doing.
I have a song on there with Ceschi Ramos, the head of Fake Four, Inc....I remember having a conversation with him almost seven or eight months after I started NineteenEightyFour.
I was like, "What do you think I should do next?" He's like, "I think the next thing you make, do it less boom-bap and more experimental."
I thought Iconoclast was super-experimental and drastically different from what I do! As he said that, I was having conversations with Steve [Baumgardner] and Miggs: "I think the next thing I do is going to be some unapologetically boom-bap hip-hop shit."
When I was younger, I used to be a lot more eclectic, or pretended to be. If you asked me what I listened to, it'd be like "I don't even listen to rap, I listen to everything." That was cool back then, but hip-hop is as legit a form of music as anything else. It can be just as experimental or just as edge-bending as anything else and it can be primarily based in rap...that's why I'm really into Run The Jewels.
I wanted to make something reminiscent of the sort of stuff I grew up listening to in the sense that it was all rap music. Biggie Smalls wasn't like, "I'm going to make a Parliament Funkadelic song." It was like, "My mom listened to that, and I'm going to use those influences to make a really slammin' rap song."
After first 10 songs, were recorded, I thought this could be one of the illest throwbacks. Every song is based in the principles of break beats samples, basslines, and rap.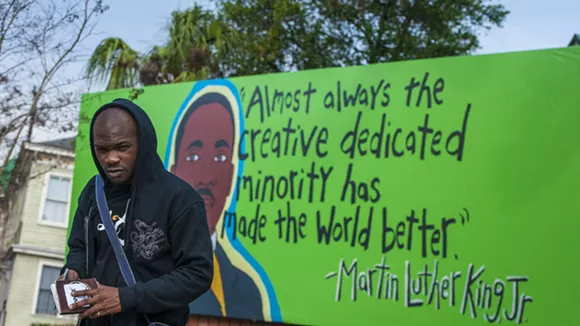 Do you like it being called "throwback?"
Not really, to be honest. The sentiment has been cheapened. I don't want anyone to think I'm trying to imitate a sound that long since has had its time. It's just drawing inspiration from what you grew up listening to as opposed to what's contemporary.
At the end of the day, everything's been done... it's just a matter of putting your own twist on stuff, that's how you end up creating something that is new or sounds new. If you go into it like, 'I'm about to revolutionize the game with my greatness,' that's how you spend a lot of time staring at a blank piece of paper. At the end of the day, I just try to make something fun to listen to.
You brought in local musicians to build your samples.
I had never done anything on a label, so one thing I was worried about is that I'm a sample-based producer. When you're putting out a mixtape on Bandcamp for people that come see you at the bars, it's different. I just didn't want any problems down the line, so since I'm pretty formidable with sampling, instead of sampling from old records, I know all these musicians, I'll sample from them.
What was it like building those tracks?
It's a lot easier for me...I was building up songs by the instruments individually. If I want to sample bass lines, I'm only listening to bass. You're layering it up to where I'm very confident I could get a guitar player, bassist, drummer and could play the whole album out. I wanted it to sound like it was organic and it didn't sound like it was just a drum machine making all that stuff, but at the same time make you wonder. That's why I really like The Roots...you listen, it sounds like someone's there with an MPC. It doesn't have that band quality to it, but live people are playing. I wanted to have that sort of sound without having a band so it could be reverse engineered, in a way.
CS