Whether you're a Savannah resident or a guest of the Hostess City, let's all drink local this St. Patrick's Day. We've made a guide to drinking the best beers Savannah breweries have to offer. Cheers.
Hop Atomica
Savannah's newest microbrewery and gastropub is debuting Paddy Wagon, a nitro dry Irish stout this St. Patrick's Day. It's malty, dark in color and has a bit of a chocolate flavor to it. The Paddy Wagon has a creamy taste without being heavy at all. It's bitter, but doesn't overwhelm you. With an ABV of just 3.5%, Hop Atomica brewer Chance Farago, aka "Chance The Pickler," describes the Paddy Wagon as "crushable." "This is the kind of beer that I like for breakfast," Farago said. "If you're doing St. Patrick's Day right, there's going to be a beer with breakfast."
Hop Atomica will be serving up black and tans all week, paired with a specialty St. Patrick's Day pizza. Visit them at 535 E. 39th St.
Moon River Brewing Company
Moon River is bringing back its award-winning dry Irish stout, The Bomb. The beer is as black as night, but light in body and extremely drinkable. It has a coffee-like richness with a tangy finish. The Bomb has one of the lowest calorie counts of all the beers on tap at Moon River and has an ABV of 4%. "You get the impression that it's thick and creamy, but it's actually super light," Moon River owner John Pinkerton said. "It's an oxymoron of a beer." The Bomb has proven to be a "must try" on the international level, taking the gold in the World Beer Cup in 2014.
Visit Moon River's outdoor beer garden this St. Patrick's Day at 21 W. Bay Street.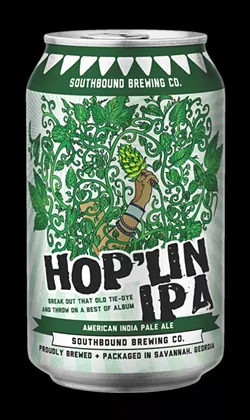 Southbound Brewing Company
This St. Patrick's Day, Southbound Brewing Company is serving up their classic Hop'lin IPA. The beer has a slight hint of caramel, but still has a good bitterness and citrus notes. With a reasonable ABV of 6.2% and a mild intensity, brewers say this is a great "starter" IPA. It's also available at nearly every bar and restaurant in Savannah, so those looking to bop around town can sip it all day long. "A lot of people like IPAs, but they can't make it through the day drinking only IPAs," said head brewer Randy Kiersnowski. "You can have a few Hop'lins and not be dead in the palate." The Hop'lin is another award-winner, taking the gold medal at the Great American Beer Festival in 2019. Stop by Southbound Brewing Company this St. Patrick's Day at 107 E. Lathrop Avenue. If you donate $1 to Make-A-Wish Georgia, brewers will turn your beer green.
Coastal Empire Beer Company
For roughly six years, Coastal Empire Beer Company has been brewing The Cobblestone, an Irish red ale with an ABV of 6.2%. The beer is made with two different malts, one dry, toasted malt and one heavily roasted malt, giving it a rich sweetness with a classic, pub bitter finish. This St. Paddy's Day, the brewery is doing a limited run of the crowd favorite. "The Cobblestone goes down smooth and never lasts long enough," said taproom manager and events coordinator Jey T. Washington.
Taste The Cobblestone at 79 Ross Road.
Service Brewing Company
Service Brewing is putting a "decadent twist" on their milk stout with their Irish Cream Milk Stout this week. The beer has an ABV of 4.6% and is the perfect blend of milk chocolate, vanilla, nuttiness and velvety caramel flavors. After the initial sweetness, light notes of roasted coffee start sneaking in. The Irish Cream Milk Stout has a nice, slightly dry finish. "We took the flaked oats dedicated for this recipe and made oat milk, which we then added to the mash," said head brewer Jeff Hyatt. "This, plus an addition of lactose, lends to a fuller bodied and smooth mouthfeel." The Irish Cream Milk Stout is lightly carbonated and served on a nitrogen tap.
Get a taste and stick around for some trivia this St. Patrick's Day at 574 Indian St.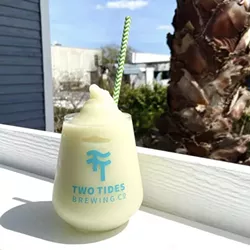 Two Tides Brewing Company
Two Tides is known for getting creative with their beers, and they're doing just that on St. Patrick's Day. The brewery is serving up a key lime beer slushy with an ABV of 9%. Brewers say it tastes like key lime pie and describe it as "smooth, creamy, tart and refreshing all at once." The key lime slushy is green in color, making it just as festive as it is delicious. "All the slushy ingredients are processed in house," said owner and marketing director Liz Massey. "We're the only brewery in town serving beer slushies." Grab a slushy, play some pinball, and soak up the sun on one of Two Tides' balconies all week.
Visit them at 12 W. 41 St.