We're more than halfway through Dry January, which is a month-long challenge to take a break on imbibing after the indulgence of the holidays. And for those struggling to remain committed, here's some encouragement to keep you going. While it's true that Savannah is a drinking town, with its to-go cups and what not, said drinking doesn't have to involve alcohol. There are several local watering holes that offer spirit-free mocktails, so that you can enjoy a nice drink without compromising on your goal.
In 2022, about 35% of American adults participated in Dry January, and this year it's looking like the challenge is even more popular. Across the nation, people are putting down the bottle to start the year off with healthier habits. One local participant is Sidney Lance, the founder and CEO of Rhoot Man Beverage Company, which offers vinegar-based cocktail mixers called shrubs. Lance was motivated to observe Dry January this year as an act of self-care, and so far it's been paying off.
"I've already lost like 10 pounds," he remarked.
Weight-loss isn't the only benefit that he's seen since starting the challenge. He also says he feels more focused and energized. Being free from hangovers and the ensuing sluggishness allows Lance to accomplish more with his business.
"It's not just Dry January to me. I'm probably going to push the envelope a little bit longer because I feel like my business is pushing my body to have to do that. You need to be physically fit to run a business," said Lance.
He has seen the difference in his focus and productivity when abstaining from alcohol.
"When I start to drag in my business, I know I'm drinking or eating too much, and I feel it," he explained.
Though Lance's company caters to the bar scene, his pro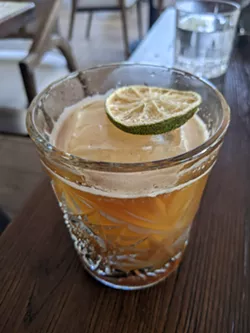 ducts also lend themselves to mocktails. One such mocktail is the Roman Rescue, which is available at Folklore. This booze-free beverage combines Rhoot Man's Fig and Vanilla shrub with spiced banana peel tea, lime, pineapple and soda. The spice is warming and the shrub adds depth of flavor.
Lance advises others who are trying to observe Dry January to relish alcohol-free options that are flavorful and fun.
"If you feel like drinking, one thing that has helped me is [drinking] club soda. Find something that's fun that has flavor. Just utilize whatever juice you have around the house," he recommended.
He also encourages abstainers to get creative with his shrubs.
"The scrubs are perfect for mocktails because all you're doing is adding a little of this shrub to some club soda. Or if you like teas, I do Rooibos African tea, and I'll add the mango shrub to it and just a little club soda if you want to sparkle it up. Just have that on ice with a little lemon juice or a lemon wedge. It adds this nice tropical flavor to your tea," Lance explained.
If you're not much of a mixologist, there are several places around town to enjoy zero-proof cocktails that'll help you stay true to Dry January. Head to these bars and restaurants to enjoy marvelous mocktails soon:
Folklore
In addition to the Roman Rescue, Folklore is also pouring their Icarus. It combines Dhos Aperitivo, apricot brine, raw sugar lime and yuzu soda into an elegant mocktail with beautiful color and complexity.
Bar Julian
Atop the Thompson Hotel, Bar Julian offers several spirit-free cocktails as a part of its curated beverage program. This season, you can enjoy their Into the Wild; which is made with Ritual Zero Proof gin, prickly pear, lime and soda; the Silver Cup, featuring Ritual Zero Proof tequila, cucumber, jalapeno and citrus; or the Baby Blue, which combines Amethyst blueberry-ginger, blackberry, lemon and soda. Any of these zero-proof beverages are sure to satisfy during Dry January.
The Lost Square
The Alida's rooftop bar, The Lost Square has a robust lineup of zero-proof cocktails including their Social Hour; made with Kin High Rhode, orange juice, ginger and ginger beer; Good Company; featuring Seedlip Grove 42, aperitif syrup and light tonic water; and Doctor's Orders, which combines grapefruit juice, lemon juice, orgeat and soda.
Ardsley Station
Ardsley Station has three flavorful mocktails available this season. They include the Downshift; made with Dhos Aperitivo, seasonal fruit, lemon, mint and soda spritzer; High Tea, which combines black tea, Rhoot Man pumpkin spice shrub and lemon; and the House Cherry Limeade, which features amarena cherry juice and lime.
For more information on Rhoot Man, visit rhootmanco.com/.