DUSTIN PRICE is one of those uber-lyrical, emotive crafters of song that really don't come around too often. He's honest, raw, dark, and careful in the way he paints his sonic pictures.
"Something's gotta give, before I do."
Talk about a powerful line—especially given the times in which we're living. That song, the opening song and title track "Dichotomy," is a perfect display of what you get from note one. The songs are real, organic, powerful, electric, and palpable. That comes from Price, undoubtedly, but he's also got a team that includes the great Jalen Reyes on drums and percussion, as well as the album's equally brilliant producer Blake Tallent.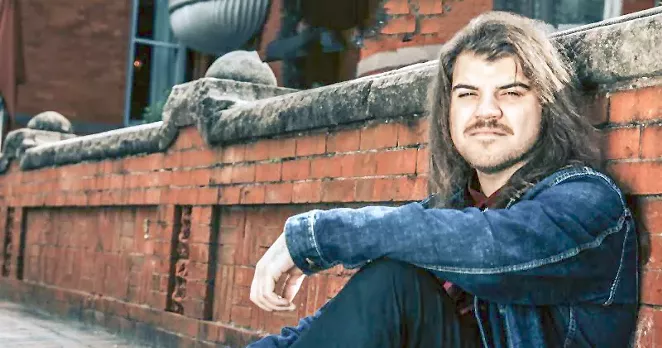 Tallent, whose main gig is as songwriter, guitarist, and singer in God Bless Relative (of which Price is also a member), has been friends with Price for a long time. This collaboration is one of many they've done together, but it just might be their most musically effective yet.
"With my first EP, I set out to make that a full record. But this is kind of a completion of that thought," Price tells Connect of the album, which includes several songs from his initial EP release.
Price and Tallent have been friends for a long time, and for Price this was a chance to continue making music with a close collaborator and confidant.
"We met at a church camp—we did music for that. And we hit it off, and realized we were going down a similar path. So we kind of stuck together through all of that shit," he says.
The album has a very specific sonic presentation—it's not a pastiche in any way, but it feels familiar. The drums are perhaps the biggest, loudest, and widest instrument, while the vocals are generally up front and incredibly vulnerable.
"Blake is my go-to producer, so I literally just brought the songs as they were to him. I was like, 'You know what you can accomplish with this. I trust you with all of the production stuff.' Everything on that end can be attributed to him," he says.
"For me personally, the biggest thing is lyricism. For so long I ignored the production side of things, but teaming up with Blake and Jalen kind of freed me up in that way. It was very collaborative."
For those who might be diving into Price's music for the first time, both he and Tallent say that the flagship song in the collection—which is maybe the best encapsulation of everything they were going for—is "Hard Time Coming Down."
"It's kind of a step in a different direction for me creatively, so that's the marker moving forward. What I'm going to do beyond is very rooted in that song," Price says.
"I feel like with that song, we took on a lot of new territory. Specifically working with things like sub bass, and just heavier instrumental approaches," Tallent adds.
From Tallent's perspective, as a producer and guitarist, he had a very simple goal in mind for what needed to be accomplished.
"One of my main goals was that I really wanted to convey how Dustin sounded live," he explains.
"If you've ever seen him, he's amazing. His band is amazing. And I feel weird saying that, because I do play for him sometimes, but I also say that because I've been in the lucky position of getting to see him from a crowd perspective. I've gotten to see how honest his lyrics are, and how rock and roll it is."
Tallent says he and Price often reference a live concert recording of Oasis from 2005, which he calls "badass," and would often assert that Price is "like that concert, but Southern."
"I really wanted to try and capture that, to give the listeners the idea that, while the lyrics are incredibly deep, this is a rock and roll man you're dealing with," he says.
cs