DWIGHT YOAKAM sees several parallels between his current album, "Second Hand Hearts," and his 1986 debut album, the alt-country classic "Guitars, Cadillacs, Etc., Etc."
"It feels in a strange way connected to the very first record, 'Guitars, Cadillacs' in the way that it came about," Yoakam tells us.
"That album ("Guitars, Cadillacs, Etc.,Etc.") was an EP originally, and then Warners signed me in '85 and I re-released it in January '86 as a full-length. And this one has its own, it's almost as if that album had its own journey and a couple of lives."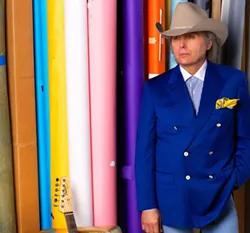 As Yoakam suggested, both "Guitars, Cadillacs, Etc., Etc." and "Second Hand Heart" include songs that had a previous life before being re-done in somewhat different ways for the two albums.
Several songs from "Guitars, Cadillacs" first surfaced on an independent EP that was later supplemented with other songs and re-released as the Guitars, Cadillacs, Etc., Etc."
"Second Hand Heart" includes a few songs that had been gestating with Yoakam for some time. "V's of Birds" was a song Yoakam had thought of covering as far back as the mid-1990s.
The title track was written and under consideration for Yoakam's previous release, the acclaimed 2012 album "3 Pears," while another original, "Dreams of Clay," originally surfaced in a far different form on the 2000 album "Tomorrow's Sounds Today."
'Second Hand Heart' was a song that was actually written thinking, at the time I was doing '3 Pears' three years ago, and I thought I was going to do it for that (album) and hadn't finished it," Yoakam says.
"And it got usurped by other tracks for '3 Pears' and I always thought 'I wonder why that didn't force its way in, elbowing and shoving itself, fighting through the subway doors and taking that ride.' And it was because it was meant to be ultimately the title track of this album and lead the way, if you will, and become in a certain sense the theme for this album—without design, by the way," says Yoakam.
"The (new) album kind of created itself. And you know, funny enough 'Guitars, Cadillacs' ... the first album did that. It was an example of the album leads you to where it's going to go."
Another parallel is both "Guitars, Cadillacs" and "Second Hand Heart" are on Warner Bros./Reprise Records, the label Yoakam called home for his first eight albums before parting ways and releasing his 2003 album, "Population Me," and his 2005 album, "Blame the Vain," on independent labels.
Yoakam's 2012 album, "3 Pears," had been on Warner Bros. Nashville. But having "Second Hand Heart" on Warner/Reprise (based in Burbank, CA) represents a full homecoming for Yoakam because he worked extensively with the label's Burbank office on his first six or so albums.
He even had Lenny Waronker, the president of Warner Bros. during much of Yoakam's first stint with the label and who in 2010 returned to Warner Bros. as a consultant, executive produce both "3 Pears" and now "Second Hand Heart."
What's more, both "Guitars, Cadillacs" and "Second Hand Heart" were recorded in the same studio—the legendary Capitol Records Studio B.
"That room's just flat out got magic in it," Yoakam says. "Let's see, the first six studio albums of my career were done at Capitol Studios, 'Guitars, Cadillacs' through 'Gone.' So that feels like home always. That room doesn't lie. You better be on your game when you go into B because it just spits back to you in your face exactly what you just did."
But what might be the biggest link between the two albums is an attitude Yoakam brought to the projects—a spirit, as he says, of "reckless abandon, mischief making and fun" that reminded him of why he wanted to make albums in the first place.
It's a feeling he says has been present at times on all of his albums, but was never articulated as well as it has been with certain songs from "3 Pears" and now "Second Hand Hearts."
"You hear it on all of the albums," Yoakam says of that abandon.
"You hear it on things like 'Long Way Home.' Another song that would have that expression in it would be 'Only Want You More' a raved up rockabilly coming-off-the-rails (kind of song). And in (the 1995 album) 'Gone,' I think the song 'Never Hold You' has a bit of that thing. But left to my own devices, I'm pushing more kind of the envelope maybe on '3 Pears' and now this (album), in terms of the sonics of it."
That sort of full-throttle, hard rocking sound pops up on the new album in Yoakam's cover of "Man of Constant Sorrow" (made famous on the "O Brother Where Art Thou" soundtrack) and his original, "Liar."
On those tracks, Yoakam amps up the beats, lets the guitars rip and rocks out with the kind of abandon he's only occasionally displayed on earlier albums.
"Yeah, that's a collision of the Ramones ambushing Bill Monroe," Yoakam says of his take on "Man of Constant Sorrow."
There's also a hard kick and nice swing to "The Big Time," while several songs—"She," "In Another World" and the title song—all fit the kind of rambling honky tonk/rock framework that Yoakam has always been Yoakam's signature.
If Yoakam rarely rocked as hard on his earlier albums as he does on "Man of Constant Sorrow" and "Liar," his sound nevertheless proved very successful, especially during the first decade of his career.
A native of Pikeville, KY who grew up in Columbus, OH, Yoakam came to Los Angeles in 1977, inspired by the rocking country sounds of Bakersfield-based Buck Owens and "Sweethearts of the Rodeo"-era Byrds.
He scuffled for several years before getting signed by Warner Bros., which took his indie EP, "Guitars, Cadillacs, Etc. Etc.," expanded it with several additional songs and released it as Yoakam's 1986 full-length debut album.
It became a chart-topping country album and started Yoakam on a commercial roll that lasted for more than a decade. In all, he's notched 22 top 20 country singles and nine platinum albums, including 1993's "This Time" (which topped three million copies). His total album sales stand at 25 million.
But as Yoakam grew older (he's 59 now), country radio moved on, as it tends to do, to younger artists and helping to create the genre's next big thing. Yoakam said he never concerned himself much with writing hits—even in the '80s and '90s—and doesn't count on having hit singles today.
"If it's meant to be, so be it, and I would graciously with gratitude accept anything that comes my way," he says. "Look, I'm really fortunate to still be able to make my living doing this and have a major label that wants to record me and release me."
Yoakam figures to play a career-spanning set in his live shows, and a couple of members of his touring group also played extensively on "Second Hand Heart," lending a continuity to the album and live show.
"It's just gratifying to have the musicians I'm working with on stage work on the record with me," Yoakam says. "There is a purity of energy and intent that you capture."
cs