MUCH LIKE the planet's own environmental issues, Savannah's Earth Day Festival continues to change with the times.
While we all probably nostalgically remember the days when the main message of the annual event in Forsyth Park was about conserving water with low-flow bathroom fixtures—remember Less Waters, the six-foot walking toilet?—the event has responded to the need to update for an era of increased social awareness.
"The takeaway from all this is we want to encourage empowerment, and things people can do to empower themselves," says Joanne Morton of Well FED magazine, which is partnering with the City of Savannah to organize the event.
The City agency taking the lead role in Earth Day is the relatively new Environmental Services and Sustainability Department. Nick Deffley is that department's representative working on this year's Earth Day.
"Whether it's issues of food access or public health issues, there's a sense that people today are more aware of the real impacts on us all stemming from these problems," Deffley says. "There's a real desire to be more involved in being part of the solution, and we want Earth Day to reflect that desire."
While Deffley says the City is opening up the event to more help in planning and a more diverse offering, he says it's not so much a paradigm shift as it is just being reflective of the City's priority to get citizens more involved.
For Morton, the event is a chance to bring the community together around common interests and concerns.
"We will have the workshops again, the ones that are pretty much consistent. But this year we have a lot more people talking about taking action – things people can do in a DIY sort of way," says Morton.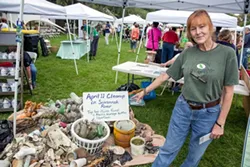 Some of the workshops include Plants, Pollinators and Pesticides by Oatland Island Wildlife Center, Earth Friendly Skin Care by Georgia's Lowcountry Chapter of the American Herbalists Guild, Green Roof Benefits by Atlantic Star Landscape Architecture/Living Roofs LLC, So Easy to Preserve Foods from Your Garden by Chatham County Cooperative Extension and the yearly "Tree Walk" with Savannah Tree Foundation.
As an example, Morton cites the building of a greenhouse by Timothy King and his team. The greenhouse frame will be constructed at Earth Day, and transported to Butler Elementary.
"It will be made out of 1300 plastic bottles , and we'll be collecting them at Earth Day."
In keeping with the low-impact spirit of the day, you're encouraged to walk or ride your bike. Savannah Bicycle Campaign will offer their signature bike valet service as well as presenting a Q&A in the workshop tent.
Of course, one component of Earth Day has traditionally been live entertainment, and this year's lineup of bands includes the Nashville-based Mosacia, Fever Tramp, Xulu Prophet, and headliners Culture Vulture.
As was initiated last year, the music stage will not be at the Forsyth bandshell, but on the south end of the Drayton side of the park, near the tennis courts and the softball diamond.
There will be hay bales set up for folks to sit and enjoy the bands.
Moon River is scheduled to provide the brews for the festival, in compostable cups of course.
"Our goal is to have every product associated with the festival be compostable and recyclable," Morton says.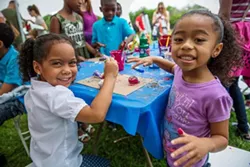 Chatham County's Gallery F.A.R. (Fine Art of Recycling) will put on a pop-up art show Saturday, promoting their studio/gallery space on Eisenhower Drive.
"They have a deal where if your installation uses 70 percent or more recycled materials, you can display in their gallery space for free."
Another wrinkle this year is that many of the 70-odd vendors will be selling items, rather than just being informational displays.
The weekly Forsyth Farmer's Market will happen as usual from 9 a.m.-1 p.m., but Morton says individual vendors with the Farmer's Market "are invited to stay longer if they want," to take advantage of the crowds still in the Park for Earth Day.
cs