It says here that a majority of you reading this are Savannah area locals. It also says here that we are told locals don't like to come downtown anymore. It says here you think it's too crowded. You think downtown Savannah has become a theme park. You hate struggling for parking and you think everything is too expensive.
I'm saying here that plenty of locals still enjoy downtown Savannah. Of course they do. I see them every time I'm around downtown: people that live down that way and others that don't. I'm also saying here that if a restaurant came along that appealed to more locals, they'd you be far more likely to deal with the 'obstacles' I mentioned above and come downtown to enjoy them anyway.
I'm here to tell you it exists. On Broughton Street. 207 West, to be exact.
Dotties Market Savannah, the brainchild of Chef Christopher Meenan and his wife Ericka Phillips, opened just after St. Patrick's Day on Broughton St. Technically, they had clearance from the city to open on Green Day, but chose to wait a few more days so everyone could, you know, ease into the busy Spring season around here.
The room (which is huge by the way) is proportioned perfectly in my book. Up front you have retail, to include grab and go drinks, sandwiches, coffee, pastries and some knick knacks. Toward the back you have a 12 or so seat 'lunch counter' that faces an open window to their kitchen. That's where the eats come from.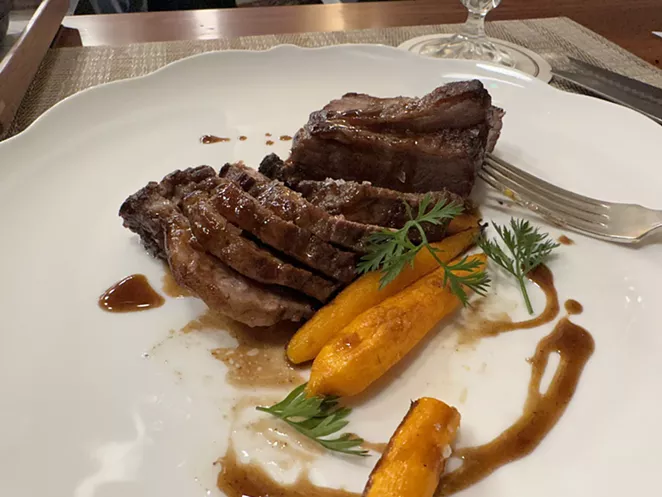 A few weeks back, I stopped in for a client lunch and very much enjoyed a roasted chicken club sandwich. The sweets I took home with me were excellent as well. Ericka told me that day they were planning to offer dinner service at some point down the road.
It started essentially last week. And it was outstanding.
You see, "Dottie", the restaurant's namesake, was their great grandmother. We all know the type. She never met a stranger and she always made sure she had some food around for any visitors. The whole concept here is to make dinners an homage to what their great grandmother may have done. Modernized versions of course.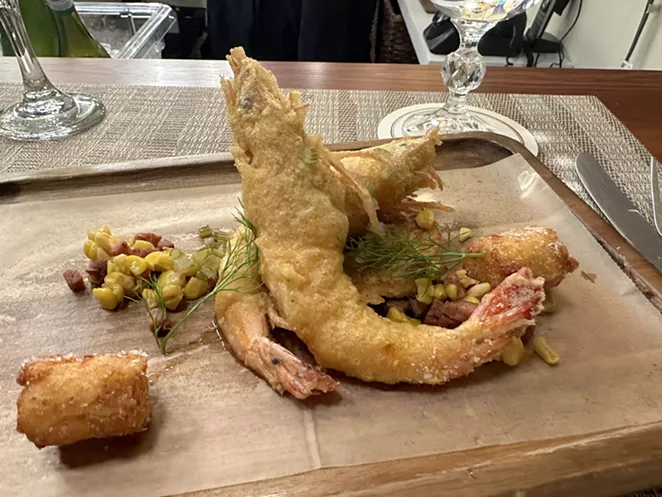 We enjoyed a wonderful take on a Lowcountry Boil. Complete with housemade sausage. The oyster that started us off was almost too beautiful to eat. Delicious though.
The mains that night included a choice of fried fish, a 'pot roast' brisket or roasted chicken. We enjoyed two of the three although that fish dish looked amazing. The caramel pecan pie for dessert was everything you would hope it to be.
This meal was special. For more than one reason.
Chef Chris is a great talent. I knew that going in. We met when he first came to Savannah to open St. Neo Brasserie at The Drayton Hotel. During the short time he was there, it was one of Savannah's best spots for seafood.
The new reason is the front of the house, led by Ericka. She oversees it all, always with a smile. Always looking to help someone with a question, always making sure everything is flowing smoothly. I'd call her a hostess, but that doesn't tell the full story. The full story comes from the inspiration she tells us she's drawn from her great grandmother's hospitality. The customer is always right and all that stuff, yeah sure. But you get the impression she is not happy unless everyone walking out the door of her restaurant is happy.
We don't see that nearly as much as we should anymore, much less downtown, where tourist bravado has a way of wearing the best of us down to a nub. I've seen it happen.
They aren't looking to re-invent the wheel at Dottie's. It's a grab and go market (they get a shout out for not calling it a bodega), it's a coffee shop and it's a smallish restaurant doing Southern inspired dishes that most of you will love.
It says here you will love it enough to make repeat trips to Broughton St. Yup. Yes, you will. Enjoy.