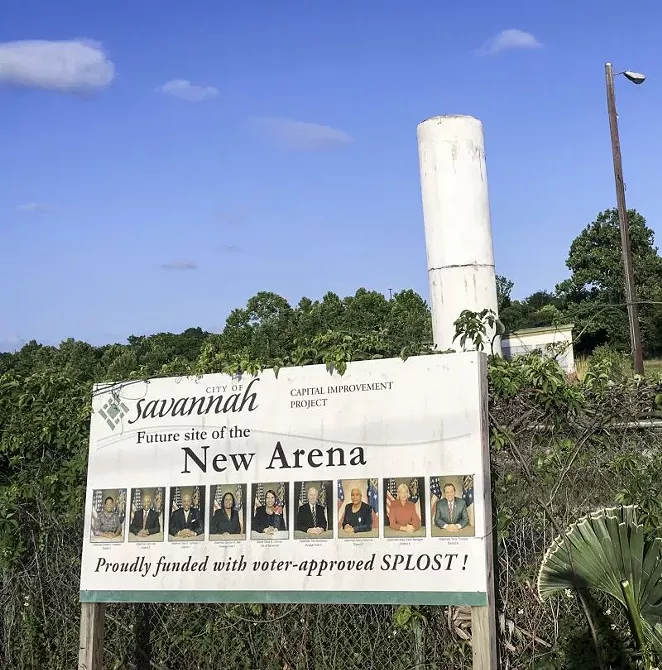 IN SAVANNAH, we're told many things aren't possible because they cost too much.
For example, Marine One, Savannah Fire's rescue vessel on the Savannah River, was deemed by City Council as too expensive to operate, and was mothballed.
This in a city completely dependent on its river for shipping, industry, and tourism.
When you think about it, the whole local economy rests on a catastrophic fire not breaking out on the Savannah River.
But Marine One is "too expensive."
Firefighters and police here continue to be paid far too low for what they are asked to do, and it always seems to be a struggle to pay them a fair wage, even as politicians routinely use them as props to get elected.
Savannah Police just lost another officer killed in the line of duty, Sgt. Kelvin Ansari. Whatever he was paid, I guarantee it wasn't enough to recruit others into his life-risking profession here.
Another example is the City's stubborn reluctance to carry enough, or in some cases any, liability insurance, leading to often-huge settlements to plaintiffs.
The very symbol of Savannah, our tree canopy, is dying out because budget cuts to the Park and Tree/Greenscapes Dept. mean new trees to replace it can't be planted fast enough.
Local arts organizations and social service nonprofits are frequently threatened with having all City funds cut. Basic infrastructure often goes neglected for long periods of time.
Even dumpsters for homeless camps are considered a luxury.
But when a tourism-oriented project near downtown needs funding, we seem to always find the money.
Whether it's a public/private parking garage at Plant Riverside, an overpriced Cultural Arts Center unlikely to effectively host many live performances, or yet another multi-million dollar round of "streetscaping" for Broughton – you'd think that was the only street in Savannah! — we seem to find the funds pretty quickly.
Sometimes really quickly.
Case in point was last week's passing of an "emergency" $45 million bond issue to keep the Arena project alive.
Outgoing City Manager Rob Hernandez — starting a new job back in Florida in a few months — gave Council an offer they couldn't refuse on his way out the door:
"If this doesn't pass today, I have no choice but to advise the design team to put [the Arena] on hold," he told them.
In a stark display of the Sunk Costs Fallacy, Council hastily voted to approve borrowing the money rather than stall the Arena groundbreaking this fall, scheduled right before the election.
To be fair, issuing bonds is probably the safest, most bang-for-the-buck way for any government body to borrow money responsibly.
And the money to repay the bonds will come out of the same funding used to maintain the Civic Center — which allows Council to finally pull the plug on that moribund facility's life support without a protracted political battle.
But the question begs itself: If we issue bonds regularly every time a project in the tourist zone needs money... Why not issue bonds for all the other things we're told we can't afford?
The problem isn't the borrowing. The problem is the skewed priorities.
The latest $45 million for the Arena is basically just stopgap funding, folks. And we're still very early in the game.
Hernandez has told City Council point blank in so many words that a "long-term funding source" will have to be formulated for the Arena.
"Long-term funding source." Let that sink in.
Regular readers know that I've been warning for years that SPLOST funds by law only cover construction. Operating costs and maintenance are extra.
Savannah is about to learn this lesson, again, with the Arena.
Essentially, what was sold to voters as a more or less self-sustaining entity, fully competitive in the free market, is probably at best a loss leader which will require perpetual subsidy, like the Civic Center.
It's true that the contract to manage the Arena includes significant payouts to the City and a healthy rent payment back to the City by the winning bidder, OVG.
That sounds like a great deal until you realize that apparently the City will take that money and plow it back into paying for the Arena/Canal District, in subsidies and debt service.
Keep in mind that we still have no real idea of the full cost and scope of the new parking facilities needed to make the Arena viable in an area of town with little infrastructure in place.
That's right: Arena parking is a whole other kettle of fish. We're not really even talking about that yet.
I'm being only slightly hyperbolic when I say that the eventual cost and debt burden of the Arena could potentially cripple the City's economy for decades to come.
At minimum, it is already reshuffling civic priorities here in tangible ways.
The Arena is the tail wagging the financial dog in Savannah, and ground hasn't even been broken on it yet.
Unless City Council quickly reboots its approach to the Arena and to local funding priorities, voters are likely to issue a reboot of Council on their own this November.
cs