SHELLEY SMITH wants to make one thing clear.
"I am not a hippie-dippy chick," she laughs, "I'm a Gemini—I can be kind of abrasive."
But just for this weekend, Smith embraces her lovey-dovey side.
She's the organizer behind 11x11, an art show with a unique mission. Eleven local artists will set up shop at Total Fabrications on Louisville Road to sell their work.
Each artist has chosen a person to directly benefit from their sales; beneficiaries range from an anonymous homeless man to a lifelong youth advocate. There will also be a silent auction with contributed pieces from local artists that will benefit each of these people.
The idea came to Smith after being on social media and seeing the negativity that platform can bring.
"I think what really started 11x11 is the whole language about immigrants, not just in this country; it's kind of happening everywhere," says Smith. "It's people sitting behind their laptops, holding TV remotes, judging these immigrants."
That judgment was frustrating to Smith.
"They don't understand absolute pain and suffering," says Smith, "and I was privy to a little bit of that in Haiti."
A few years ago, Smith took a trip to Haiti to get away from it all, where she met and befriended Yachou Larose.
"I'd sought to have a visa to have him come visit," remembers Smith. "I wanted to inspire him so he could go back to his country and take that inspiration and spread it, spread what he had learned."
Ultimately, the visa fell through, which both devastated and inspired Smith.
"My passport can take me anywhere, and he can't even get out of Haiti," she muses.
Another frustration for Smith was the othering of people in foreign countries and the view that they were totally different.
"It was borne out of my own personal frustration with hearing this language of, 'Who would live in those places? Who are those people?'" she recalls.
Smith notes that she tried her hardest to keep politics out of the show, but the nature of the mission and some of the recipients might make it seem partisan.
"One recipient is an anonymous child in the LGBT community who is transitioning, and there are some medical costs," she shares. "For some people, that's already, 'Oh my gosh!'"
Despite any detractors, 11x11 is powerful in that it directly benefits actual people.
"I started thinking, 'Maybe other artists have individuals they want to give stories to,'" says Smith.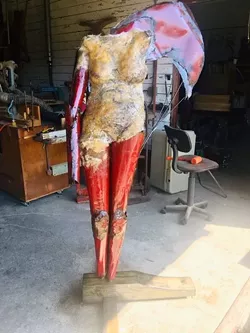 Smith turned back to social media to gauge interest—"I guess it does have some positive attributes," she laughs—and found ten other artists who found people they wanted to support.
The participating artists and their beneficiaries are Smith and her friend Larose; Joanne Morton and local activist Laura Shadley; Panhandle Slim and activist with Savannah Youth City Beverly Trotters; Christia Cummings-Slack and wellness advocate Jeffrey Schifanelli; Cameron Knight Watson and artistic child Daniel Watson who volunteers with the Pegasus Riding Academy; Danielle Hughes and an anonymous child in the LGBT community who's transitioning; Maggie Hayes and an anonymous homeless man; Stacie Jean Albano and pet advocate Judi Finkelstein; Chela Gutierrez and lifelong youth volunteer Bill Clay from Greenwood, Mississippi; April Taylor and an anonymous Polish immigrant woman and mom; and Becca Cook and local business owner Randy Davis, who's battling cancer.
"It's not necessarily people who are struggling," says Smith. "Some might be a financial situation, others might just be people who are really doing amazing things and we want to support them. If they want to take that money and contribute to their organization, that's their call. If they've got some bills to pay, that's on them. But it's just about giving people stories everywhere."
Saturday's event is designed to be as community-oriented and positive as possible.
"It's a little bit of everything; it's not just an art show," says Smith. "For those who might think, 'I can't really spend money on art,' come out and bring your kids and support the event and listen to music and see what people are doing. Even if you can't monetarily be a part of it, it's just the fact that you're learning about these people and supporting people doing something positive."
CS