(f) Utility is about living art, or at least art that we live with, until we don't anymore. These ideas are what sparked soon-to-be Savannah College of Art and Design graduate Nikki Zuaro's Master of Fine Arts thesis exhibition. The walls at the Cedar House Gallery featured a broomstick, several shovels, 'Thank you, Have a nice day' plastic grocery bags and worn out cloth symbolic to the message of Zuaro's show last weekend. "Combing the two [futility and utility] is kind of my whole practice here: taking labor and making it almost nonsensical and not purposeful," Zuaro said. The show came to life Friday night at the opening when Zuaro unexpectedly began gathering pieces of her art show to either adorn or put to use herself at the gallery.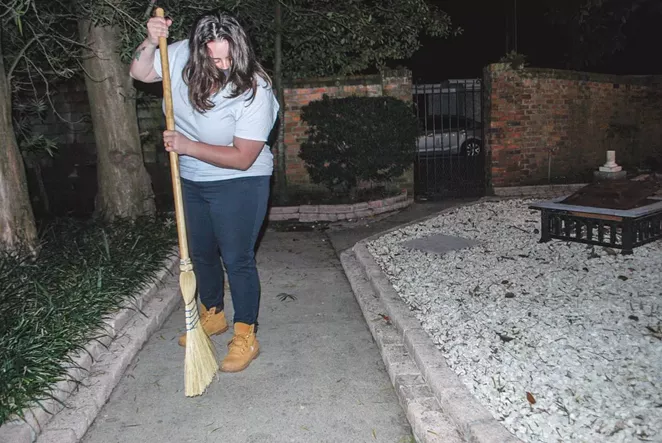 "They're my tools, so I use them to create art and I'm also presenting them as sculpture," she said. "When I take them back off the wall, I'm still going to use them as a utility object, but this perspective shift happens." The show constantly comes to life through a looping video stream she had playing in a room, as part of the gallery, but Zuaro chose to drive her message home by putting her display into live action for guests at her opening. Zuarro is from Long Island, New York. She said she was happily working as an intern in New York, but knew something was missing. She moved to Savannah when she was accepted into SCAD to pursue her master's degree.
"I really do love Savannah; it definitely has become a second home to me," Zuaro said. The show (f) Utility is her senior show, as she graduates in about a week. Zuaro said she hopes to make Savannah her home even after she graduates, even though she's not certain for how long. The show ran from March 5-7, with events throughout the weekend showing. She hopes to enter other galleries with her work soon.
Follow Zuaro and view her art online at nzuaro-art.com.