Emily Furr's new solo exhibit at the SCAD Museum of Art challenges our perception of the world, the capitalist society we live in, and incongruences within our universe and nature. Star Tap calls attention to the cosmic void played out in society and life through a postmodern lens and dystopian trip of her works from the last three years, most of them made in 2020. "My work shows two opposing forces: man's need to dominate his environment, and the life force fueling nature. By showing these two forces together, I'm illustrating how incongruent they are. The machines feel very static and dead, while the starry skies feel alive. Sometimes the machines have tongues or orifices to show ulterior motives," Furr says of the imagery on display in her Star Tap exhibit, on view through May 9.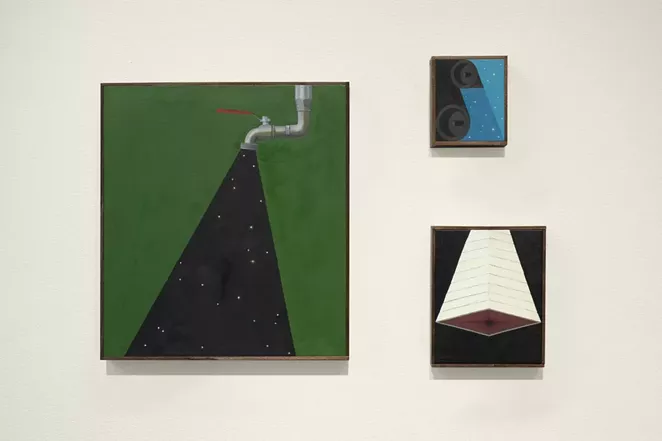 When you first walk into Furr's display space at SCAD – where she studied graphic design, earning her B.F.A. in 2000 – to the right you see tongues with hallucinogenic tablets, which overtly transport the viewer to the psychedelic era's style of imagery ripped out of magazines from the '60s and '70s. In Furr's "Acid Tongue Series 2020" works on paper, all seven collages seemingly evoke the rock 'n' roll energy of Mick Jagger and the iconic Rolling Stones tongue, screaming out "I'm so great, I'm going to lick you." Furr highlights the sleazy, drug-laden ads to portray the deeper ploy of the marketer: to lure, seduce, or even manipulate the viewer. Brooklyn-based Furr is presenting her first solo exhibit as part of SCAD's 2021 deFINE ART program highlighting diverse global artists. Represented by Sargent's Daughters New York and initially self-taught in oil painting, she makes portrait art at night inspired by the industrial revolution, World War II, 1920s-1930s-style factory conveyor belts, and capitalism. Her work has been featured in the Hyperallergic art forum as well as Artnet. Star Tap features nods to phallic eroticism, war, pollution, and their adverse connections in our society.
"It has been a dream come true to exhibit here at the SCAD Museum. Savannah is such a cool town, and I learned so much during my time here, which I still use in my work," Furr said. Walk directly straight back into the gallery to find a custom-created wallpaper backdrop paying homage to Furr's graphic-design work from her time at SCAD. "Clear Cut Shot" hangs in contrast on this wall, showcasing a missile encapsulated by crystal or ice. The projectile appears as if it is being stopped by the artist herself, or perhaps by nature, highlighting the artist's narrative of the ridiculousness of brutality and war-torn energy when it equals nothing but destruction. 
"We need to be in harmony with what's around us, rather than trying to be so brutal and dominate with everything," explains Furr. Somewhere far away in the cosmos, the show's theme depicts an incongruence within nature. Furr's work sometimes conveys the vastness of the universe alongside industrial objects, like the mechanism that funnels the cosmos in "Thirst Trap" or a faucet to regulate the stars in "Star Tap." Furr is conveying a more decadent narrative than perceived by the naked eye, expressing that, if given the chance, capitalists would manipulate even the stars. Furr points to a larger issue of a cosmic void in our everyday life and our capitalist society as a whole.
"It has been a dream come true to exhibit here at the SCAD Museum. Savannah is such a cool town, and I learned so much during my time here, which I still use in my work." - Emily Furr, artist.

tweet this
"In the painting 'Thirst Trap,' I'm mechanizing the universe and funneling it. On the left of the painting is a pinball plunger with a planet serving as the pinball, and it's about travel through a nonsensical machine maze ending up in a grinder. It's an example of how man has a need to control the uncontrollable, and it usually doesn't work out well," Furr said. "Thirst Trap" is atypical to Furr's precise smaller-scale paintings. During a Feb. 23 deFINE ART artist talk at SCAD, Furr explained that her smaller works force the viewer to interact more by moving closer to view each piece.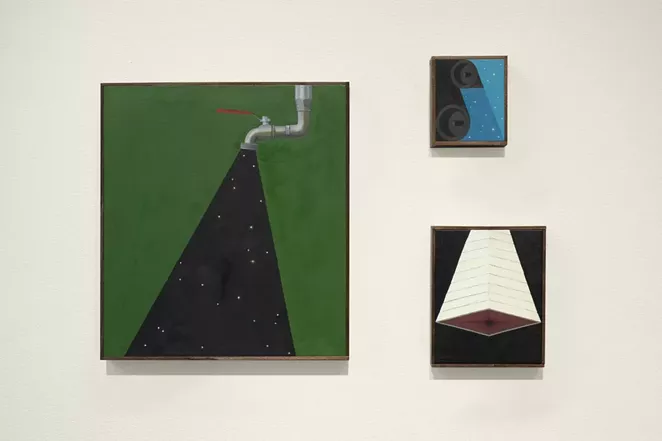 In "Thirst Trap" Furr depicts a planet ground down into a tongue − modeled after her own lapper − symbolizing the destruction inflicted by humans "and our need to take control of nature and the cosmos, and break it down into nothing," Furr said, presenting a metaphor for pollution.  "I think it's also to show we shouldn't be using brutality and domination as a means to control. We need to be more in harmony with nature and the cosmos. And each other," explains Furr. cs
Emily Furr's Star Tap is on view at the SCAD Museum of Art through Sunday, May 9. Visit scad.edu/calendar/exhibitions for information.