THIS WEEKEND, head to Indigo Sky for what our not-too-distant future may look like.
Organizers Leah Blair and Lisa Junkin Lopez culled an impressive list of volunteers, artists and non-profit organizations to create "Fast Forward: Dystopia," a two-day installation at Jerome Meadows' home and gallery that will illustrate the effects of global warming and climate change.
"We wanted it to be an experience that you move through, creating a multisensory experience, and so there's a way to go through," Blair explains.
"Think about going through a haunted house. There'll be kind of a beginning room, which is the landing point, and that's where we're gonna introduce this mixing of art and science."
The rooms include a heap room with waste piled high, a simulation of extreme weather patterns, and an exhibition of dystopic photographs. Each room has multiple layers to it, making the installation completely immersive.
"What's fun about this is because it's very site specific, a lot of it is gonna be created in the space," explains Blair.
Blair came up with the idea for Fast Forward while working on her own art and thinking of her father, who's a Doomsday prepper.
"I just started thinking how ridiculous that sense is. Is it like you've given up hope and just aim for survival at that point?" she wonders.
"So then I was thinking about alternative realities and thinking of the concept of dystopia and if we're in this future reality, it allows us to give a chance to talk about what happens to get to that point," she continues.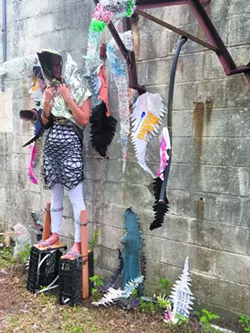 "And so we get to kind of create this narrative, our own artistic perception of how we think the future will be. I just thought it was a really good way to talk about global climate change in a fun, immersive way. It really makes you confront the path that humanity is on."
The organizers hope that the art presented helps people realize that path is fraught with danger—if we don't change it.
"We've been working with environmental agencies who can share scientific data with us, and we wanted to think about how art and science work together and how we need one another," adds Lopez.
"Climate change feels like a tremendous danger, but it's just hard to wrap your head around. Like, really? Is recycling gonna be thing? How do you even begin?"
Blair wants the exhibition to jump-start a discussion.
"The point is also to start a conversation about [climate change] because it is such a complex issue," says Blair.
"Is recycling the answer? The way we're told to combat global climate change based on individual consumer choices is kind of bullshit. Really, me not using this plastic bag is going to help?" she asks.
"It's like the system has to change. People's mindsets have to change, but we need to have a conversation. What are viable alternatives? We need to get to a point where we find solutions."
Perhaps winding through this real-life house of horrors can inspire some solutions. Fast Forward will be at Indigo Sky Gallery on Waters Avenue just this weekend, Sat. 6-9 p.m. and Sun. 2-5 p.m.
cs