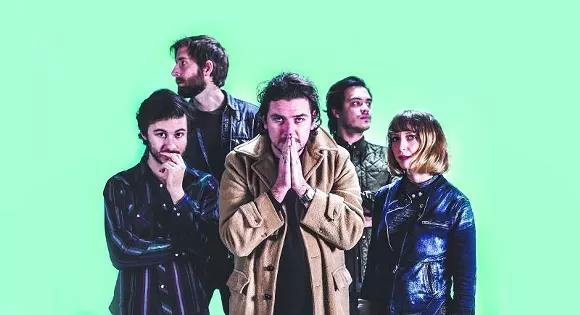 AFTER pouring countless hours and tenacious devotion, Charleston band Susto has been hitting a series of industry-ladder milestones: touring with Band of Horses and indie darlings The Lumineers, performing on CBS, live-streaming sessions with Rolling Stone and Paste, hitting the road for a lengthy headlining tour and playing to packed houses.
With spots on the Billboard charts and glowing album reviews from the biggest voices in entertainment, it's undeniable: Susto's the next big thing.
So, does it feel like they've "made" it?
"Some days it does and some days it doesn't," frontman Justin Osborne says.
"It's kind of hard to tell because there's lots of highs and lows on the road. The milestones are cool—our show at the Music Farm in Charleston, being on CBS was a milestone, doing our first national headline tour. It has been really cool that people have been at every show—there hasn't been a dead show. We're definitely happy with the progress."
From the beginning, Osborne was curious to see how far he could take the project. Right now, he's pleased to have grown the band from the regional to national level. They'll go international this year, too, thanks to an Australian tour.
"It feels good, it feels like it's going right," Osborne concludes. "I'm happy to be doing it so long. We've been on the road and this is the hardest we've had to work, but it feels good. I'm just trying to be present and enjoy it all in the moment.
Osborne has been a fixture in South Carolina's music scene in some capacity since he was 15 years old. The Florence native formed the alt-country/Americana band Sequoyah Prep School in his hometown and became a favorite on the regional circuit, releasing four albums from 2005 to 2011 (the last under the curtailed moniker Sequoyah).
After ten years in the band, Osborne was approaching his 26th birthday and craving a change; he called it quits with Sequoyah Prep School and moved to Cuba. The plan was to distance himself from songwriting for a bit, but upon arrival, he met musicians and found himself attending shows and sharing the songs that wouldn't stop coming to him.
When Osborne moved back to the States to try again, producer Wolfgang Zimmerman introduced him to Johnny Delaware, a songwriter and guitarist who had just arrived in Charleston. Over time, the two became strong songwriting partners, inventive and complementary, and began crafting the songs that would become Susto's first record.
They released their self-titled debut on the Charleston-based label Hearts & Plugs in 2014, touring relentlessly. Songs like "Friends, Lovers, Ex-Lovers: Whatever" and "Acid Boys" became favorites for their cosmic cowboy-studded textures and sing-a-long-able choruses.
"Songs manifest themselves in whatever way they're going to," Osborne says of the writing process. "Sometimes, that's like going into the recording process having songs already written. There were some songs that were already written and we just kind of pushed them, songs that are built in the studio. At the end of the day, we want it to be a cohesive, collective piece of art."
& I'm Fine Today is a lush, stunning achievement, one that Susto worked on for over two years, carving away, building up, adding and subtracting. It's decadent in its layers while still feeling essential.
"The first album we made was in one storage unit," Osborne explains. "Our producer was able to get the storage unit beside his, and the two storage units together make one big, open room. We recorded in the same place with double the space. That's kind of where we come from—we need the freedom to work out on our own taste, drink and smoke and do what we want and stay in there late. It's just two blocks from our houses."
Inviting friends, amateurs, and College of Charleston students to add instrumentation, & I'm Fine Today grew beyond the alt-country roots of Susto's debut LP. There are shades Fleet Foxes and My Morning Jacket throughout as the band leans into its folk tendencies, but there's still something wonderfully undefineable about Susto. The underpinnings of guitar on "Far Out Feeling" is airy and psychedelic; the lazy, summertime piano on "Hard Drugs" could go full honkytonk if pressed, but it holds back.
And as delicate sounds bubble under the surface, the lyrics, too, grasp at something bigger. Osborne is an expert at capturing the very specific feeling of being born and bred in the Bible Belt and feeling blissfully at home yet distant and worn in it (from "Cosmic Cowboy": "I'm a Southern man, but I'm an atheist/a Pudding Swamp kid with tattooed fists"). Characters in Susto songs are experienced yet still searching, wandering the mountain roads, dropping acid. There's a teeming anxiety and restlessness—"Susto" is a Spanish word that roughly translates to "panic attack," after all—and an unflinching grip on mortality, but there's also an earnest grasping at the beauty at hand, treasuring the fleeting moments and human connections.
Though Susto has essentially been Osborne and rotating supporters from the start, his bond with Delaware was a strong one. While & I'm Fine Today was being mixed, Delaware told the band he was departing to work on a solo record.
"The whole split was amicable," Osborne attests. "Johnny got involved at the very beginning, and there's been a period of back-and-forth, him doing his own thing. I think creative relationships sometimes can last a long time, and sometimes run their course. This project has always been a collaboration, and we're going to have control over this narrative, and there are plenty of people who can help us make the best record possible."
Since & I'm Fine Today's release in January, the band's toured constantly ("pretty much since the day the album came out," Osborne says), and they're looking forward to returning home and performing in neighboring Savannah. Charleston swells with pride at the band's successes, and 10-year Holy City resident Osborne is proud that his project found its roots there.
"I feel like Susto belongs to the community that birthed it," he says. "It's really cool to be like that; I felt more like I was from Charleston than I ever had. When you become embraced by a community...I feel so attached. I feel like I owe me career in a lot of ways to what I've gotten to come home to."
CS