SIX MONTHS ago, artist Mariah Howington attended a comedy set that changed her life, but not in a good way.
She was in the audience supporting a friend when the comedian called her an objectively terrible four-letter word.
"It shocked me to my core, so much so that I stayed up all night thinking," Howington remembers. "I'm like, 'Was I a c-word? Was this deserved?'"
Howington held it together until she left the set because she didn't want the comedian to see her cry.
"It was bizarre, but it spurred me to be more bold with my artwork," says Howington. "It was an experience that I guess the universe wanted me to have."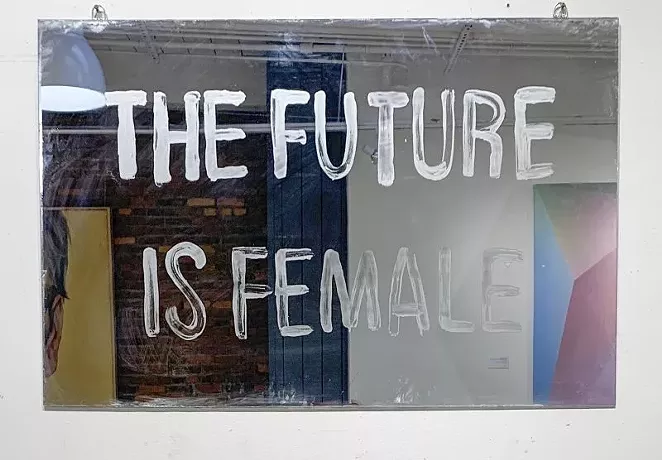 That experience led to the body of work in "For your eyes only," Howington's latest exhibition and her third solo show. The exhibition is upstairs at Moon River Brewing Company from April 3-6, with an opening reception on April 5.
"For your eyes only" includes Howington's most recent work that explores third-wave feminism, among other cultural influences.
The offending word from the comedy set makes an appearance in the exhibition as a nod to a previous series she did while in Chicago.
"They were really fun, and people snatched them up, but I really wasn't thinking that much about them," says Howington. "When I moved here, I started thinking about why I was making these words and how things were kind of introduced to each other. It's just been a natural progression, and the more research I've done into this—curse words, feminism, appropriation, meme culture—the more my work is evolving, too."
Howington is particularly interested in third-wave feminism.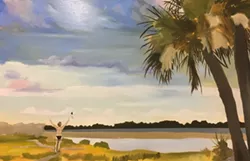 "It's basically talking about equality," Howington shares. "I feel like feminism is a bad word now, everyone's like, 'This is a terrible word,' but to me, we're all humans. I don't even want to be considered a feminist as much as I do a humanist—I think we're all in it together. But if I have to be put into a category, I guess put me into that one."
Third-wave feminism came around in the 1990s, just as Kimberle Williams Crenshaw was introducing the idea of intersectionality.
"We're all people. We're all humans. There's not one without the other," says Howington. "I think we're all forgetting that."
Howington believes there's too much hatred, whether in real life or via social media.
"It's becoming really quite frustrating to go out into the world and get ready for the day and be bombarded with hate," says Howington. "It's becoming harder and harder to have a nice interaction with someone. I'm calling out these moments where someone was harsh to me. I made a mirror painting that says, 'Real queens fix each other's crowns,' because women were putting me down more than men were. That really is what I struggled with. Why are these women, that I've been nothing but nice to, being horrendous?"
Howington's response to tearing others down is a good old-fashioned reminder to put yourself in another's shoes.
"I wanted the viewer to have a moment of themselves involved in the artwork," says Howington. "Some of the phrases are confrontational. I wanted [the viewer] to be like, 'Whoa, this is what I'm reading.' I really like the shock factor in artwork, especially because my demeanor isn't quite so shocking."
Howington attributes that to growing up in Charleston, South Carolina.
"It's a preppy, conservative town, and I was always fighting that stereotype and didn't fit in," she remembers.
That led Howington to push the boundaries of art, particularly with shock value, which circles us back around to the comedian.
"To me, that's low-brow humor to heckle your audience," says Howington. "I definitely use shock value in my art, but it's about me. And it's in a context where it's appropriate and people know what they're looking at. If you don't like it, just leave. It's not going to follow you."
cs