NOW REACHING ALMOST ten restaurants, Ele and The Chef restaurant collection has created an epicurean empire in Savannah.
From Fire Street Food's fierce fried chicken sandwich to Duck Diner's ooey gooey grilled cheeses, each menu is expertly crafted and offers patrons a different take on Asian fusion eats.
Flock to the Wok is the newest venture from Ele and The Chef, and one I've been looking forward to. The premise is simple—family-style Chinese cuisine offered in a warm yet poshly decorated setting. That means blue velvet lined booths and white stone galore.
You can find it in the spot that most locals knew as Hang Fire.
Sarah Crescenzi, Executive Assistant at Ele and The Chef, took the time to explain the concept to me.
"We felt that the word Wok was a fitting word to incorporate into the name, as we many of the menu items are cooked over the wok, as you can see through our glass kitchen upon entering the restaurant," says Crescenzi.
"Flocking represents the migration of our family gathering to eat together and enjoying each other's company around the table. It's a family style Chinese restaurant. We wanted to share that culture with Savannah. It's all about good food, family, and sharing; things we're extremely passionate about."
I can name dozens of takeout Chinese spots located all over Chatham County, but Flock to the Wok is one of the few that offers high end dishes instead of deep fried, thick, sticky-sauced covered takeout versions of what most Americans know as "Chinese food."
"What we've heard the most is people just really grateful," says Crescenzi. "Many people have commented that they're thankful for good, Chinese food. Also, they've commented on how unique and beautiful the interiors are."
For just a few highlights from the new menu (because there are too many delectable items to review in one article), let's start at the top and work our way down.
Although I love a good classic Chinese starter, you will regret your decision to go with anything but a selection from the long list of dumplings. I could not resist and found myself ordering four different kinds. Every single one is hand crafted, and you can tell upon each and every bite.
Of the four variations of handmade dumplings I devoured, the Pork Soup Dumpling was by far my favorite.
"The soup dumpling is inspired by the xiaolongbao that we love to eat in New York City. We wanted to bring a little bit of that to Savannah," explains Crescenzi.
Xiaolongbao is a steamed bun, typically with pork filling which gives the effect of soup when eaten, so you must eat them carefully. The broth inside is lightly scented with fresh ginger, and when you bite down and allow the soft steamed wrapping to burst in your mouth, it is filled with the delicate flavor of salty pork.
The most surprising part of all—a tiny green pea—sits atop the dumpling to add just a bit of texture.
Next on the list of favorite dumplings is the Steamed Pork Dumpling with Spicy Sauce, which is a completely different take on the dumpling from the Soup Dumplings.
Like the Soup Dumpling, this version is steamed but it has an even more delicate dough. The family of glistening sticky potstickers are presented wading in a vivacious chili sauce that sticks to the fresh dough yet doesn't overwhelm it.
The spicy sauce adds the perfect amount of each without overwhelming the nuanced flavor of the pork inside.
The Pan Seared Pork Dumplings have a crispy golden-brown shell which lends a light snap when you bite into it.
Finally, the Shuami Shrimp, another steamed dumpling, is shrimp forward and features a juicy bright pink crustacean sitting on the top.
"A lot of the seafood is local, as well as the herbs and vegetables that we grow on our own," Chef explains proudly.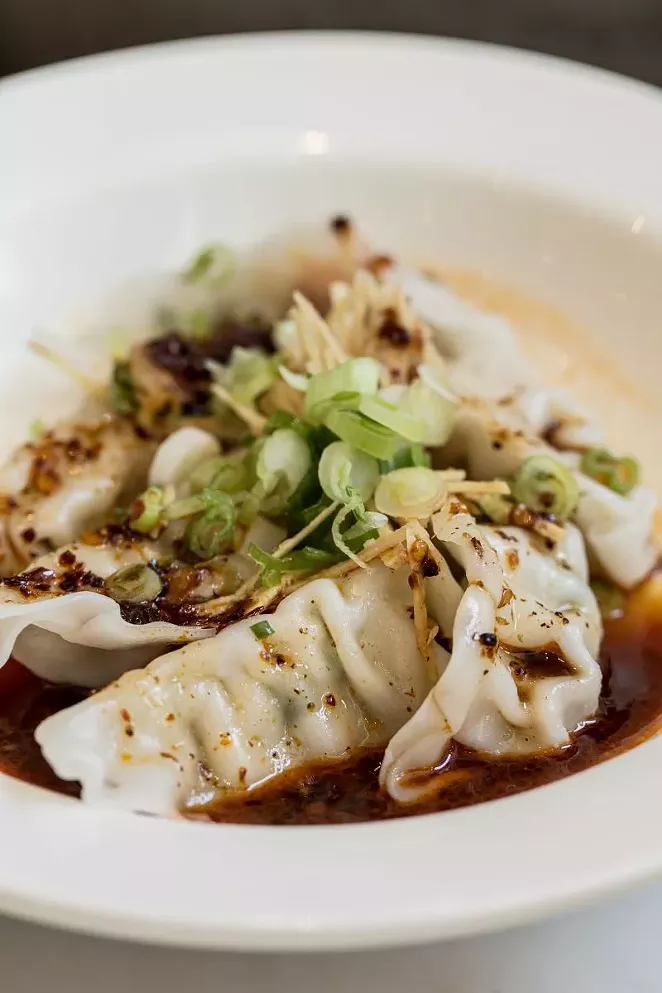 There are three variations of whole fish featured with the main dishes. The Crispy Whole Flounder and the Crispy Whole Bronzini comes with a sweet and sour sauce, and the Steamed Whole Flounder is paired with a ginger scallion sauce.
For my main, I went with the Flock Chicken. Who can stay away from a restaurant's title dish?
Extremely tender slices of chicken are side by side with vibrant bok choy, carrots, onions, mushrooms, and peppers, all of which is coated in a light chili jam sauce.
The sauce is not sticky-sweet and instead light notes of fresh sweet peppers. On the side, like most of their entrees, you get fork fluffed steamed white rice.
Similar to any good Chinese restaurant, you will find all of the classics on the menu; General Tso's, Szechuan Beef, Chicken Cashew, Hunan Pork, Mongolian Beef, and everything in between.
The Braised Spicy Tofu is anything but classic. This plate is served with giant hunks of tofu that melt on your tongue alongside a plethora of lively vegetables. The sauce that brings it all together is luscious, thick, and has just enough spice to please any palate.
With the successful opening of Flock in the heart of downtown, Ele and The Chef is sticking to their style and pushing forward with another new opening, which is located only just downstairs from Flock.
"We're about to host the grand opening of our exclusive Peacock Lounge, located below Flock to the Wok," Crescenzi says. "To the Chinese,a peacock stands for dignity and beauty, which is the theme behind this luxurious space. We will be serving carefully curated cocktails, as well as a variety of small plates."
That means you can eat a heartwarming Asian inspired family meal upstairs and wash away your full belly with and expertly crafted cocktail simply by walking downstairs. Stay tuned for more on the Peacock Lounge.
CS