LEARN MORE about food insecurity issues in Savannah at the Enmarket Encourage Health Series on Tuesday.
The presenter, Desirae Suggs, is a former Peace Corps volunteer who chose to become a dietitian while volunteering in Costa Rica.
"It wasn't my primary assignment, but I saw a lot," explains Suggs. "We were in a pretty remote community, at least three miles from the nearest road, so that was an experience in itself. Living in a place where a lot of people have no concept of what constitutes a healthy meal, talking about balanced diets, you can't eat rice every day, that kind of stuff was very interesting to me."
Suggs coordinated a few educational opportunities there and knew it was something she wanted to pursue as a career.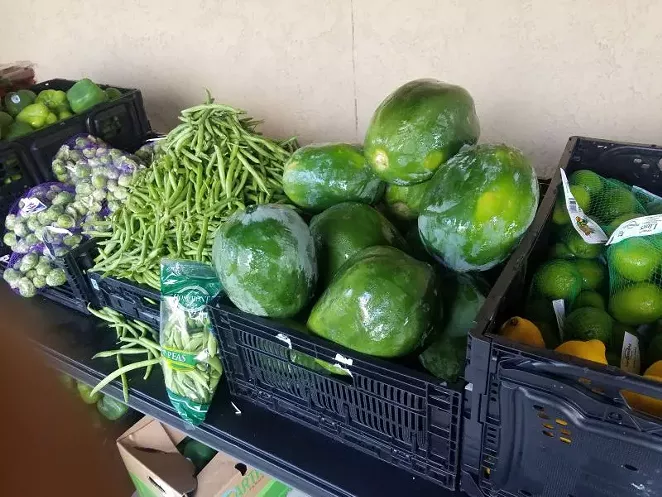 "I wanted to study the psychology behind how we perceive food, how some people have access and some people don't have access, and how we make the concept of healthy living available and easy to obtain for all people instead of just a certain group of people," she says.
Upon her return, Suggs conducted a research study with local food pantries, soup kitchens, and Second Harvest here in Chatham County.
"I developed the questionnaire, and I used what's called a Healthy Food Pantry Assessment Tool," explains Suggs. "With that, I was able to assess the structure. How is it set up? Is it meeting needs? For food quality, is it processed items or do they have access to produce? How close is it to the nearest transportation point, or is it walking distance? How do people get there? What kind of signage is available so people know this is a food pantry or soup kitchen or whatever the situation is? Do people have to fill out paperwork or show ID? What's available—is it items on the shelf or is it brown bags?"
Suggs used that questionnaire and also spent some time serving to see the action firsthand.
"I found out that most people said, with the exception of just a few, that they thought the food pantry was meeting their needs to be fed," says Suggs. "I didn't go so much into the nutritional aspect of it, and that's definitely an area for future research, but most people said they felt like they needs were met. And I think the food pantries did an awesome job of meeting the basic need of serving people where they are, but the question goes back to, what is being fed?"
Suggs found that overall, specific dietary needs were not being met.
"They try to keep [the food] as uniform as possible, but if the salt content is really high, how does that affect someone with high blood pressure?" asks Suggs.
Another interesting thing Suggs discovered was the frequency with which the pantries were being used.
"Food pantries are designed to be used in emergency, like if I really need something or I may have fallen short with bills this month," says Suggs, "but I found that 63 percent of food pantry clients are using it on a regular basis. I also found through Second Harvest that 17.1 percent of individuals used the Chatham County food pantry. These are all things to think about. There are 175 different outlets, whether they be soup kitchens or food pantries, in the area and 49,830 people are using that."
The conversation then, Suggs says, needs to be around donations.
"What are we giving?" she asks. "Canned goods are not the worst thing you could serve, but are they the best thing you could serve to people that still need nutrition to function on a daily basis?"
Canned goods pose another question in our donation process. Families who are just having a hard time financially may still have access to can openers, but homeless people probably wouldn't be able to open a can without a pop-top.
"I think the big takeaway from the project is that guidelines have a place to be implemented within the food pantry and soup kitchen distribution outlets to give food to people," says Suggs. "The volunteers really try to pack the bags as healthy as possible, but if there's only bread and rice and potatoes available, that's all they can put in the bag."
Suggs' talk will focus on being more mindful of how we help others with food insecurity issues.
"We have to avoid the idea of 'beggars can't be choosers,'" she says. "We have to be conscious that they're people too and they deserve a valid meal like everybody else."
CS