THE MARSHALL TUCKER BAND was just in town about a year and a half ago, for a memorable gig at the Lucas Theatre.
They were originally booked to be the inaugural concert at the then-brand new Stage On Bay. But that venue was unavailable due to a political fight with the City of Savannah, so the show was moved at the last minute to the Lucas.
Though one of the last classic Southern Rock icons left standing, MTB continues to remain relevant. Their string of '70s hits, including "Can't You See?", "Heard It in a Love Song," "Fire on the Mountain," and "Take the Highway," remain radio staples.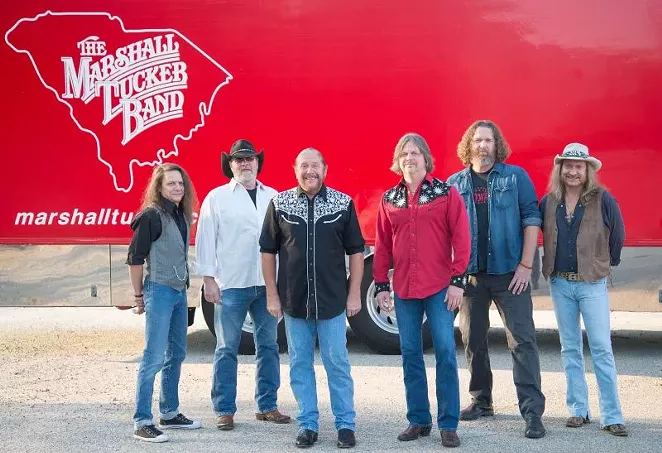 Named for a blind piano tuner in the band's native Spartanburg, S.C., the Marshall Tucker Band doesn't shy away from other musical influences, as proven by recent collabs with Kid Rock and the Zac Brown Band (ZBB member Clay Cook is MTB vocalist Doug Gray's nephew).
Their current, still-busy touring schedule includes a top billing on Lynyrd Skynyrd's current farewell tour.
Vocalist Doug Gray is the only original member still in the band; among other personnel changes, founding bassist Tommy Caldwell died in a car crash in 1980, and Tommy's brother, founding guitarist and songwriter Toy Caldwell, died in 1993.
This year they are back at The Stage On Bay; we spoke to Gray last week.
You guys had to play at the Lucas last year. Not such a bad way to have to change plans.
Doug Gray: It's a great venue. Of course we've played hundreds and hundreds of venues, but that place is amazing. It's obvious that someone put a lot of time and money and love to recreate something of beauty and maintain it like that.
What explains Southern Rock's continuing popularity?
It brings back a special memory. Music does that to people. People long to have a peaceful feeling. They want something they can relate to. And no matter their age, they can relate to these Southern bands.
You wouldn't believe the crowds we've been playing to. We just played to over 20,000 people. And there are so many young people.
We've been able to thread the needle with that. I like to say this kind of music isn't coming back — it's being found again.
People's families had to grow, people had to spread out over the country. We've watched children grow up. If your parents listened to us driving you around in the car, you then grew up and wanted to go to a Marshall Tucker Band show.
But it ain't easy, to be 70 years old and have to get onstage and try and kick some 17 year-old's butt (laughs)!
Growing up in the South, we always thought of Southern Rock as, well, rock. How is the genre perceived in other areas of the country?
More recently, what we've noticed is it's become hip to go see '70s bands. Seeing the Marshall Tucker Band was something different, and something unique or unusual for some folks because we're Southern. We started seeing that happen in California early. Now, California's a bit different about a lot of things.
Back in the day, people would take one look at us and think, "Uh-oh, look at those rednecks walking up, here comes trouble." But now people are wanting to be a part of what we were years ago.
And now our ability to do that has quadrupled. The secret is Toy Caldwell writing all those songs. They are so clean, so simple, they use simple words.
It's not a given that you could continue without Toy's incredible talent.
Our success since he's been gone has been good for Toy's family, too. It's all a square deal. He and I went way back – we met after each of us had come back from Vietnam. Toy had a more mature analysis than me of what was going to happen. But we all knew we had the music in us.
Not a lot of folks realize it's Toy singing lead vocals on "Can't You See?"
And he hated to sing! That's why I sing 99 percent of Marshall Tucker Band songs. He loved to write, but he hated to sing.
When we were rehearsing "Can't You See?" it became obvious to all of us that he really had to be the one to sing it. He was like, "Aw, man, don't make me sing this!" (laughs)
But through the years, we have a saying: Stick to the song. We give everybody freedom to be who they are, whoever they are and whatever they play in the band, but it's these songs that keep people coming back.
cs