For all of the terrible stories that have been shared as a result of the last two years, it's refreshing to hear good news for a change. Sure, all you need to do is walk around Downtown Savannah on a weekend these days to see that business is booming, but a lot of these business owners will tell you it's not all fun and games just yet. A lot of them are still digging out of holes and/or climbing back from near ruin. A little dramatic? Not to those who've been living it.
So imagine my reaction when I made a call to Jeb Bush, executive director of the Forsyth Park Farmers Market to talk to him about the 2022 Farm Picnic fundraiser and found out that the market really hasn't missed a significant beat in the last two years?
"We are one of the few non-profits that have flourished during the pandemic." he says.
Full disclosure, I've seen the traffic at the Market nearly every Saturday.
I live down the street. I figured they were doing well, but I never would have guessed the news was as good as it has been.
"We never missed a market." Jeb tells me "We made sure our farmers had a place to bring their food and the people who needed to have access would get it."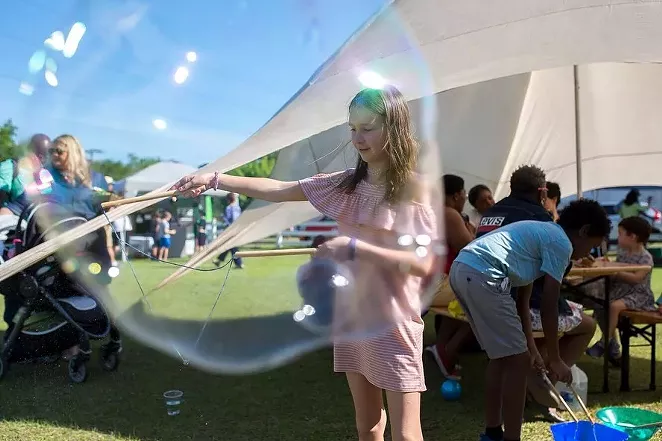 He says those first few markets in April, 2020 were very slow, which was to be expected, but it bounced back pretty quickly as people found themselves feeling safer shopping outdoors versus in a grocery store. Word of mouth kicked in. People who didn't normally shop at Chatham County's largest Farmer's Market found themselves visiting.
"People were spreading the word. We had a record 2020." he says. A record for traffic on Saturday mornings, that is.
There was still the issue of the annual Farm Picnic, held every year at the end of April. The market's largest fundraiser of the year. It accounts for roughly 20% of their non-grant funding. In 2020, it was the first thing to go.
Last year, it returned as a hybrid event. There were some attendees, but an effort was made to raise money on-line. It worked. It went well, but it wasn't nearly as productive as the full blown, in-person picnics they've held for years.
Well, this year it is back and it is this Sunday.
Farm Picnic 2022 will be held this weekend (April 24) at Roberd's Old Dairy Farm on Tennessee Ave. on Savannah's East Side.
It's the only spot they've held this event. It's a perfect spot for this event. It's the market's first full picnic since 2019. That's a significant portion of their annual budget continues to lag behind what it was 'pre shut down'
Just another story of an entity continuing to rebuild after a significant setback
The scene will remain same as it ever was at the Old Dairy Farm this weekend. With food donated from over a dozen local restaurants and live music in a beautiful setting, it's probably the best $45 you can spend this weekend. Saturday at 2pm that price will go up to $50.
As I write this, mother nature looks like she is going to agree with the plan which means this event will sell out. Certainly great news for the market's continued financial recovery. There will also be an online auction, which was held for the first time last year and did very well.
The Forsyth Farmers Market and its food truck has always provided a tremendous service for this community, but it cannot exist without the public's support. More good news is that the number of people who recognize this continues to go up.
The Saturday market is up to 60 plus vendors. On any given weekend you will find 40-45 of them set up down the middle of the park. If you've never been, you owe it to yourself to take a look. If you can't make it Saturday, well then they'll look forward to seeing you this Sunday to help them take a few more steps back to normal.