YOU KNOW what, people? We're in a really good spot right now. The night is always darkest before the dawn, and I can't lie, things were looking pretty gloomy for our food industry for a second there.
I would circle the blocks hoping there was a hole in a wall I missed, while I passed construction on a new hotel or chain restaurant. I would think to myself, "How does this tourism market continue to grow, if we have the same exact thing to show every year?"
The net cast over the tourism market pushes those visiting into a shallow representation of what Savannah is; and I've always known that food and alcohol are at the foundation of that perception. As our local community continues to stretch and develop the depth of our intention, we are creating the unique wavelength of our local underground.
Food is the bloodline of that movement, as expressing culture and tradition through flavor breaks down barriers of race, gender, sexuality, religion, and class all at once.
Food provides the best platform for intersectionality and creates an opportunity to break down the walls while discovering this illusion of separateness between us.
I do not believe this shift we have been feeling in the air around our food industry is accidently happening at the right time. It only seems fitting that in the eleventh hour, when we really need to come together, we've been given tools to do so.
There has been a movement bubbling from underneath the surface for some time now whose purpose is to illuminate those putting in work on the ground level; and it seems to be gaining a lot of momentum. The local artist community is the major driving force behind this shift, and I believe art is the heartbeat of this city's present and future.
The latest addition to Savannah's local nightlife has been these very unique, culture-driven chef pop-ups, happening at Foxy. Such a simple concept, and within its simplicity are layers of intention and creativity.
Just like an album release or an art show, these pop-ups allow the local chefs who are usually bound to a set menu that may change seasonally, to express themselves creatively in a way that have never been seen before.
The veil is lifted for a night, which entices people to step out, drink, and mingle with one another before digging into the only art form that can be eaten, and only exists in our memories and in photos of it.
Food is so unique, it honestly humbles me pretty frequently. It is such an intimate thing to feed people, and have to that privilege is such an honor, as most chefs who love what they do will tell you. These pop-ups that have been happening create such a deeper connection between the chef and the people they are serving.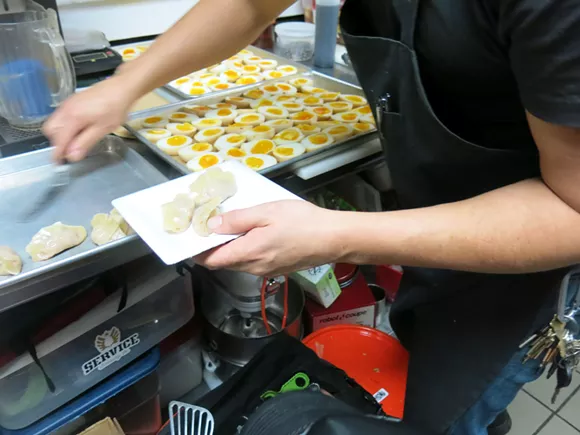 This past weekend James Levens, who is doing the chefing over at Smith Brothers Butcher shop, put on a very well-attended ramen pop-up at Foxy. When I showed up, there was literally a line around the building, which told me that people had been waiting for this since the last pop up.
As I scanned the line, I saw people of all ages and races, who stepped out to embrace the pulse of the city. I got a chance to ask James a couple questions about what that meant to him.
"I choose ramen simply because there isn't any real ramen available in the city. We've actually been doing pop-ups for a couple years now, and the idea has always been to create an event that is unique and gets everyone excited about the experience," he tells me.
Mission accomplished, because I talked a lot of people who were excited to see something like this happening.
Born in Savannah, but cooking around the country, James's inspiration for cooking came from wanting to eat out as a kid, which he was clear in saying was no jab at his mom's cooking.
"Food gives me the energy to live," no pun intended, "and I honestly hope these pop-ups only create more in the future, and it inspires creative people in our industry to see they can do more than the job in front of them," he said.
"We plan on having more pop-ups in the future, as we love the collaboration with Foxy Loxy, and we would love to expand and have an open kitchen space one day."
Which is exactly what we need to continue the progress in the direction we want. Let's have open spaces that create a vibration of community, and allow those who want to express themselves have a place to do that.
The arts are what is going to bring our city into the light that we want to see it in, so we have to support the arts not just in the present, but for the future as well.
If we can pour energy into something that will provide us an identity, we can build the foundation for that to be sustained and evolve for many years to come.
Food is culture. Art is culture. Food is art. Let's embrace what is going to bring us the change we are looking for, as we keep stirring that pot.
cs