WITH OUR tropical weather, Savannah enjoys a long growing season, full of fresh fruits and vegetables. As a result, the local farmers markets continue to offer options well into the fall.
This time of year does bring a few changes, with new markets popping up and some favorites winding down. Here's where you can go in Savannah to find both indoor and outdoor options.
Farmer's Market at Oglethorpe Mall
The area's newest option is planned for the first Sunday of every month, noon-6 p.m., starting in September. Stephanie Jones, Market Coordinator, hopes there's enough interest in the market to help it become a weekly event.
She occupies a dual role as co-owner of Jones Creek Farm in Midway with her husband, Jacob. While the farm is just getting started, they are focusing on crops of Moringa, a superfood with four times the Vitamin A of carrots and seven times the Vitamin C of oranges, among other health benefits. She's ready to educate consumers at the market on how to use the plants:
"Moringa is called the tree of life because of all its nutritional benefits. We use Moringa fresh in salads or sautéed like spinach as well as in pastas, soaps and stews and growing it is my passion."
Other vendors are planning to bring locally-produced merchandise, like Brothers in Farms' hydroponic lettuce, Hive and Homestead's honey products and handcrafted seasonings from Souley Southern.
Inside the Oglethorpe Mall, 7804 Abercorn Extension, Savannah
For More Information or To Become a Vendor: JonesCreekFarm@gmail.com
Forsyth Farmers Market
The largest of all the local options, the Forsyth Farmer's Market has around 45 vendors registered. On a typical week, around 30-32 of them line up down the sidewalk of Forsyth Park, eager to sell to a mix of tourists, Savannah locals and downtown residents.
The fall months bring exciting new produce from local farms, like pears, persimmons and Satsuma oranges in November. The market is celebrating its 10th anniversary the last week of September, with special events. Chefs will have demonstrations that Saturday and kids activities will be hosted. There will even be a petting zoo.
Executive Director of the market, Jeb Bush, is excited about Farm Truck 912's mission of bringing fresh produce to low income and low food access residents of Chatham County. He's grateful for local support:
"We received a large grant from Gulfstream to retrofit a Wonderbread truck, turning it into our farm truck. We started with two stops per week and we're now up to 14 stops per week."
The Forsyth Farmer's Market was one of the first of its kind to accept government programs like the Supplemental Nutrition Assistance Program (SNAP) and Electronic Benefits Transfer (EBT), making obtaining quality whole foods accessible for all.
781 Drayton Street, Savannah
For Farm Truck 912's Schedule and More Market Information: ForsythFarmersMarket.com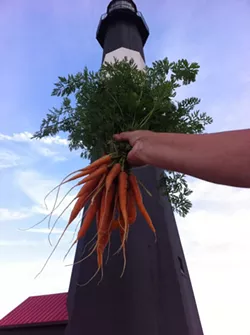 Tybee Island Farmer's Market
From homemade lemonade sold by the glass, Davis Produce's iconic Killer Tomatoes, Catie's Confections key lime pie, fresh kimchi from Cafe Miss Korea and farm eggs from Charlie's Chicks, customers here don't usually leave empty-handed. Steve Johnson, market co-manager with his wife Nancie, focuses on making it a fun stop for tourists and Tybee locals:
"The core of the market is a farmer's market. We're a food-oriented market but also have artisans. We try to have a good variety for customers to have a good experience."
At peak times, the market may see four to five hundred visitors. Steve attributes this, in part, to the support of Tybee tourism by the Chamber of Commerce and City of Tybee. Steve says, "We love the fact that Tybee Island has supported us. We're in our fifth season now and we've grown."
The appeal of the event is distinctly coastal. Local artists sell jewelry and beach ornaments, tie-dyed clothing, beach artwork from recycled wood and even Avon bug spray. One Love Caribbean food has sweet and spicy dishes, ready to go. In the fall, a palmist tells fortunes for visitors curious about their future. On the fourth Monday of each month, the Coastal Mermaid and Pirates Club social group for differently-abled adults show off their talents with arts and crafts to sell, using the money for their birthday parties, field trips and other occasions.
The Tybee Island Farmer's Market is open every Monday 4-7 p.m. on the field behind the lighthouse. It will close down for the season after the last Monday in October and open up again in March 2020.
30 Meddin Drive, Tybee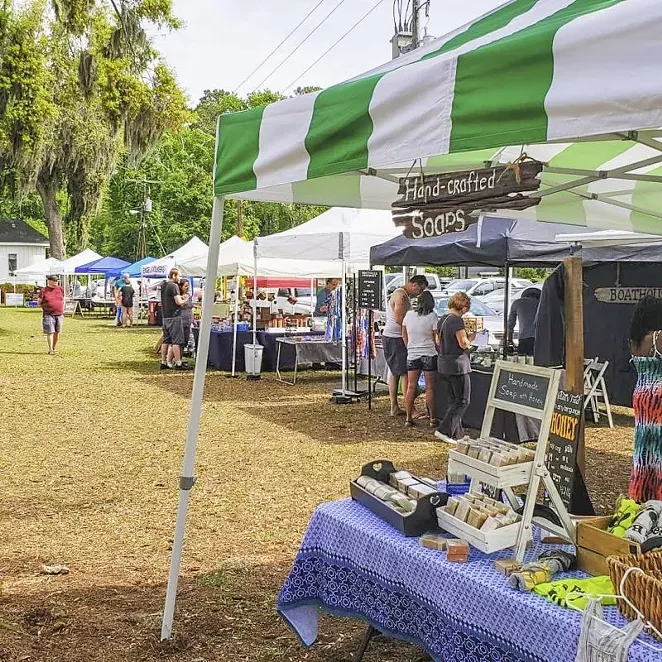 Wilmington Island Farmer's Market
Patrons can bring themselves and their well-behaved pets to walk around the marketplace, shopping a variety of neighborhood selections. Susan Gilliamsen, who brings together the volunteer-driven market, originally began as the organizer for local artists and crafters. She's glad to have expanded the artistic offerings from just once a month to weekly:
"We focus on as much local presence as we can. We've opened up to having artisans and craft vendors, which has been very popular, every week at the market."
With a goal of serving their local island community, the market also has entertainment, fresh fruits and vegetables, grass fed meats and food products with a laid back, relaxing vibe. Purveyors like Rum Runner's Bakery have been with the market long-term and you don't get much more local than the Wilmington Island honey from Tee's Bees. Running year round, the market takes a break in July, August, January and February. Otherwise, they are open every Saturday 9 a.m.-1 p.m.
491 Quarterman Drive, Savannah
For More Information or To Become a Vendor: IslandsFarmersMarket@gmail.com
Savannah State Farmer's Market
Open year round and located just off of Highway 80 in Garden City, the Savannah State Farmer's Market has vendors from 9 a.m.-6 p.m. Mon.-Fri., closing an hour earlier Saturday. In the fall, squash like Cushaw, Butternut and Pattypan share the area with hay bundles and corn stalks, just right for fall decorating. Local Farmbag and NLAWs produce stock the aisles with fresh selections and the market has a florist available. Babe's Smokehouse is on site with a full menu until 7 p.m.
701 U.S. Highway 80 East