AGEDA MACHUCA has no problem flaunting her curves.
Known as "Agee" to her friends and followers of her @ageemac Instagram account, the 26 year-old regularly poses for selfies in cute frocks and stylish swimwear, her bright, red-lipped smile ever present.
"As a size 16 woman, I'm finally feeling comfortable with who I am, and I want to share that," says Machuca, who recently graduated with a Masters in Professional Communications and Leadership from Armstrong State University.
"I'm plus sized, and I feel really good about it."
Confident as she is in her own skin, she confesses she's slightly nervous about cruising the catwalk this Thursday, June 22 for Sugar Solstice 2017, a bathing suit and lingerie fashion show showcasing all types of bodies.
"I've never been on a runway before," she says with a tinkling giggle.
"But I think it's going to be exciting."
Machuca will join 18 other models of various shapes and sizes for the event at the Brice Hotel, organized by Southern Sugaring's Jessica Mock.
"We service every size on the spectrum, so when it came to planning the fashion show, I really wanted to reflect that," says Mock, who offers hair removal services via a gentle process that uses sugar and lemon at her sunny, second-story salon boutique on Chippewa Square.
"We want to offer options that make every woman feel sexy."
Showcasing colorful bikinis and maillots in XS to XL from eco-conscious swimwear line Vitamin A, the event also includes seductive selections from Hanky Panky, Naked Princess and Cosa Bella, which offer lingerie and loungewear for fuller figures.
"It can be limited, though," notes Mock. "We'd like to do this regularly, and by next year I hope to see even more choices for all kinds of bodies."
Tickets to Sugar Solstice range from $50 for the "sweet" general admission to the fashion show and after party to the "sweeter" $75 level that includes an open bar, all the way up to the "sweetest" $120 category, which includes front row VIP seats and a swag bag stuffed with beauty products and accessories.
All proceeds benefit Safe Shelter, the local non-profit that gives domestic abuse survivors a place to stay and directs them to services. Mock hopes to raise several thousand dollars for the shelter through the event and conceived the idea through the Savannah Influencers networking group.
"We're a group of businesswomen who want to use our success to give back to the community," says the Sylvania native, who opened her salon in 2015. "This is a way to do that and have a whole lot of fun."
Being a positive influence in the community is also Machuca's mission, which is why she didn't hesitate when Mock asked her through social media to participate in the fashion show.
"I try to motivate people to feel good enough about themselves, so when Jessica shot me a message, I knew I wanted to take part," says the newly-minted runway model. "It's an opportunity to use my platform to inspire others."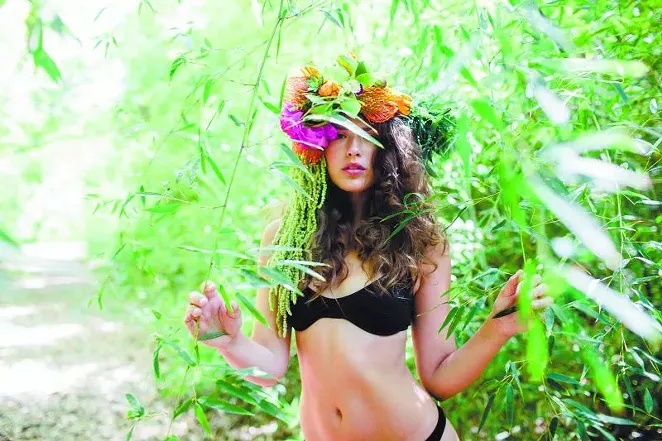 Machuca also served as a graduate assistant for the Office of Multicultural Affairs while at Armstrong and believes putting herself out front can help in more ways than one.
"I am Mexican American, and growing up I didn't have a lot representation of people who looked like me," she recalls. "I want to show that there is power is simply being yourself."
Mock agrees, and as the mother of a baby girl, wants to make sure her daughter grows up in a culture inclusive of a broad definition of beauty.
"That starts with normalizing all sorts of bodies in bathing suits and lingerie," declares the stylish aesthetician.
"We're rocking the boat, just a little bit."
cs