It felt like old times visiting with the Wagstaff Family.
The visit to their soon to be open English Pub in Pooler featured a long stroll down memory lane.
The first time we met, Winter of 2013, they were a couple of weeks into their brand new bakery on Canal Street in Pooler.
Sister Emma made the call back to England. Her brother Edward had finished college but was most passionate about baking. She had moved here in 2007 to work for JCB.
"I called him and said he should consider opening a bakery here. I told him no one here was doing pies like we have back home." she recalls.
There wasn't a lot of arm twisting to be done.
In August 2012, Edward arrived in Savannah with mom in tow, with plans to open a British style bakery. Savory pies and maybe some other items. Pie Society was born. It was an instant hit.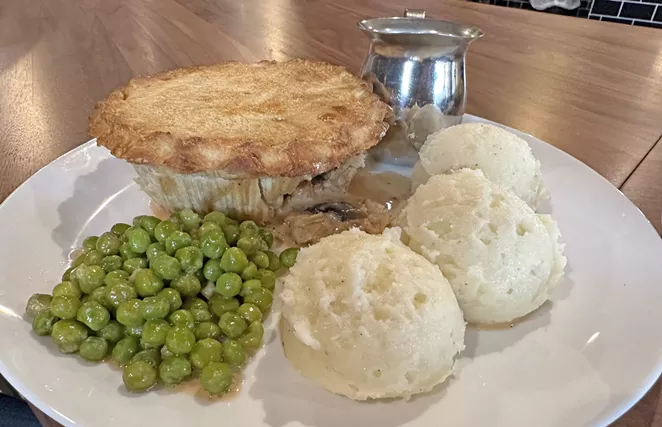 "We were big with the lunch crowd from Gulfstream," Emma says referring to the largely British contingency that visited them early on.
Over time, locals came to love them as well. To the point where these days Pie Society is somewhat of a household name in Pooler.
"We are being asked every five seconds when we are going to open here." Sister Melissa says when referring to their newest venture, The Crown and Anchor Pub by Pie Society.
"Everywhere" Emma adds.
Sister Melissa was back in England when Pie Society hit the scene in 2013. Shortly after she finished 'university', as it is called across the pond, she decided to come to Savannah to help the family business out for a few months.
That was seven years ago. Melissa married a fireman and is in charge of operations at their Little Crown Pub in City Market, a 540 square foot cute-as-a-button watering hole on Jefferson St.
The siblings agree that it was the success of that space that planted the initial seed to open a full blown English Pub.
They had outgrown their space on Canal St. in Pooler years before. Development in the city and subsequent traffic made it increasingly difficult for their regulars to get to them for a quick business lunch.
They had to do something. They looked into expanding at their original location but spaces weren't coming available. Ultimately, in 2017 they moved their baking operations into a space on Highway 80. With a location allowing them to increase production, they put two food trucks on the street. One for their signature pies and Ark Royal Burgers, one of Savannah's more popular burger trucks.
Still, all knew they wanted more.
"We've been making our food for a while. We really wanted to give it more of an evening setting. There are a lot of dishes we wanted to try that just didn't make sense in the bakery." Melissa says.
As these things tend to happen, the space next door to their production facility on Highway 80 was coming available. It would double their size and the kitchen was already in place.
They signed a lease in late 2022 with plans to open their first full blown pub featuring foods the siblings grew up on in England and of course their handmade savory pies.
"Pubs in America are a little stereotypical when it comes to the food you get. We are trying to be more traditional." Melissa is very quick to point out.
The space is beautiful. Fairly traditional in its decor. 2100 or so square feet dominated by a large 20 seat bar in the middle. The bar will feature over a dozen beers on tap. Mostly British, of course, but a couple of local brews will fill out their roster. Fifty plus seats will fill the dining room along with a room in the back for groups of 10-15. That room is enclosed by a massive fish tank they inherited from the previous owner. They've named the fish inside already. They've become part of this family.
The menu is rather straight forward when you consider they are aiming to create a proper pub. The Fish and Chips I nibbled on for lunch were outstanding. The tartar sauce (made in house) was a perfect compliment. The full size serving is huge. There's a Ribeye steak on the menu and other feature items. Of course, you will find a nice selection of their signature savory pies and the burgers they offer on their truck. A few appetizers round it out. Basically, everything they've been doing for years here in the area will be available at this pub. Plus a few extras like Halloumi fries-delicious-and a couple of house-made curries.
This is going to be a big hit in Pooler. A retail pie shop by day, proper pub next door by evening and night.
The location isn't ideal for those that live deep in the heart of what Pooler has become.
The Crown and Anchor Pub is on Highway 80 to the East of I-95 and shares a parking lot with the very popular Spanky's.
The crowd that enjoyed the now closed Molly McPherson's on that end of town will now have to drive a little bit to get to this gem. But the family still loves the spot.
"People drive highway 80 to and from work every day." Emma says. "Plus we have a lot of people who stop here to see us every year on their drives to and from Florida. They are here all of the time. This will be easier for highway traffic."
Savannah is going to love this Pub. There a couple of televisions at the bar. Large enough to enjoy some Premiere League football on weekends. We know many of you will. Their plans for now will be offer dinner service until 10pm when they will flip to a condensed late night menu. On weekends they could stay open until midnight or later. That's a discussion in progress, but they absolutely recognize the need for late night eats in the area. We just don't have many options and they know it.