THIS WEEKEND, three alt-rock sensations take over The Stage on Bay for a hit-packed night. Alongside Dishwalla (responsible for the 1996's "Counting Blue Cars") and Marcy Playground ("Sex and Candy," anyone?), radio favorite Fuel is ready to rock Savannah.
Once a little cover band from Henderson, Tennessee, Fuel climbed the charts in 1998 with their debut LP Sunburn.
The lead single "Shimmer," which took textural inspiration from grunge and injected it with a brightly building tempo, strong melody line, and subtle bed of strings, peaked at No. 2 on the Billboard Modern Rock Tracks charts and became an instant favorite.
Fuel broke into the new millennium with Something Like Human and another smash hit, "Hemorrhage (In My Hands)," which stayed at No. 1 on the U.S. Modern Rock Tracks chart for 12 weeks straight. It's considered a defining song of the decade and helped inform the direction and sound of rock of the time.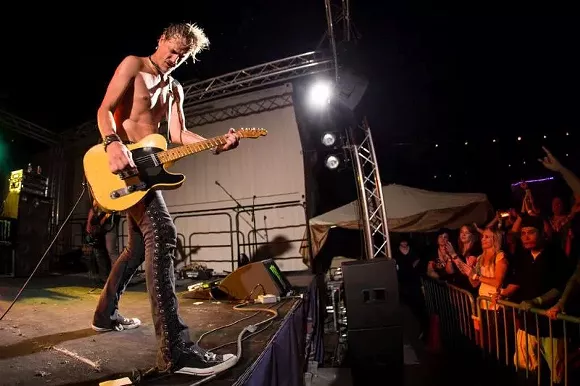 The band's third album, Natural Selection, took some time to release but was worth the wait: "Falls on Me" was a powerful, heavy ballad for the band, and Natural Selection received a Grammy Award nomination for best engineered album.
Frontman Brett Scallions' dynamic voice hooked fans in its ability to carry an enormous chorus while keeping its blistering, grunge-influenced qualities.
Scallions left Fuel in 2006, but returned in 2010 after time spent playing the music of The Doors with original Doors members Robby Kriger and Ray Manzarek. He also performed in World Fire Brigade with Smile Empty Soul's Sean Danielsen.
While Scallions was exploring other outlets, Fuel continued to perform and release one album, 2000's Angels & Devils, before largely becoming inactive. During that time, Scallions and original bassist Jeff Abercrombie got together to play songs from Sunburn and Something Like Human as Re-Fueled, performing with guitarist Yogi Lonich (Chris Cornell, Buckcherry) and drummer Ken Schalk (Candiria).
In 2010, Scallions reformed Fuel. The band released an album, Puppet Strings, in 2014, and continues to happily tour and celebrate with fans, or "Fuelies," as they're called.
Scallions shares his thoughts on singing the music of The Doors, pre-show rituals, and the state of rock 'n' roll.
On his approach to songwriting:
Sit down and write the best song you can. Try not to be anyone else by any means. We're always going to have our inspiration, I guess, but basically write from the heart and as real as you possibly can. Write about the moment.
On leaving Fuel in 2006 and returning in 2010:
It's different, for sure. I took a long period of time off doing a number of other things. I was performing with Robby Kriger and Ray Manzarek from The Doors for a number of years. Those guys taught me so much about the true freedom of being onstage and performing together as a band and not necessarily sticking to guidelines of what was recorded, just the freedom of playing together and watch each other and waiting for changes. I try to distill that same freedom with the latest incarnation of Fuel.
On his first stage performance:
The first time I performed onstage with a band in the middle of nowhere in Tennessee. There were maybe five people at a little shitty club and I didn't care about that, I didn't care that anybody's not there. I was so psyched to be able to perform songs with a group of guys, I might as well have been at Madison Square Garden!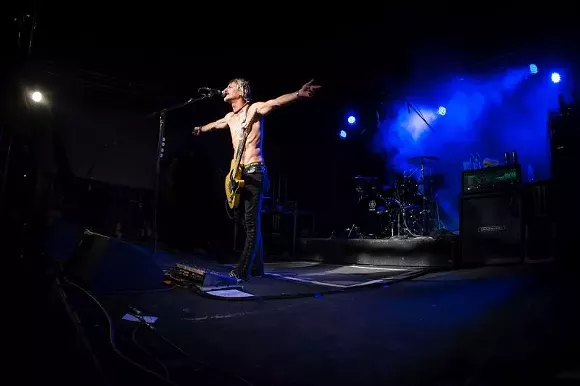 On warming up his iconic voice:
These days, I do my vocal warmups for a good 20 minutes. I start an hour before the show, have a rough moment before the actual show, sip some Jameson, get ready for the gig, head out, and play it.
On touring today versus the early days:
I try to spend less time on the road than I used to. Back in the day, we'd go six, eight months straight. We'd take a week off, do it again. I'm not capable of doing that anymore! I'm 45 years old. I've got to take breaks. When you get married and have kids...your priorities change in a rapid way.
I love being a musician and touring and playing for the fans, but it comes second these days. First and foremost, it's my wife and kids. Everything I do now is for them.
On touring with fellow '90s kings Dishwalla and Marcy Playground:
We've done tons of shows and festivals together over the years. This is the first tour we've all agreed to go out and do shows together. We've been on the bus with these guys, and they're such sweethearts. The music is great.
On today's pop-dominated radio and claims that rock is dead:
Everything comes back around at times. We live in a different time now with record sales plummeting and downloads taking over and then free downloads. It's been a major adjustment in the music business. I wouldn't say rock has been dead. There are some people who speculate that rock is dead, but I think rock lies dormant at times and resurges. They're not getting rid of us.
CS