In her senior year at Savannah College of Art and Design, Anya Driffil is debuting her first art show at Gallery Espresso. Her work consists of acrylic paints, though her concentration at SCAD is sequential design — the creation of comic books. Her discovery came at the hands of her roommate who is a barista at Gallery Espresso and saw a lot of potential in her drawings and suggested her to the manager for display. Anya Driffil had an unconventional childhood to say the least. When she was born in Richmond, Indiana, her parents were college freshmen and she lived on student housing in the first years of her life. As her parents went to grad school and into residencies, Driffil's residence alternated frequently between Indiana, Illinois, and Maine with various combinations of parents and grandparents raising her. "I was always drawing when I was little," Driffil said. "It was fun but as I got older, it just helped me cope. Especially moving around." Her father was a comic book aficionado who had a large collection of back issues in his youth. When Anya started expressing an interest in comic books in 3rd grade, her father renewed his interest and took her to comic book stores and the like.
Upon graduating high school, she opted to go to SCAD because aside from her love of the city, this was one of the only schools with a program. Upon graduating high school, she opted to go to SCAD because aside from her love of the city, this was one of the only schools in comic book design, or sequential design, as it is formally known. By that time, her mom had became a doctor and her dad an ornithologist — the study of birds. "They were very supportive [of my education]," Driffil said. "They, in college, didn't have as much financial support as I do, and I think they just wanted me to be able to do what I wanted without the stress that they had, so we all feel very fortunate." Although it's a narrow field, she explains, "All the professors have all worked in the industry. With the amount of classes we take, it prepares you to do a lot of stuff in the art world. I can go to illustration or surface design." As she is in her last quarter at SCAD, she has already interviewed for one comic book company and is well-versed in the outlets she can pursue whether they be indie comic books, the big companies like Marvel or DC, or self-publishing. Meanwhile, Driffil has pursued painting as a pastime when she's not doing homework. For her, it's a more relaxing activity. To a degree, it's still a way to cope with situations. "A lot of my paintings I do to cope with situations," Driffil said. In one picture, she has a picture of a man in a bed that's plastered on a billboard alongside of a road. She explained that this came after a breakup and that "when you break up, you see him everywhere so I put them on a billboard." She also has drawn inspiration from a Bruce Springsteen CD, a poetry magazine she received form her grandfather, the first chair she owned, and her roommate. For the most part, however, she doesn't like to explain her work. "I really don't think it's necessary for art," she said. "I think it can be interesting but it can color someone's perception of an art work. I guess that's something that I like if I'm at an art museum or something."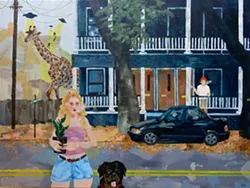 That abstraction is what Jessica Barnhill latched onto when she selected her. "There were a few pieces that have this dreamscape [or] imagination," Barnhillsaid."Like the girl on the phone with the fish floating around her head. You can read whatever you want into that but I kind of like the idea of 'where that's going' and the possibilities of what you think it's really about. So, I do enjoy that aspect where you can question the piece or even yourself." As for what's next for Driffil, she is not sure whether she will remain in Savannah where she has a larger network of fellow SCAD students and alumni or move to a bigger city like Atlanta where there are more opportunities. She does know that this gallery debut is a great first step for her. "I think it just opened my eyes that there are possibilities and opportunities and at the stage that I am right now, about to graduate," she said. "It's intimidating but having this experience made me feel better, and that it's not as difficult to pursue these things."
The art show runs through July 31 at Gallery Espresso, at 234 Bull St. For information, the website is galleryespresso.com.