THE Stage on Bay has been pulling nostalgic heartstrings with its bookings, and the Generation X tour is no exception.
This weekend, 1990s-2000s megastars Buckcherry, Lit, and Alien Ant Farm take over the venue to throw it back and rock it out.
"All these bands came up around the same time, so we're all familiar with each other and toured together on and off through the years," says Buckcherry frontman Josh Todd. "We had this great idea and wanted to create a good package. This is what people want: a lot of bang for their buck. All these guys have great live performances and get along really well."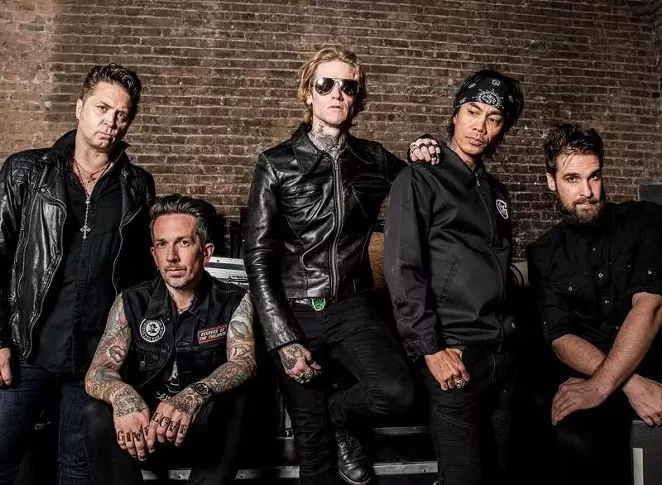 Anaheim-based Buckcherry formed back in 1995, releasing their smash debut album, Buckcherry, in 1999. The record, certified Gold by the RIAA, featured singles "Lit Up," "For the Movies," Dead Again," and "Check Your Head." In 2006, the band released its Grammy-nominated hit single "Crazy Bitch," which fully captured their blend of classic AC/DC-style hard rock, grunge-inspired modern alt-rock, and unabashed rock sleaze. That album, 15, also featured the softer single "Sorry," which would become the group's highest-charting single to date.
Despite breaks and personnel changes, Buckcherry is still going strong.
"Right now, we're finishing up songwriting for the new Buckcherry record," Todd shares. "We're recording in October and have some really great songs."
Mike Plotnikoff, who produced 15, is back behind the board for the new project.
"We've got about 30 songs...it's going to be very thorough on this effort," says Todd. "Everyone's going to be very happy. They're just good songs."
Back in the day, Buckcherry spent some time on the road with fellow alternative rockers Lit. The Fullerton, California-based band officially formed in 1988 but broke out with their hit single "My Own Worst Enemy" in 1999. A slow burner on the charts, the punky power-pop tune was certified platinum and won Modern Rock Track of the Year at the 1999 Billboard Music Awards.
While their peers are staying in the alternative rock lane with new releases, Lit has taken a drastic turn toward country music. That might surprise folks still clinging to their A Place in the Sun CDs, but lead vocalist A Jay Popoff doesn't find the shift to be that drastic.
"We never really were trying to stick to any specific genre," he says. "We never really did identify as a punk band—we're a band htat loves writing songs, and a lot of them are rock. Some were melodic. As a songwriter, you're inspired by lots, and that's a good thing."
About 15 years ago, the band started co-writing with great Nashville songwriters. They also discovered that country artists from Broadway to stadiums were covering "My Own Worst Enemy"—and why wouldn't they? A song about waking up hungover, naked, and abandoned by a romantic partner? It doesn't get much more country than that.
"Having gone through so many life changes—marriage, divorce, kids—the desire to put on an acoustic guitar, sit and play in a room, and really hone in on what you're trying to say...it was always there," says Popoff. "Now, we are a little more focused on what's important to us. It's not just about getting shitfaced and waking up and forgetting what you did."
Indeed, the single "Fast" fits perfectly on country radio with its observations of time racing by, watching children grow up, and shouting out to "Father, Son, and Holy Ghost, love and family, faith and hope."
"Alternative rock music is less about story," Popoff says. "This has been a lesson in being a little more vulnerable, which has helped us a lot."
It's not all about the twang, though—Lit still knows how to deliver a helluva live rock show.
"You're going to get that same energy," Popoff assures. "We are still a rock band. Rock music, country music—we're going to play all the favorites."
Alien Ant Farm rounds out the lineup. Fellow Californians, the band boldly broke out on the scene with Anthology. The record boasted a toughed-up cover of Michael Jackson's "Smooth Criminal," a song the band played while warming up for shows. The single that would become Alien Ant Farm's signature track, hit number one on the US Modern Rock Tracks.
The groups are excited to revive the old days with their fans.
"All these guys bring a really great live show," Todd says. "It's a great package."
cs