MICHELLE PEREZ'S inspiration for her latest exhibition includes alternate realities, living in two beautiful countries—and butts.
"Behind Us" is a collection of paintings that play with and dance around abstraction. Some of her works are done on recycled glass window, an interesting effect.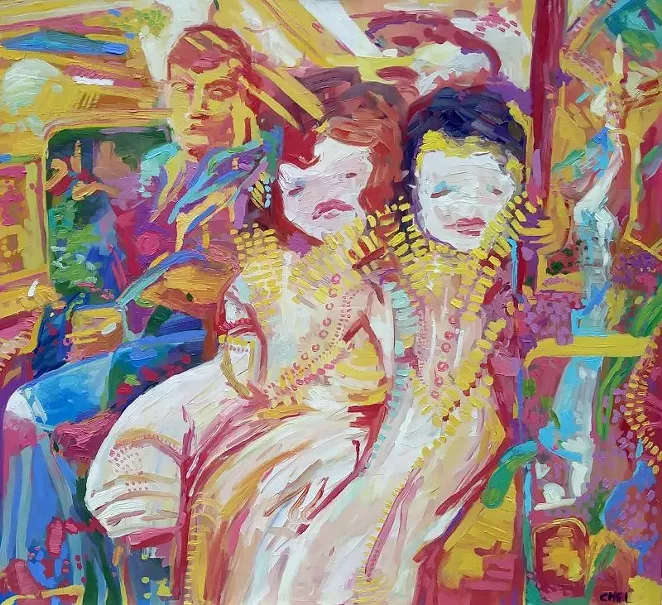 We spoke with Perez last week.
Tell me about the body of work for Behind Us. How did you get started creating it?
Perez: The themes of my works vary, but they all possess my drive to change the way in which I was used to making art, which was in a more serious and academic way.
I had several jobs in which I got to spend my days creating hand drawn illustrations and paintings, but it had been years since I was able to even think about making art purely for fun. I took a break from making art for work and decided to focus on myself instead. Despite my motivation I couldn't paint. I was blocked for years.
One day I jokingly told my boyfriend, Adam, that I should paint some butts and focus on the silly underwear to make them funny rather than sexual. "Do you remember being a kid and thinking butts were funny?" Butts are pretty funny! A wall covered in silly butt paintings is what I envisioned! The butts got me out of my artist block, or should I say, out of the hole.
I made three small impasto butt paintings, which initiated my exploration into mark making, abstractions, and colors. It wasn't a fetish or anything weird like that, I just wanted people to smile when they looked at them.
I'm especially interested in the multiple and alternate realities concept. Can you tell me more about that? How do you translate that into the work?
Perez: Often times I find myself in awe of how life is distributed, especially when I think about the various possibilities one could find in a parallel universe. Imagine a parallel universe in which my dog is walking me on its hind legs and I am on a leash, or where ghosts could be seen in plain sight and at daylight. Weird, but anything is possible!
My series of glass paintings explore worlds that are different yet clashing with one another conceptually or through abstracting mark making that brings each world in and out of focus. They are made on repurposed glass windows and framed glass in order to provide the viewers a window to look through and into a different world.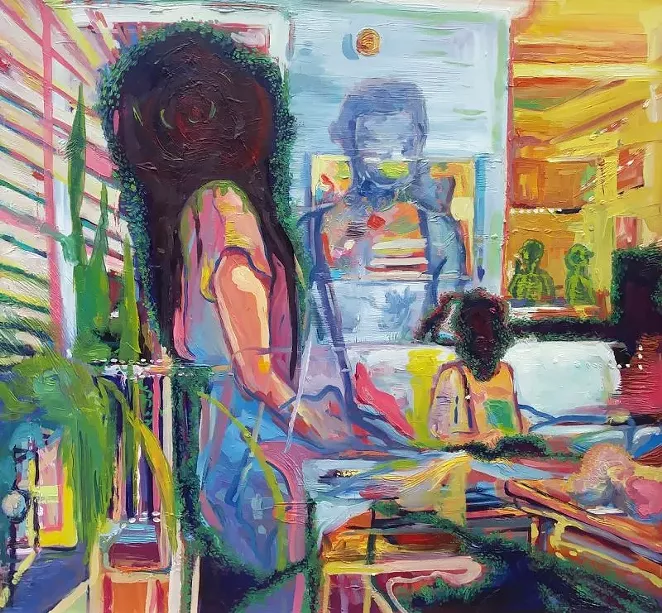 Does being second-generation Latina consciously influence your work?
Perez: In a way it does, but not directly. I was lucky enough to spent a lot of my childhood years living in the Dominican Republic mostly through in the 90s. My grandparents lived in the country and land filled with all sorts of fruit and vegetable trees. I loved exploring nature and playing with dirt, capturing tadpoles at creeks, studying them, and releasing them. I grew up with just about every pet animal you can imagine. Two of them were ducks. They had duck for dinner. My dad had friends with livestock farms so I became a vegetarian at a young age. My empathy for and connection with animals often seeps through my work.
How long ago did you move to Savannah? Is the art scene here different from the one in Philadelphia?
Perez: I moved to Savannah two years ago and I love it! The art scene seems to be growing in the city, definitely smaller but more intimate. People are also a lot friendlier here so you are bound to meet other like-minded artists and strike a more meaningful conversation.
cs