A-Town Get Down is back, and this year promises to be the most innovative celebration yet. The annual day-long festival dedicated to visual arts, music, and community has moved from its usual spot at the Morris Center to an unexpected and overlooked location: the west end of Indian Street, just past SCAD's Alexander Hall and a stone's throw from Service Brewing.
In the cool shadow of the Talmadge Bridge, aspiring artists, seasoned creators, and families will gather to take in an array of visual art, installation, and live music.
Perhaps one of A-Town's best characteristics is its participatory nature: this isn't a spectator's festival. Kids and adults alike are invited to roll up their sleeves and learn and create alongside the pros.
The musically-inclined can participate in the annual Open Jam led by swamp-blues hero Walter Parks or turn trash into treasure at Billy Jonas's Re-Percussions: Making Instruments from Recyclable Objects workshop. Brass aficionados can hang out with A-Town artists The Snarky Horns and learn how to develop an improvisational style, play as a group, use effects pedals, and practice efficiently in the Master Brass Class. Learn about Listening & Ear Impression from a professional audiologist at the beginning of the day.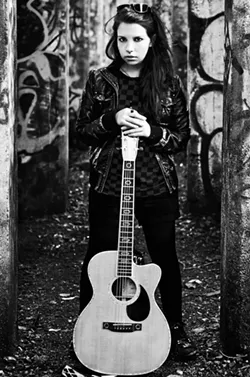 If you want to get a little paint under your nails, check out SCAD Ceramics: Slip Printing, where you'll learn how to create a print using a clay slip, or hit the Collabostation and participate in a Drawing Jam with provided supplies. Over at SCAD Print: Poster Printing, students teach you how to create your own one-of-a-kind A-Town Get Down poster. Build A Better World with Live Oak Library gives you the chance to decorate your handprint and add it to a banner to be displayed during the library's summer reading program. Add some paint to a large-scale painting at Moonlighting Over a Reflective Savannah: Collaborative Mural, and say hey to Garrison junior high students as they host a game of Mix Match Monster. Get ooey, gooey and gluey with Library In Motion, where you'll dip yarn in colored glue to make your own unique work of art, or make a decorative magnet from tree trunk slices and art supplies at Slices of Creativity.
Locals and touring acts will grace the stage from 1 p.m. to 10 p.m., starting with Savannah Children's Choir and ending with '90s heroes Cracker.
This year's lineup features returning A-Town favorites like Marques and the Miracle Workers, Swamp Cabbage, Waits & Co., and exciting performers like blues hero Bobby Rush, Col. Bruce Hampton, Old Salt Union, Snarky Horns, J Chambers, The Billy Jonas Band, Annalise Curtin, and Low Country Voices
Headliner Cracker rose to the top of the charts in the early '90s for now-classics like "Low" and "Euro-Trash Girl," but rather than fall exclusively into karaoke-favorite status, the band has continued to make boundary-pushing albums over the years. Their last release, Berkeley to Bakersfield, was a bold double-disc release that showed two sides to the band: Disc 1, "Berkeley," revealed their punk and garage roots, while "Bakersfield" brought out their California and Georgia country influences. We spoke with founding guitarist Johnny Hickman on his and frontman David Lowery's special chemistry, the band's evolution, and taking the show on the road.
You and David have a real musical chemistry. What is it about the way you play and write together that just works?
I think part of that comes from being friends and being aware of each other in other bands for a few years before we formed Cracker. Also, we were both from military families and had traveled extensively, being exposed to all kinds of music growing up before we met as young guys in Redlands, California.
Cracker's had many a member over the years outside of you and David. Do you consider Cracker to just be the two of you these days?
Well, we decided from the start to keep the core of it just us two. After a few years of doing this we'd learned that democracies rarely work in bands. Usually there are one or two people at the center of things. It's really been a plus to have played live and recorded with so many talented people too. It gives every record, every song a uniqueness while still always sounding like Cracker. It just works for us.
We're looking forward to seeing y'all in Savannah! How has touring changed for the band over the years?
We're looking forward to being back in Savannah too, thanks! We have a lot of great memories and fans there. Touring hasn't changed that much for us over the years. We've always been a little too weird for the mainstream but have a very loyal fan base so we're one of those eternal cult bands if you will. We get in the van and go! It's like we've been getting away with something for 25 years and happily, the fan base has slowly gotten a little bigger every year.
Your last album, Berkeley to Bakersfield, was an adventurous undertaking. Can you tell us about the concept behind a double-disc release with two distinct sounds?
We've always been appreciated by our fans for being a band that's not real one dimensional from that first record on. We've always brought elements of rock, punk, soul and country into what we do on every record because that's what we love. It's all in our blood, ya know? This time we thought it would be fun to sort of separate the rock (Berkeley) and the more Americana/country songs (Bakersfield) onto two separate discs. It was David's idea and it worked very well. It's been one of our most successful projects yet.
On a related note, Cracker's been able to remain chameleonic in sound over the years; is it freeing as a writer and guitar player to dabble in genre rather than stick to one sound?
Absolutely, yes. It's not really something I think about while coming up with something. I've always been that sort of guitarist. I listened to punk rock, country, folk, British blues-based rock, all of it and probably subconsciously borrowing from all of it. The fact that David Lowery is an equally varied lyricist and songwriter makes what I do just come naturally. Whether a guitar riff or a partially finished song come first is less important than the end result.
What's next for the band?
More shows are popping up. We're going back to Spain in May for a few weeks, our best country along with the US. It's fantastic for us there. I've got a few songs in the oven, a good little batch of guitar riffs too. I'll bet David does as well. We may just play shows and write a bit this year, David and Camper Van Beethoven may start working on another record, I'm just writing. Some of it may be for Cracker, some might be for another solo record. As long as I'm making music, all is well.
CS
[event-1]