There's something magical about happy hour, that special sector of time where discounted drinks and affordable appetizers abound. Happy hour is the perfect time to gather with friends and perhaps make some new ones as you toast to the good life at the bar.
It's no secret that Savannah is a drinking town, so happy hours aren't hard to find at all here in the Hostess City. If you're wondering where some of the best happy hour deals can be found, you're in luck!
Here's a roundup highlighting some of the best happy hours around town. And remember, you don't have to knock drinks back at the bar, you can take them to go and stroll through the squares once happy hour ends.

Ardsley Station
Situated on the corner of Victory and Drayton, Ardsley Station has quickly become a local favorite known for their toothsome plates and artfully-crafted cocktails. But one of the best things about Ardsley Station is their happy hour specials. Get this, they have not one, but two happy hours in the restaurant every day. The first is from 3 to 6 p.m., with the second happening from 9 p.m. to close. Their happy hour applies to the entire restaurant, not just the bar. During these happy hours, guests can enjoy $3 off craft cocktails; $3 off all glasses of wine; $2 off canned beer, seltzers and ciders; and $2 off small plates. And every Monday, patrons can treat themselves to half price wine bottles. And this offer can be combined with happy hour. It doesn't get much better than that!
Common Restaurant
Common Restaurant is a quaint eatery located on Broughton St. that's become known around town as a popular spot for brunch on the weekends. It might be lesser known, however, that Common boasts a happy hour featuring great specials on food and drinks from (find out hours). They have an entire menu dedicated to their happy hour featuring dishes like Salmon Belly Bacon Sliders and three varieties of Poutine Fries. They also have several specials on oysters as well. For drinks, they boast $9 cocktails, $8 mules, $5 draft beer and a selection of $8 wines, giving you plenty of affordable options to take advantage of.
The Grove
Nestled in City Market, The Grove is a restaurant and rooftop bar serving up Southern comfort food and signature cocktails. They host their happy hour Monday through Friday from 5 to 7 p.m., and it includes deals like half off champagne and wine by the glass, $2 off house cocktails and appetizers, and $1 off Southbound Brewing Company and Service Brewing beers.
Rhett
Located inside luxury hotel The Alida, Rhett is an upscale restaurant offering fresh, coastal American fare to patrons. Rather than a traditional happy hour, Rhett offers a Sparkling Hour every Monday through Thursday from 5 to 7 p.m. During Sparkling Hour, guests can enjoy a glass of crisp, sparkling Brut for just $8 along with oysters and other dishes like smoked fish dip, mussels and fries and mushroom tartine, all for a discounted price. It's worth noting that the Sparkling Hour only applies to the lounge and bar areas of the restaurant. Nonetheless, the offers are still worth stopping by for.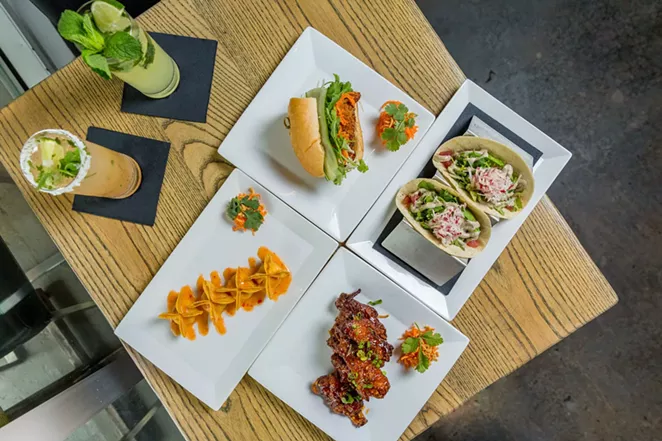 CO
CO is a Whitaker St. restaurant serving up modern Asian fusion favorites for lunch and dinner. Their happy hour takes place Monday through Friday from 4 to 7 p.m., featuring a variety of food and drink specials available to dine-in guests only. The drink specials include $5 specialty cocktails, $3 sake infusions and $4 draft beer and select wines. During happy hour, they offer several tasty bites between $4 and $6 each, including dishes like the Garlic Sesame Tuna Taco, Beef and Kimchi Dumplings, and Tuna Tataki among others.
Husk
Husk is a chic eating house in the heart of the Historic District bringing a fresh perspective to Southern classics. They host their happy hour at the bar Monday through Friday from 5 to 6:30 p.m. Husk's happy hour is unique in that it focuses exclusively on food. They offer specials on their signature Hot Fried Chicken, Cheeseburger and Pimento Cheese. They also offer specials for oysters on the half shell.
Sorry Charlie's
Located in City Market, Sorry Charlie's is an oyster bar serving up fresh seafood and craft cocktails. Their happy hour takes place both on the main floor and the rooftop bar Monday through Thursday from 4 to 6 p.m. During happy hour, guests can enjoy $1 house oysters, so you can shuck to your heart's content. They also offer $3 Savannah beers, perfect to wash the oysters down with.
McDonough's
Sitting on the corner of the street of its namesake, McDonough's is one of the most popular places to be during St. Patrick's Day. But if you need a reason to visit the Irish pub during the rest of the year, happy hour is more than enough reason. McDonough's happy hour is Monday through Friday from 2 to 6 p.m. During happy hour, guests can enjoy half-priced appetizers, $3 wells, $4 Georgia beer and domestic drafts as well as $5 Jameson and Fireball.
The Ordinary Pub

Common Restaurant's sister eatery, The Ordinary Pub has a happy hour as well featuring great specials on food and drinks. Located underground on Broughton St., the Ordinary Pub is known for its imaginative take on traditional American pub fare. Their happy hour takes place every day of the week. Monday through Thursday, happy hour lasts from 4 to 7 p.m. And Friday through Sunday, it lasts from 3 to 7 p.m. Enjoy Korean BBQ Meatballs, Pub Poutine Fries and other delectable bites for under $13. And take advantage of their wide selection of $8 happy hour cocktails. For an exciting twist on a classic drink, try the Bacon Old Fashioned. And if you prefer something a little sweeter, go for the And She Was, featuring gin, honey, lemon juice and pineapple juice. You won't be disappointed.