It is generally a year-round occurrence—but particularly this time of the year—I'm somewhat amused by the number of people who get angry at how long the lines are for a scoop of ice cream at Leopold's on Broughton Street. Once school lets out across the region, all bets are off on how long that line will be. Depending on the time of the day, of course.
There are alternatives for ice cream downtown. You can find some here there or wherever, I mean it's ice cream. For example, a lot of people don't realize that Savannah Candy Kitchen makes their own ice cream in house.You can find it on River Street or City Market. There's also a brand new higher end ice cream shop going in next door to The Collins Quarter on Bull Street downtown. We'll have more on them another time.
I am willing to bet though that there is some great homemade ice cream downtown that you knew nothing about. I'm sharing this with you no only because you should know about it, but also because it's delicious.
The regulars all know about Lulu's Chocolate Bar, right? If you don't, you should. They celebrate 16 years on Martin Luther King, Jr. Blvd this Summer. Co-owners Janine Finch and Rebecca Freeman opened their dessert and cocktail shop way back when to offer downtown Savannah a sweet bite and a cocktail during the day or a nightcap. The formula has never changed. Lulu's is regularly regarded as the top dessert space in town.
Lulu's is known for its cakes and martinis. There's a Strawberry Suspension Cake (pictured below), which has become something of a signature item there. There are chocolate peanut butter tortes and a wide variety of cheesecakes. You get the picture. It's got a little of everything.
What I did not know until several months ago was the fact that they also offer ice cream sundaes. Some are bigger than others but the foundation for them all is their house made ice cream.
"We make our own probably a couple of times a week." Rebecca tells me. She's primarily in charge of the baking side of the operation. "We do a few different flavors and sometimes we change them up."
Those flavors can be served with a slice of your favorite pie or cake, of course, but the menu item that got my attention-and it should yours as well-is called The Rapture.
The Rapture is their biggest ice cream sundae. The Rapture Sundae is a sight to behold. And oh, yeah, The Rapture is delicious. But, seriously, what's with that name?
"Well, I came in one day." Janine says "And there was a bus outside with a big ol' sign on it that said "The Rapture is coming."
She says the sign stuck with her the rest of the day until she mentioned to someone in the shop….
"I said, well if the world is going to end, we should at least have a great ice cream sundae to go along with it."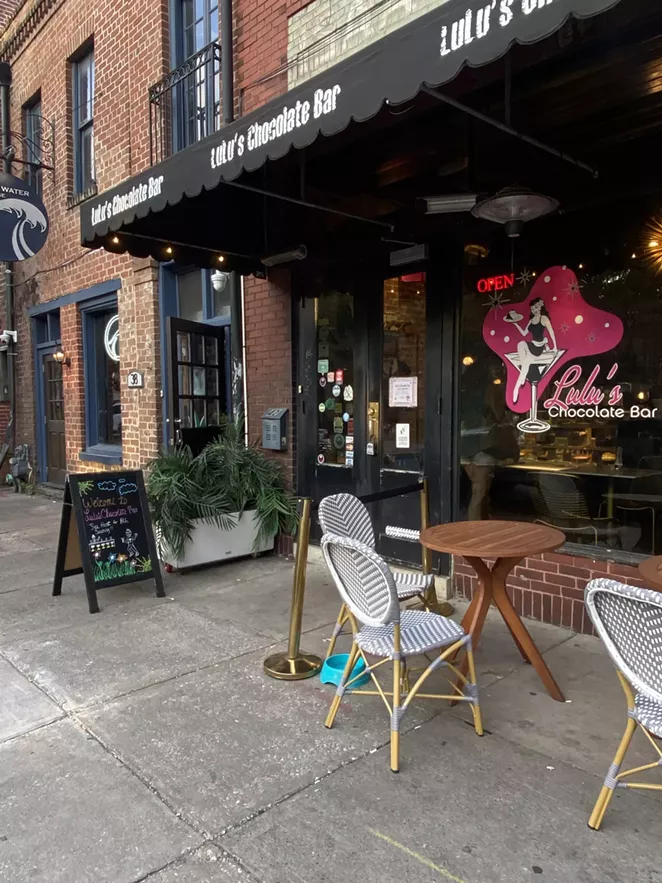 There was certainly no disrespect intended. It was not a poke at any religious beliefs so much as it led to the thought of making something big on their dessert bar. Something they didn't offer before. Something that a group could possibly share. Something memorable, perhaps, for kids.
It's memorable alright.
For starters the bowl is entirely edible. It is made purely of milk chocolate. It looks like a hollowed out coconut. Inside you get three scoops of their house made ice cream. They only offer roughly 3 different flavors at any given time, but the ones I've had are exceptional. I recall a mocha flavor, chocolate of course. For the record, they always offer vanilla, but it isn't made in house, they use Haagen Daas, which is just fine by me.
"What it has become now evolved from the first time we made it." Janine says "The staff started adding stuff like fruit here and there and it has just become this monster sundae."
Diced bananas and strawberries have become the most popular, but I've seen other fruit added as well. Sauces? Like caramel, fudge and more? They are all made in house as well, but served on the side of this monstrosity in tiny serving pitchers so you can control the flow.
Add to that, three shots of booze. Also served on the side. There's a chocolate liqueur. There's a shot of Bailey's and a shot of Chambord, which is a raspberry liqueur. You can add them all, you can add some. You can order the whole thing without the booze, which will actually save you a few bucks but trust me when I tell you the blend of flavors when you put it all together…. is heavenly.
I guess that was the whole point, right?
The Rapture Sundae is not inexpensive, but it is absolutely large enough to share, depending on the appetites you show up with. A few girlfriends may be happy splitting one. A few Jesse's would be a little more territorial. Particularly when it comes to ice cream. Don't get me started about the 'serving sizes' they like to put on containers these days.
The Rapture, however, is plenty for me. I love the fact that you can switch up your flavors of ice cream depending on what they have in house at the time. If you are fired up, you can polish off the bowl too, which is like a bonus candy bar at the end.
Either way, you need to try one the next time you are down that way. You will Eat It and Like It.