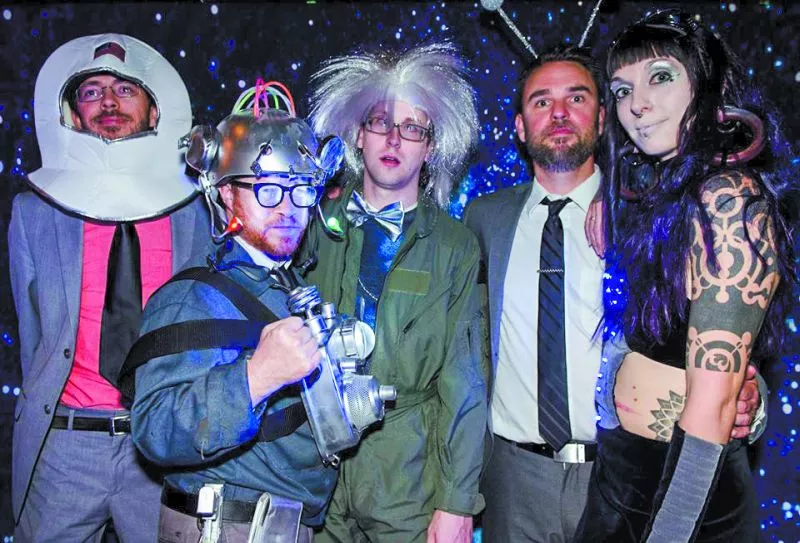 FOR some folks, prom was a fairytale dream come true. For others, it was nightmarish. And for Rock & Roll Prom 2017 attendees, it's going to be downright comical.
Whether you skipped out on your high school formal or still reminisce about doing the "Electric Slide" with the best of 'em, the annual Rock & Roll Prom is here to redefine any notions you have about crinoline and corsages.
The tradition features live music from host band The Wave Slaves, '60s sweethearts The Hypnotics, and up-and-comers The Mercers, a photo booth, and, this year, a theme of Let's Get Sequential.
The first Rock & Roll Prom had a classic prom theme—festive streamers and floral arrangements adorned the Ms. Pac-Man machine and bartop—while the second edition was a day-glo'd out '80s affair with the scent of recently-spritzed AquaNet wafting through The Jinx.
Last year got adventurous with Rock & Roll Prom: Sci-Fi Edition, and 2017's comic book theme lends itself to fabulous costuming and a lot of adventurous fun.
The Wave Slaves, who perform beach-cruising classics from The Ventures, Dick Dale, The Surfers, and more, dreamed up the beloved tradition.
"We were talking at band practice: 'It'd be totally awesome if we threw a prom! We play all this older music,'" drummer Nicole Edge recalls.
After lots of joking and musing, Edge decided to set the plan in motion. She booked the gig, hired a photographer to snap photos of attendees in front of a festive backdrop, and got the word out, unsure if Savannahians were keen on reliving the past.
Turns out, a lot of people were ready to reinvent and redefine prom night.
"Everyone was having so much fun," she grins. "They got so into the photo booth and goofy stuff."
Each year, the audience votes for a prom king/queen, king/king, or queen/queen; the royal couple wins a prize, donated by local businesses (Edge's own Kleo's Handcrafted Soaps and Cup To Cup Coffee Roasters are among this year's donors).
2016's Sci-Fi Edition demonstrated the audience and bands' dedication to costuming. The Hypnotics took a hysterical spin on the theme, each dressing as a different Tom Cruise character; onstage, they deadpanned that they were under the impression the night was Scientology themed.
Talented seamstresses and costumers, like Anita Narcisse of Savannah Sweet Tease Burlesque Revue, went all-in with a galaxy-dyed, sequined-out couple's costume.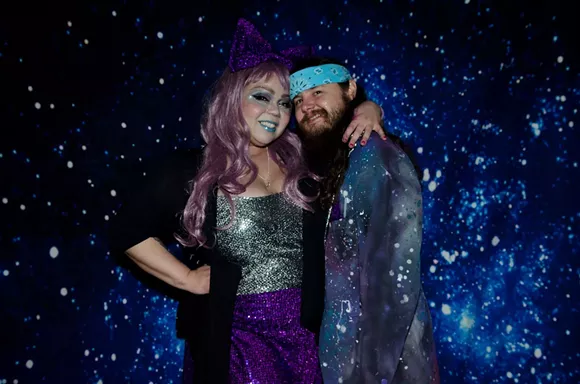 "Every year, it's the crowd that makes the environment," Edge attests.
The potential for wild outfitting inspired this year's superheroic theme.
"I love costuming," says Edge, who earned a double major in Fashion Design and Sequential Art at SCAD and owns Kleo's Sewing Studio on Broughton Street. "What would be fun to dress up as?' Comic characters!"
From Marvel and DC's most famous heroes to the indie and obscure, all costumes are welcome at Rock & Roll Prom. Cruise Comic-Con galleries to get some inspiration, and don't be afraid to add a formal twist.
Perhaps the best thing about going to prom at a music venue in adulthood is the lack of pressure. At Rock & Roll Prom, attendees are free to be themselves.
"I didn't go to prom in high school," Edge says, "but it's fun now because it's not this stressful thing. A lot of people put stress on high school proms...the dress has to be perfect, the stress of getting a date...this takes all the stupid of out of prom, pretty much, and here's a fun freakin' event. Who cares if you go by yourself or with a date? You don't have to wear a frilly dress or stuffy suit. Let loose and have fun. I'm so glad we have events like this."
CS