IN THE early 1960s, a legendary group formed in Jamaica. Since Bob Marley, Peter Tosh, and Bunny Wailer created The Wailers in their late teens, the iconic band has endured deaths, lineup changes, and lawsuits as their sound and legacy has reached new generations and inspired countless artists. Thanks to Aston "Familyman" Barrett, Wailers bassist and musical director since 1969, the band's legacy is alive and touring in 2017.
With the help of his son, drummer Aston Barrett, Jr., the current lineup is the closest to the original Bob Marley & the Wailers experience. Getting there hasn't been without its hardships.
"When Bob was alive, it was cool, they didn't care about the name," says Barrett Jr. "As soon as Bob died and Bunny left, Bob Marley and the Wailers got famous. We still have to give them respect. We need it to be positive."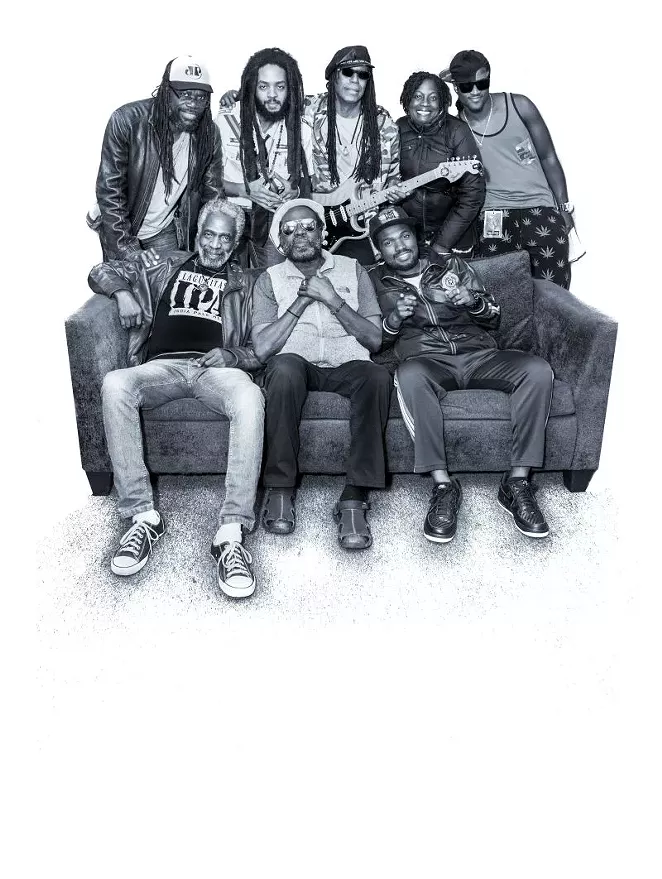 After Marley passed away in 1981, Barrett and guitarist Junior Marvin led the band. In 2008, former Wailer Al Anderson and Marvin formed a separate group, The Original Wailers. Marvin left The Original Wailers in 2011. In 2015, Barrett and Barrett Jr. got to work bringing original members back to the Wailers, which Barrett had continued throughout that time.
The current lineup includes original Wailers, their children, and students: Aston "Familyman" Barrett; Junior Marvin, who joined Bob Marley & The Wailers in 1977 (his first recording with the band was Exodus); Donald Kinsey, who joined Bob Marley & The Wailers in 1976; Barrett, Jr.; Josh David Barrett, a New Jersey native of Jamaican descent who has recorded and performed with Solange, Common, Kanye West, Q-Tip and more and, just by chance, shares a Wailers family name; Shema McGregor, daughter of reggae legends Judy Mowatt (a member of Marley's backing vocalist group I-Three) and Freddie McGregor; Owen "Dreadie" Reid, a mentee and student of Barrett's; Javaughn Bond, who's performed and toured with Julian and Stephen Marley, and Hassanah, a singer-songwriter of Nigerian and German descent who's recorded with Marvin, Freddie McGregor, and more.
Additionally, Dennis Thompson, the acclaimed Bob Marley & the Wailers sound engineer, is back and along for the ride. Thompson took care of the band's live sound, mixed several Bob Marley & the Wailers songs and dubbed all of the group's Island Records releases.
"My father has been keeping the band together," Barrett Jr. explains.
"He never left. Everyone in the band left. He got through all the fights, through the court cases. Me, being on the outside but still an insider in the Wailers, I saw everything on the inside, but I was also able to show my father the real story. Everyone is still here! There were health issues, and God saved them. [I said], 'You have to do it now. This is what the people need to see.'"
Now, whether they're in the bus or onstage, the band is family.
"A lot of bands touring today might not like each other," Barrett Jr. says.
"They have to tour, but they have to be in different hotel rooms. The Wailers were almost going to be in that category, but it wouldn't make sense! You can't say 'One Love' onstage, and offstage, you're in different hotels."
As a son playing in his father's band, Barrett Jr. notes that many artists in his position might want to strike out on their own, but he is proud of his family's legacy.
"I'm the son of a legend," he says. "I'm proud, and I respect my father and my uncle [Wailer Carlton "Carly" Barrett, who was murdered in 1987], so I will be like my father. I will be myself, but you have to hear my father's frequency. I don't want to go up there and be one of those people who says, 'Accept me for who I am'—your father made the way for you. Why are you going to go away from that? How many people in the world would wish to be in that position? I want to play my father's songs; you should be proud to play your own father's songs."
Vocalist David Barrett has been a welcome addition to the band since joining in 2014. He first caught Barrett Jr.'s ear while opening for the Wailers.
"I realized, 'This guy sounds just like Bob Marley!" Barrett Jr. recalls.
The two musicians talked after the show, realizing they shared a surname. When the Wailers began looking for a vocalist, Barrett was the perfect fit.
However, he had to go through some intense training before hitting the stage, studying Marley's vocal and performance style, presence, and more.
"Bob is the icon," Barrett Jr. says.
"If we're doing to do any Wailers music, it's going to be on that level and whatever we're speaking has to be true. It has to be real music that gives you goosebumps!"
Marley introduced the world to his native island's sound, shared stories of his people's impoverishment, and spread a message of revolution and love. For Barrett, the messages are timeless, and needed now more than ever.
"Even now, we have to move that message to another level," Barret Jr. says. "The message back then was 'Don't try to separate us to different classes, we all must die one day and must see the Almighty.' In this world, we need an order to move smart and smoothly, but you have to choose a good leader. If you choose a leader by ignorance for your own will, then it won't work. If you choose a leader for everyone's goodwill, then it's totally different than being selfish.
"Our message now, we can't beat down everyone. It's like when you take antibiotics: you kill good and bad cells, but you don't want to kill the good cells. You have to find a way to take something outside to kill the bad bacteria but keep the good cells and see the good cells construct properly by eating organic or raw food. That's our message for today."
For Barrett Jr., life and music is all about balance; he's a Libra, after all.
"I don't think humans are supposed to be stressed," he muses. "Being stressed was created by man. We need balance in life, yin and yang. That's our message of balance in the world structure."
"The message of reggae music is really needed right now," he adds. "There's war everywhere. When you try to create peace, there's always someone out there making war. When one is off, the balance of one goes down."
As the Wailers age, sometimes health concerns take precedent over performing. Barrett Jr.'s father may not be performing at the Savannah concert, but Barrett Jr. looks forward to sharing the Wailers' sound with The Stage on Bay.
"It's the real sound," he says. "This is the closest thing we will ever hear since Bob Marley was alive. You will always have adversaries trying to break up things, and we will never be broken again. We live what we preach when we say One Love. It's true. And we mean it."
CS