The Canyon Ranch Institute Savannah Partnership (CRISP) page in Connect Savannah presents a wide variety of health and wellness topics and activities and is available to organizations, businesses, and individuals. If you would like to participate, contact Canyon Ranch Institute at 912-443-3264 or write to CRI@canyonranchinstitute.org.
This week, CRISP welcomes Healthy Savannah. Paula Kreissler, Director of Healthy Living & Community Development for Healthy Savannah and the YMCA of Coastal Georgia, discusses her personal connection to wellness and Healthy Savannah, a collaboration of more than 100 members.
I'VE LIVED HERE in Savannah for just over 10 years, and I feel really grounded in the city because I'm out and about frequently, riding my bike, walking, visiting the Forsyth Farmers Market, or taking a break in one of our city's beautiful squares.
Some people call me a health "nut." I don't mind it when they do because I know first-hand what a difference health, or lack of it, can make in people's lives.
As owner of Wound Care Clinic ESU, I'm involved in guiding my staff to address needs of patients with chronic non-healing wounds that result when health is compromised due to poor eating habits and lack of activity. Our goal is to help patients get active again and prevent complications.
A major catalyst for my deep-seated interest in wellness came decades ago when I read the book Sugar Blues by William Dufty about the ill effects of processed food and specifically sugar. I continued my education about healthy living with books such as Fit for Life; In Defense of Food; and most recently Food Rebels, Guerilla Gardeners, and Smart Cookin' Mamas: Fighting Back in an Age of Industrial Agriculture. I believe that to be healthier, we have to get back to local, sustainable, healthy, whole foods.
When I was asked to be part of the Healthy Savannah kickoff in 2007, I couldn't have been more excited. After many years of having one-on-one conversations with anyone I could find who was interested in talking about health and what it takes to be healthy, I discovered a small, passionate – and now we know, determined – group right here in Savannah that wanted to bring a culture of health to our community.
Healthy Savannah is not a program or a project – we are a social movement dedicated to making Savannah a healthier place to live. We are a strong, 100-plus member coalition of public, private, and non-profit organizations that is a 501(c)3 non-profit public charity. Our aim is to increase opportunities for everyone to engage in physical activity and eat a nutritious, balanced diet.
Healthy Savannah serves all of Savannah and Chatham County. Active partners include government entities, academic institutions, businesses and corporations, media, faith-based organizations, and area events. The full list is at www.healthysavannah.org.
The Healthy Savannah coalition has gathered many resources. Highlights include:
Forsyth Farmers' Market – a weekly, local -producers only, farmers' market at Forsyth Park (FFM). From the beginning, the FFM has focused on food and food issues, which is why it is a producer-only market that allows only food and plant vendors.
Smoke-free Air – an awareness and educational campaign with the community and our elected officials in 2010 that resulted in the adoption of the City of Savannah 2010 Smoke-free Air Ordinance, the 100% Tobacco Free Schools Policy in the Savannah Chatham Public School System, and the Smoke-free Air Ordinance in unincorporated Chatham County.
Bicycle-friendly streets – designated bike lanes on Washington Avenue and Price Street and the "Bicycle Friendly City" designation by the League of American Bicyclists.
LEAN (Leadership, Exercise, Activity, Nutrition) Health and Wellness Challenge with over 250 City employees participating. In an eight-week period, teams of 4 to 6 employees lost over 1,500 pounds, and the Challenge was repeated in 2013.
Healthcare Georgia Foundation grant – a $150,000 grant that is part of a three-year program to fight childhood obesity through existing groups and initiatives, particularly those focused on underserved communities.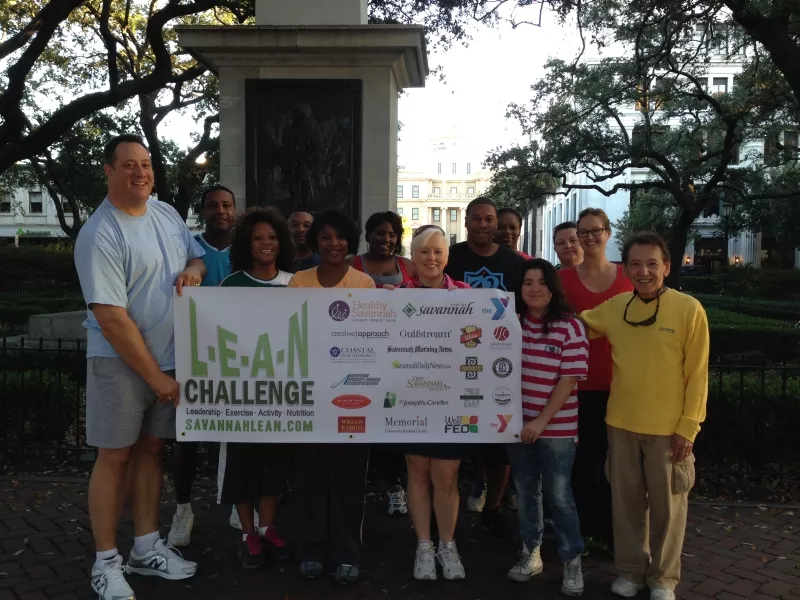 We couldn't exist without great volunteers, and we are grateful for their participation. Check out healthysavannah.org to learn how our volunteers make a difference.
If you'd like to offer your talents, time, or resources to help create a healthy future for Savannah, contact me anytime. It's time to Connect – Inspire – Grow! See you out and about in our beautiful Savannah! And when you see me, stop and say hello. It's even okay to call me a health nut!