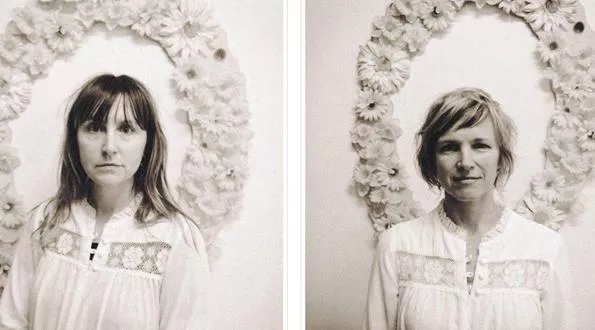 Did you say you're in the mood for some mytho–futurist–intergalactic–ohm rock?
You must have heard about this Friday's art/glam/punk/rock extravaganza featuring the hot girl group of the moment, Silver Machine.
And we do mean 'the moment,' since they just formed a few weeks ago.
"It's a magical, quick event," says Tracy Cox–Stanton, who recently had the epiphany to form the five–woman group, its name derived from an old Hawkwind song.
Featuring members of Hot Pink Interior, When Hipsters Attack, and Pilot Scott Tracy, Silver Machine performs this Friday about 9 p.m. in the old Primary Arts Supply space at 14 E. Broughton St., with visual arts accompaniment by Tracy's husband Scott "Panhandle Slim" Stanton and her brother Zteven Zangbang. Mumbledust opens.
"I woke up with a vision for an all–female band named for a Hawkwind song," explains Tracy. "We're a gyno–futurist band with the balls-out insanity of Hawkwind."
In fact, she laughs, "we're five women with their balls out. We are primed for the crazy."
Jokes aside, Tracy, who plays Moog Source synthesizer in the band, says all the members of Silver Machine — Danielle Hughes Rose on theremin, Sheila Edwards on organ, Laura Easterling on guitar — gain their mutual inspiration from the group's drummer, Robyn Reeder.
The former Primary Arts owner and cancer survivor is a role model and a heroine to many, Tracy says.
"She's so totally inspiring in the way she can get you to be excited about doing something even if it's totally ridiculous, and to do it with gusto. We all get that sense of fearlessness from her," says Tracy.
"Thanks to Robyn's influence, I felt that morning that if I just texted the right people, we could be rehearsing that afternoon."
And so they were. And so intergalactic-gyno–ohm-rock type stuff was born. The girls in Silver Machine say their show will be a mix of originals and covers, but "it will be less a set than a ceremony."
If you can't make it this Friday to have your mind blown by the combo rock/art experience, Silver Machine — Vishnu/Buddha/Odin willing — will also perform March 2 at the Jinx.