Americans love sports bars with generic fried food, pool tables, a thousand televisions, and lukewarm beer − they're a dime a dozen around any drinking town. For the longest time, the sports bars of Savannah have been limited to a few local watering holes that have character but are not overwhelmingly different from the million other sports bars found from coast to coast. Bar Food Sports is flipping that normalcy on its head by offering central Savannah its only gastro-centric tavern with all of the aspects of a classy sports bar, but with an elephant-sized culinary elevation. The new endeavor of the Bar Food family allows patrons to enjoy a frosty brew while sitting behind a beehive of screens but while savoring a much higher level of culinary genius. General Manager Samantha Igoe explained, "Since I have been working with Bar Food, Paula and Johnny have always talked about wanting a sports bar in Habersham Village. Next door opened up, so it felt like the perfect opportunity."
If you recall, it was only last year that Bar Food sat next to a popular pizza spot, but with the pandemic forcing the pizzeria to close its doors, Bar Food was allowed to grow. The new Bar Food Sports not only sits next door to Bar Food, but shares an entryway making either side easily accessible to guests. Bar Food Sports meets a niche for bar patrons that want fervent fans, a plethora of big-screen televisions, and food to eat with your hands. Bar Food has always been known as the cool and happening location for a large selection of wines, craft cocktails, and craft food. Coffee Deli, Bar Food's sister eatery, hits the craft coffee and deli-sandwich demand. Bar Food Sports is the newest sibling of the restaurant group, and will work to provide something new to the family's repertoire. "Bar Food Sports will share the same menu, however, it will provide a totally different atmosphere. With 15 TVs, a pool table, two dartboards, and several beers on tap, we plan to be THE sports bar in the area," says Igoe. The hot new venue is filling a large gap in the Habersham market, and is now the standout place to go for sports and ice-cold beverages for anyone in Lamara Heights and surrounding neighborhoods.
The menu is what will make the posh pub a star. Chef Davis allows patrons to transcend the usual sports-bar fare from boring plain cheeseburgers and stale nachos to daring epicurean delights. You can still get classic game-day favorites like hot dogs, but do not expect to receive a flavorless boiled weenie in a stale bun. His version, the Smoked Sausage Dog, is a truly swank frank. According to Igoe, "The new menu offers familiar sports-bar items, but with extensive authenticity and unique recipes. Chef Davis has taken normal things that you may see on a typical sports-bar menu and really made them his own. You can see this from our house burger grind on homemade brioche bun, to our homemade tater tots. We have also included several homemade vegetarian options."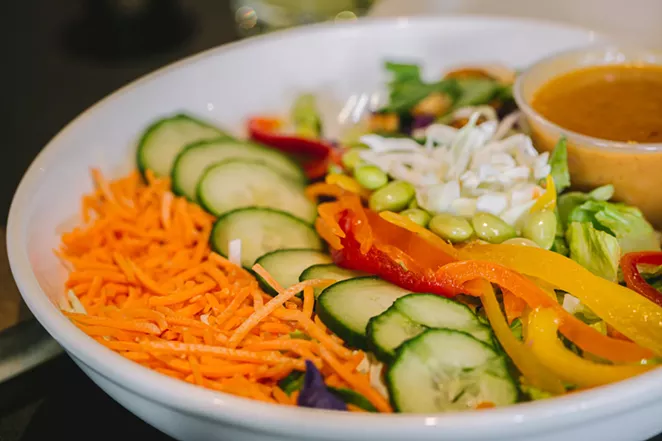 I am not a vegetarian, but the Veggie Burger sounded too good to resist. Like almost everything on the menu, Chef Davis hand shapes fresh vegetables into a hearty patty. The seared meatless burger is served with pickles, lettuce, tomato, and a sweet brioche bun. The ending embellishment is a special house sauce that I ended up ordering extra to accompany my side. Although the airy hand-breaded onion rings do not need anything to help the flavor, an occasional dunk in the creamy aioli doesn't hurt. Any good sports bar hails hot wings to eat as an accompaniment to an ice-cold beer. The wings at Bar Food Sports are no exception, except that they have ramped up the quality of available sauces for drowning the crispy chicken. Sweet and umami-filled Honey Miso, deep and dark Bourbon Caramel, and punchy Garlic Parmesan are several of the succulent sauces mixed up in the kitchen. The handmade tater tots were a standout. Golden brown and extra crispy on the outside, and pillow soft in the middle. Order them as the side for a meal or as Totchos smothered in cheese, chili, bacon, onions, and jalapeños. Most unique is the Steak and Tots, Bar Food's play on steak frites. A tender hand-cut steak is served aside the homemade tots and a side salad for a little greenery.
The menu is well-rounded and takers eaters around a world of gastropub hits. For a healthy-ish yet flavorful meal, go for the Chopped Thai Salad, which is nearly too pretty to eat. Expect vibrant crisp vegetables like bell peppers, carrots, and cabbage. Your palate gets a kick from the fresh mint and cilantro, and is coated with a nutty finish from the made-from-scratch peanut vinaigrette. Keeping in the same Eastern vein, the menu has Dumplings and Tempura Fried Veggies as well.
Even before they officially opened the doors, Bar Food Sports packed the house for several weekends, and specialty events are expected to continue regularly, as Igoe explained. "Happy Hour is Monday through Friday from 4-7. $5 wells, $5 house wine, $3 domestics, $12 pitchers of Miller Lite and XX. As we get past the initial grand-opening stage, we will create daily drinks specials," Igoe said. What's more, Thursdays are for trivia between 8-10pm, while Sundays feature brunch from 11 a.m. to 3 p.m with Mimosa Towers, Bloody Marys, and biscuits. Bar Food Sports: 4521 Habersham Street, Savannah. Visit
savannahbarfood.com
for details, and check out
epicuropedia.com
for more by Lindy Moody.