Savannah Clovers FC is about to be The Hostess City's first-ever professional soccer team. Back in March the National Independent Soccer Association (NISA) approved the club's membership and made history.
Now in the Summer, The Clovers have placed York, England, native, David Proctor and his lifetime of soccer experience at the helm of the organization, giving him the important task of building up a soccer franchise and fan fervor here in Savannah.
"We're starting a brand new franchise, creating a new technical team, creating a roster and obviously creating a front office and a fan base," explained Proctor.
Although it seems like a full plate, based on Proctor's resume he has the skill set required to get things rolling for The Clovers, and the confidence to boot.
As far as creating a team, Proctor is looking for a young dynamic squad that has the ability to build out of the back, be possession oriented in the midfield and finish chances in the final third.
"In our attacking third I want creative players. Players that are going to take opposition on in one-versus-ones, get good crosses in and score lots of goals," said Proctor.
Proctor wants to make the team exciting to watch, which means they need to be able to put the ball in the back of the net.
Signing hometown players to the team is another goal of Proctor's, along with other talent in the region.
Proctor also pointed out that he will also be looking to sign players from the NISA League and USL league.
According to Proctor the club will be hosting tryouts and a combine later in the fall or winter, with one tryout being centered around local players.
Proctor says he has a patient coaching style. Being that he has experience working with young players, Proctor finds that having temperance and spending time with players is a good practice.
"Even when you're in a game, you've got to keep your calm and be patient. I'm very sort of methodical in preparation. So preparing for training sessions, preparing for games, analyzing opposition and all the other scenarios that go with that," explained Proctor.
The Proctor File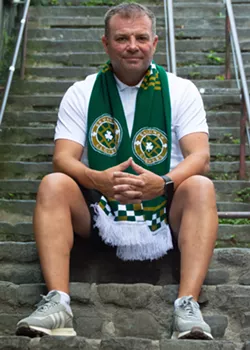 From the age of five David Proctor, was already playing soccer.
By the time he was 13, Proctor had joined Aston Villa, a professional soccer club in the English Premier League; he made his professional debut with Hull City at 16.
Proctor would also play with Halifax Town and Middlesbrough FC. The latter club being an organization he has supported since his youth.
"I used to be a season ticket holder, and went with my dad and my brother to watch Middlesbrough play since I was five-years-old. So to get that opportunity to play for the club that I supported was great," said Proctor.
As a player, Proctor played in the midfield before transitioning to the fullback position later in his career.
Proctor made the move to U.S. soccer towards the end of his playing career. He played stints with Blast Indiana and Richmond Kickers in what was then the American A League.
In 2005 that league was rebranded as the United Soccer League's First Division (USL-1) until rebranding again as the United Soccer League (USL) in 2010.
During this time he began acclimating himself to American soccer, and noticed several differences compared to the European landscape he was accustomed to.
"The heat [in the U.S.] was incredible because obviously we play the winter months in England, and I think the speed of the game was just a little bit slower than what I was used to in Europe," said Proctor.
Despite the differences, Proctor describes his time playing in the U.S. as a great experience.
Proctor eventually made the transition from player to coach, gaining various qualifications. He holds a UEFA A-License which allows holders to be head coaches of youth teams up to age 18, reserve teams for top-flight clubs and men's professional second-tier clubs.
His coaching career in Major League Soccer (MLS) began with Colorado Rapids and Columbus Crew over a 12-month period. The Colorado Rapids would go on to win the MLS Cup in 2010, while Proctor was head coach of their reserve team.
While with Colorado Rapids, Proctor was instrumental in setting up the club's Academy which trained and developed players.
After a successful stint in Colorado, Proctor was recruited to Nashville SC as the assistant head coach during their inaugural United Soccer League (USL) Championship season in 2018.
With Proctor as assistant coach the team clinched a spot in the playoffs, and managed a win against Colorado Rapids in the third round of the Lamar Hunt U.S. Open Cup.
After three years Proctor would say farewell to Nashville SC, taking on a new role as the Director of Coaching for Charleston Battery. In this role Proctor oversaw coaching implementation, scouting and opposition research for a total of two years.
His most recent job was with Tormenta FC, where he was the Director of Coaching for that organization in Statesboro.
The Savannah Clovers will make their NISA debut in March of 2023. For more information visit savannahclovers.com.