An art exhibit, "The Address," will be held for two days, starting with an opening reception from 7 p.m.-10:30 p.m. May 14 at 113 W Perry St. and an artist talk at 1 p.m. May 15. Highlighting the artistic endeavors of two SCAD students, Mila Anastasia Lazarevic and Jermaine Jones, the show will feature art installations and over 100 prints. Jones and Lazarevic invite you inside their private residence, exposing the intimacy of what occupies their minds; analyzing necessary skills for survival with the chain reaction of beliefs being questioned. These multimedia artists provoke conceptual ideas, indulging into today's consumerist culture whether it is consuming money, faith or love.
"We've been colleagues and peers and friends for four years so naturally our work bounces off each other," Lazarevic said. "When it comes to collaboration the biggest connecting line is what we are exploring in our show." Influenced by Andy Warhol and financial markets, Jones explained, "I will have 10 paintings, posters, portraits with 100+pieces of clothing, screen print copies with 2000 prints ready for release that day with the goal of 10,000 total. All pieces and prints will be for sale with the focus of financial literacy." The duo will be graduating soon and are thinking about their futures. Lazarevic planned to go to Serbia to continue her work, but had to delay plans due to the pandemic. When talking about her future, she said, "We are in the moment of time in our lives and history and that question became the most difficult one. My original plan was to go to Serbia, so I will be staying in Savannah and producing work and figuring myself out as an artist and person." Jones plans to travel throughout the United States networking with pop up art exhibits. They hope this networking art exhibit will attract other artists, students, educators and business owners.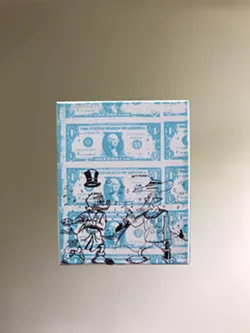 "This isn't just any art exhibit for graduating seniors, this is a networking event," Lazarevic said. "This is two days of service – taking time to create an event that will be remembered and appreciated after a year that many may be trying to forget. As artists it is our job to examine and analyze, to inspire and create, to question and answer. Join Us in exposing our vulnerability so You can benefit from it. Together we may have a chance of flourishing." Find the exhibit at 113 W. Perry St., Savannah. Visit
artbymaine.wixsite.com/beingmain
and
milaanastasialazarevic.me
for information and to see the artists' work.