According to Daniel Berman of Savannah's Charlie Fog Band, there's no fan base like Deadheads.
As the Lowcountry's premiere Grateful Dead tribute, Charlie Fog Band is glad to have supporters that turn out, sing along, and get on the ride.
"They're willing to take an adventure with you," Berman explains of the loyal crowd.
For about a decade, Charlie Fog Band has honored the music of The Dead through acoustic performances and high-energy electric sets. Things get particularly busy in August, when Jerry Day festivities pop up across the country.
Jerry Day is an annual celebration of Grateful Dead's Jerry Garcia, who was born on August 1 and died on August 9.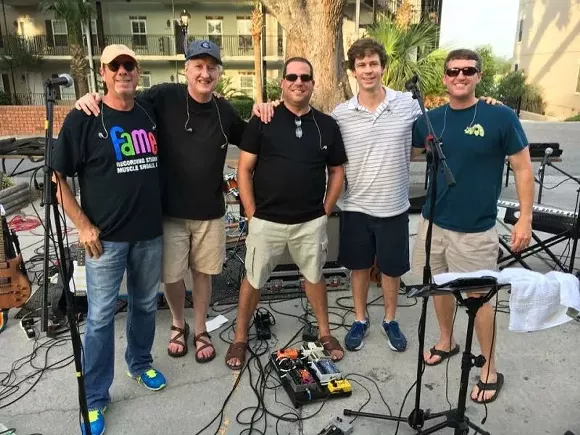 "A lot of energy gets put into this particular time," Berman explains. "Everybody can celebrate the music...it's more of an event than just a show."
Charlie Fog Band has participated in regional Jerry Days and will perform in Jacksonville and at Atlanta's Terminal West in 2017.
"This is the tenth year they've done it," Berman explains of the Atlanta gig. "You have eight local and regional Dead cover bands then a headliner...it's all very well-organized. They get everybody's song list and divvy out what songs you can do so nothing gets repeated."
The celebration inspired Berman to create a Savannah shindig. At Barrelhouse South's Jerry Day, Charlie Fog Band will perform three sets—two electric, one acoustic—of Dead and Garcia tunes with some special surprise guests.
"It's certainly gotten bigger every year just by the numbers," Berman says. "It's more of a gathering, a good time for everybody to get together and a chance for all the groups to get together—Tybee, people are coming from the islands, Southside, Downtown."
Berman began playing the music of the Dead when he was a teenager growing up in Pennsylvania. Before moving to Savannah and eventually forming The Charlie Fog Band, he spent some years playing Dixieland jazz and bluegrass at corporate gigs while living in Atlanta.
"I got around to learning quickly how to be reverent to the process of a gig," he says.
Now, his gigs require a different kind of reverence—the ability to honor a fiercely beloved group with respect and creativity.
"We just try to be honest and not bullshit," Berman says. "We take the framework of a song—we don't try to make the songs sound different than it sounded by The Dead, but we're not playing it note-for-note. You have the basic melody, rhythm, the feel: That's the framework."
"The great thing about Dead music is the openness of a lot of the songs they wrote, he continues. "They were 100 percent jazz musicians who played rock music, so they constructed Americana songs with a lot of openness. They could improvise for ten, fifteen minutes if they wanted to try different themes."
That's where The Charlie Fog brings in their uniqueness and individuality as players.
"We make the jams our own, create our own themes, then bring it back to the song everybody knows," says Berman. "The general disposition of a Deadhead is the sheer joy you get from live music."
While he loves playing the hits and deep cuts, Berman says Jerry Day is all about community. Savannah's Deadhead crew is a diverse bunch of enthusiastic fans (just have a look at the long strange trip Connect's Jessica Leigh Lebos took in the name of Dead fandom in her (Civil) Society Column on page 8).
"We've got people who are 20 and people who are 70—we see 'em all," Berman says. "And we've got younger people, too...that's one thing I think is an appealing factor for me, personally. I started listening to The Dead when I was a teenager—of course, I still listen to The Dead!—and I'm more mature, and certainly older, but it's a timeless kind of music where it's lasted through generations."
"Deadheads are the best fans," he affirms. "If you make a mistake, they're not going to hold it against you. They know there's going to be something right around the corner to blow your mind. They're a great group to play in front of and be honest."
CS