I BELIEVE my interest in Guerrero began at a birthday party last year, where a dear Panamanian friend of mine--slim and lithe as a fairy, yet ultra-enthusiastic about her favorite dishes--was raving to me about a place that served, as she put it, "the best Mojarra Frita (whole fried Caribbean fish) I've ever had!"
I was only vaguely aware of the place, out on Highway 80, across from a favored spot of mine, also Mexican (great guac and French-inspired Mexican dishes), but made a note to check it out.
Time and food crazes pass, the car breaks down, the wallet gives out a hollow echo, and still I hadn't made it, yet by the time May had come around this year I'd heard this friend expound upon the good food here until I couldn't stand it anymore.
My daughter and I joined a group of Latino friends on Cinco de Mayo to dance salsa in a sombrero, get tipsy of salty Margaritas and eat Mexican delights while squished ten to a booth.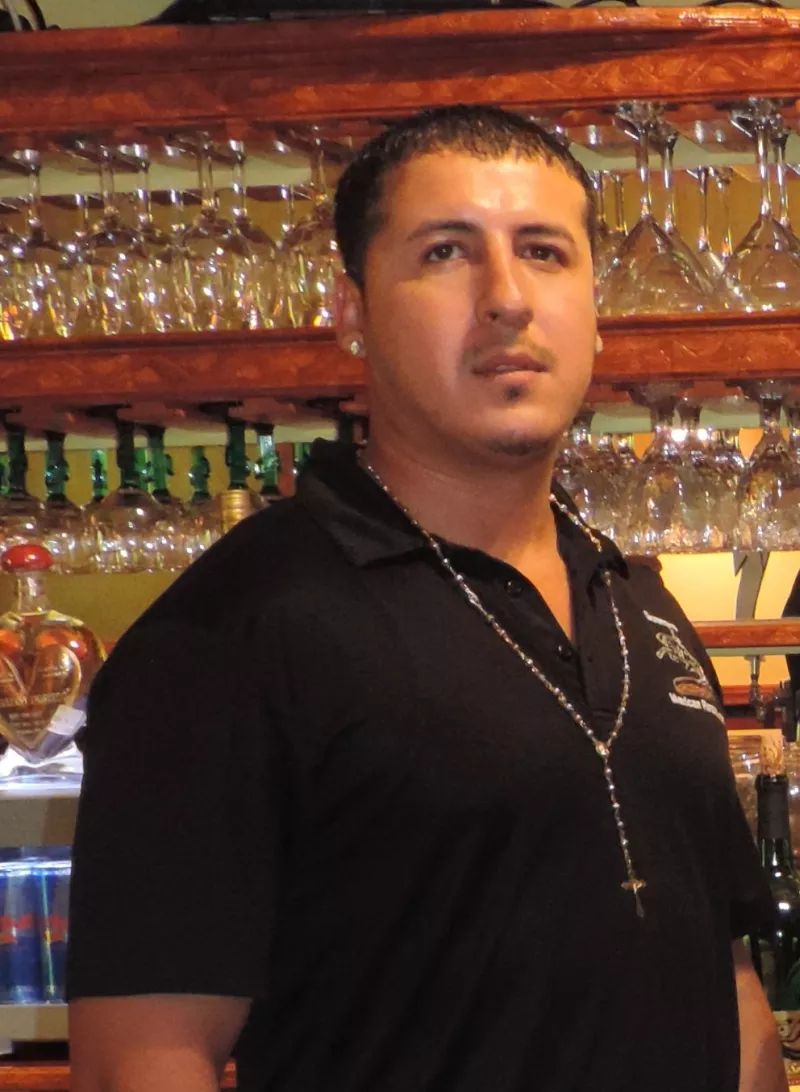 Antonio Guerrero Jr., from Guanajuato, San Miguel de Allende, Mexico, a handsome young man with the faraway gaze of a Spanish monk and the sultry good-looks of a bullfighter, rosary always around his neck, was only a 19-year old kid with no food service experience, when his dad opened Guerrero nine years ago.
But he took to the biz quickly when he found his Dad's time was taken up with his landscaping company. Padre needed a steady head and calm demeanor to run the restaurant for him, someone who took pride in making good Mexican food, who was willing to work hard to make the place a success—Antonio Jr. filled the bill.
Mom Louisa heads up the kitchen, overseeing the cooking and the delicate art of spicing, making sure that the presentation of each dish is perfect, and Antonio knows all his regulars and what they like. While the unadventurous gringo usually orders up burritos, tacos and fajitas, he is very good at gently suggesting something more interesting, and skilled at describing a dish so that even the timid venture to try something new.
"I tell them to try the Santa Fe Chicken," he says. "Our marinated chicken breast under melted cheese with tender, grilled shrimp on top, a beautiful pico de gallo—so good with sour cream and avocado—so colorful!"
He's correct there—it's become a favorite dish of mine, along with the lovely, fat grilled shrimp in a delicious tomato, green peppers and onion stir-fry (Camarones a la Plancha), and good frijoles.
For those seeking something familiar with a just a touch of the exotic, Antonio will lead you to the Torta, a huge, juicy, Mexican sandwich in a golden, chunky bun, or the Guerreros Nachos, piled high with chicken, beef, beans and cheese and crowned with a colorful swirl of snow white cream and pico de gallo—listed as an appetizer, but most definitely enough for an entrée.
My last visit I finally got together with my friend to witness the Mojarra Frita and her gustatory joy at devouring it down to the fine bones. It's a beautiful dish: a wide, flat fish, the flesh criss-crossed in diamond-shaped cuts so the spices and quick frying create a splendid, delicate flavor.
I love to snack on the crispy, fried tail of the fish—and this version has the perfect crunch! Lime wedges are always provided for good reason—it's the perfect touch to enhance the taste—and the jewel-toned pico de gallo and slices of avocado are superb accompaniments.
Now, just about any Mexican restaurant around here will have a bright sarape or two and some sombreros embroidered in gold and silver thread in their decor, but Antonio has gone one better—take a look around at the folk paintings in arched, rough wooden frames against the soft, butter-yellow walls, the colors and workmanship are lovely.
The staff are pleasant, courteous and helpful, working efficiently to get your order just right.
"When I started out here, I wanted to create a clean, bright, peaceful place, calm, not too noisy or rowdy, where families could come for good food and enjoy a homey kinda feel. I'm picky about service, my mother is the expert on spices, and we keep things running smoothly," Antonio tells me.
"Our Mexican customers come for the Carne Asada and El Pastor Tacos, the Ceviche (shrimp, onions and tomatoes pickled in lime juice), the Camarrones a la Diabla (jumbo shrimp in hot sauce), and, of course," he says with a twinkle in his eye, "the Mojarra Frita! Nobody makes it like we do!"
My friend, finishing off the last tender morsel, sighs, and smiles contentedly. The seafood dishes are especially fresh and delicious here, and that's the menu section I usually order from, yet the Pollo Ranchero with its grilled mushrooms, and the luscious Carnitas, hunks of very tender pork simmered in milk and spices, should not be missed!
The Margaritas are nicely tangy, the chips hot and plentiful, and Saturday night brings in local guitarists, songwriters and DJs to make things lively. Come for a visit and you'll understand why Guerreros has become such a local favorite, why folks from Tybee, South Carolina and further, make it their favorite destination for reliably delicious Mexican food.
cs