A former convenience store on DeLesseps Avenue located between the Truman Parkway and Skidaway Road, is now home to Gwen Frazier-Smith's Urbeau Art Gallery.
The artist coined the word 'urbeau,' explaining, "It's just a word I made up to describe my work…painting everything I see around me. It's a mixture of urban and beautiful."
A commissioned portrait of Susie King Taylor was prominently displayed in the entrance of the spacious building during my visit. Earlier this month, it was installed in the eponymous Women's Institute and Ecology Center located in Midway. Taylor was born into slavery in 1848, allowed to leave her plantation at age seven to live with her free grandmother in Savannah, and, despite laws prohibiting formal education for African Americans, attended two secret schools before escaping slavery by fleeing to a gunboat near Confederate-held Port Pulaski in 1862.
Taylor moved to Union-occupied St. Simons Island and went on to openly teach African Americans and to serve as a nurse for the 33rd United States Colored Infantry Regiment. In 1866, she returned to Savannah to open a school for African American Children before moving to Boston in the early 1870's. Frazier-Smith, who always wears a cameo pendant of Taylor, is part of the mission to rename Savannah's Calhoun Square in honor of this educator and only African American woman to publish a memoir of her Civil War experiences.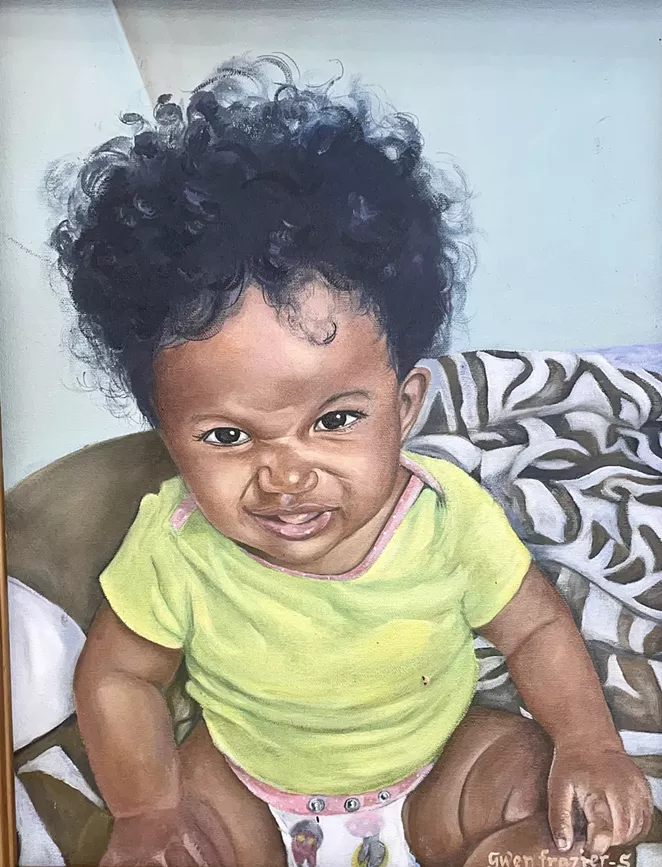 "I call myself an artist, philanthropist, and activist," Frazier-Smith tells me. "My philanthropy is through giving back by volunteering and by donating paintings to causes I believe in. As far as the activist part, I think it is an artist's duty to paint to reflect the times."
As an example, she shows me her painting "Enough!" which references voter suppression. A jar of marbles and a sudsy bar of soap recall the overturning of the southern states' literacy tests, a standard practice before Congress enacted the Voting Rights Act of 1965. In addition to constitutional questions, the tests, which were disproportionately administered to Black voters, often contained such nonsensical queries as "how many bubbles in a bar of soap?" or "how many jellybeans in a jar?"
Frazier-Smith next shows me a portrait of Alicia Garza, the young activist who coined the phrase "Black Lives Matter" but is quick to point out that "we can't just blame the police," showing me a beautiful portrait of a little boy in front of a blackboard covered with repeated lines of cursive writing that state, "We must stop killing each other."
Born in Hardeeville, SC, in 1959 Frazier-Smith grew up in New Jersey where she was always considered artistic. She learned to paint with oils at the age of 11 when three Jewish women in her neighborhood opened a small studio and gallery. It is heart-warming to see how she, almost subconsciously, pays forward the encouragement she received as a young girl. She delights in teaching children to paint…
"One day a little boy in the neighborhood said, 'Miss Gwen, can you hang one of my paintings in your window?' So, I did, and when he'd pass by, he'd see it. He's the greatest artist! And then there was a little girl called Jade who would walk by with her babysitter. She asked if she could come help Miss Gwen paint. I thought, 'Why not?' I would put a paint brush in the hands of any two-year-old. I just love children!"
Frazier-Smith's family returned to Hardeeville before she entered high school. A lawyer from Chicago heard about her artistic talents and, with his help, she received a scholarship for a summer program at the Art Institute of Chicago at age 14. She later earned a scholarship to Xavier University in New Orleans, and after college was hired in the art and advertising department of the Miller Brewing Company.
For many years, Frazier-Smith's career was hand-painting Millers' advertisements and signs – a skill she'd learned as a teenager in South Carolina working with a sign painter who travelled the State painting firework stands. Later, she took graphic design courses and moved from the paint brush to the computer, eventually coming to Savannah to work for another sign company, and then on to the Kinko's store on Abercorn Extension.
While at Kinko's, more and more people saw her artwork and began commissioning her to paint portraits of their children. Ultimately, feeling restricted and wanting to make more art, she left her corporate career in 2014.
"Quitting my job was so uplifting and life changing. I was able to free myself and paint. Everything just opened up. I started travelling all over the world."
Frazier-Smith acquired her gallery space at the beginning of the pandemic. Since becoming a fulltime artist, she has visited London, Australia, Thailand, Egypt, Paris, and Mexico, and has plans to go to Ghana next year.
A portrait of Serena William's toddler daughter traveled with her to the Australian Open in 2019, while a painting of Amy Sherald, the artist who painted Michelle Obama's portrait, traveled with her to the National Portrait Gallery in DC.
"They didn't allow me to take it inside, but I stood on the steps and people started gathering around and taking photographs of me," she laughs.
"I also have photos of me holding a copy of my Medea Lisa in front of the real Mona Lisa in Paris!" Frazier-Smith continues. (The Medea Lisa is a whimsical copy of Da Vinci's famous portrait that features Tyler Perry as his character Medea.) When she traveled to London, she took a portrait of Sheku Kenneth-Mason, MBE, the 19-year-old Black British musician who played cello at the Royal Wedding.
Primarily drawn to portraiture, Frazier-Smith works from photographs as she considers herself to be a slow and careful oil painter "with a very short attention span!"
One of my favorites, a toddler in a green tee-shirt, was "a picture of a friend of mine's granddaughter that I saw on Facebook. I loved that face!" The artist is particularly proud of her portrait of SCAD's President Paula Wallace, portrayed as a Joan of Arc-like warrior on horseback, carrying a shield emblazoned with an acorn and a bee.
Another portrait is of Sandra Lindsey, the intensive care nurse at Long Island Jewish Medical Center who was the first person in the U.S. to receive the COVID-19 vaccine. Lindsey, an African American woman who understands the legacy of unequal medical treatment and experimentation on people of color, famously declared she trusted science and wanted "to inspire people who look like me."
Frazier-Smith says, "I just love Norman Rockwell, and that seemed like something he would have painted."
Indeed, the more I look at her paintings of women chatting on park benches, of a homeless woman with her possessions in a grocery cart, of her nephew playing his saxophone, of the "goofy guys who live in my neighborhood" whom others may perceive "as scary or threatening because of their clothes and gold capped teeth," the more the idea of the artist being like an African American Norman Rockwell resonates with me.
Her often humorous, highly realistic, illustrative style echoes Rockwell's representations of everyday scenes of the America of his day.
Frazier-Smith's America is equally deserving of our attention.
See Frazier-Smith's work at her Urbeau Art Gallery at 2016 DeLesseps Avenue, at the Savannah Art Association's Savannah International Airport Gallery, and on Instagram @urbeau_art_bygwen.
Inquire about Paint-n-Sip classes at 912.272.7978 and look for the newly published book she illustrated and designed titled "Taig's Gift: The Kulture Keepers' Cookbook." Available on lulu.com, and written by Deborah Johnson-Simon, it contains recipes and stories that celebrate Chatham County's Black Museums.
There will be a book launch party on Saturday, October 22 between 1 and 4pm at the W.W. Law Community Center, 900 E. Bolton St.