YOU KNOW Savannah's creators are pushing themselves when they redefine traditional show structure itself. Promotional force Safe//Sound is at it again, harvesting talent from our own turf for the all-local Cry Fest 2.0.
The evening festival doubles as a release party for local art collective Fist City's latest zine – and from the sound of it, it's something everyone's going to be talking about long after the taps are drained.
May 2014's Cry Fest 1 (one of the last shows at Safe//Sound Gallery) featured mostly noise-pop groups on their way to Savage Weekend, a Chapel Hill noise festival. The second chapter in the sob story is a wild, ambitious thing: 13 musical acts, four visual artists/writers, part show, part exhibit, all party.
DJ Boodoo, Ugly Hussy, Orthodox, Twisty Cats, Blackrune Circle Esoteric Orchestra, Cryathalon, Boy Harsher, White Treasure, Crazy Bag Lady, Sunglow, Faeryteeth, Abraham Dankin, Ross Fish, and Kastella comprise the final performance bill.
Some of those folks play out several times a month, but expect nothing like you've heard before. With Cry Fest 2.0 commitment comes stipulations: each artist plays a 15-minute set, and they must try something new and experiment.
"When we reached out and asked folks to play we put a lot of pressure on the 15-minute guideline as a way to play newer songs or to just get up there and improv, do something weird," explains Safe//Sound's Jae Matthews.
Safe//Sound looked to the success and risky nature of prior events to lay the groundwork for Cry Fest 2.0.
"I think we combined the mechanics of Cry Fest 1 and The Last Waltz (the last ever show at the gallery) to come up with the 15 minutes," Matthews says. "And up until yesterday [January 6], we said 'yes' to everyone who asked to play."
"Now we have a pretty huge, unruly bill," she continues, "but I am looking forward to seeing how we are even gonna manage to control it."
With the structure of the event just as unpredictable as the acts, you know it's going to be a show to remember.
Blackrune's Paul Goerner has been experimenting with styles and collaborations for years now, crafting delicate mechanisms and Moorish heaves with all manner of instruments. The Blackrune Circle Orchestra is a brand-new endeavor.
"This is a Paul-led deviation of Blackrune that has a couple special guests," Matthews hints.
Cryathalon, Triathalon's Adam Intrator and Chad Chilton, is perhaps as much a reference to the event as to tears shed in Triathalon guitarist Hunter Jayne's absence (he's on tour with Wet Socks). This project will be an experimental spinoff of their typical soulful surf-pop fare: rumor has it, Cryathalon will be playing a distorted interpretation of R&B. Intrator's love of '90s smooth jams sure comes through in his vocals, so we'll see how far the boys can take it.
While many Cry Fest performers have haunted the Hang Fire stage before, some will be up there for the first time. Blake and Peter Mavrogeorgis of Dollhouse Productions are frequent supporters of the venue; at Cry Fest 2.0, the husband-wife duo will unveil their band, Twisty Cats.
"Twisty Cats began in our apartment in New York during drunken, late-night GarageBand recordings many years ago," Blake explains. "We are resurrecting these pieces and trying to turn them into full songs."
As performers explore new sounds onstage, attendees can grab a copy of Fist City's latest zine and peruse stickers, shirts, prints and artwork from contributors Clayton Walsh, Gordon Rabut, Lomaho Kretzman, and Brooke Schwartz.
This isn't the first time that Safe//Sound and Fist City have teamed up; they're all pals, and Fist City had their first exhibit at the Safe//Sound Gallery.
"They are very, very talented, and their work is amazing," says Matthews fondly. "So what better way to celebrate them than throw an insane party full of chaos and booze?"
Could be better with a fog machine. Oh wait! They'll have one.
United as Fist City, Walsh, Rabut, Kretzman, and Schwartz show a curatorial eye for the visually arresting and lowbrow—think truck stop America through the lens of an episode of Pee-Wee's Playhouse with a powerviolence soundtrack. From Rabut's meticulous mark-making to Kretzman's loose but intensely expressive line drawings, Fist City's publications are hilarious, rough-around-the-edges, sincere love letters to handmade art and the visual narrative.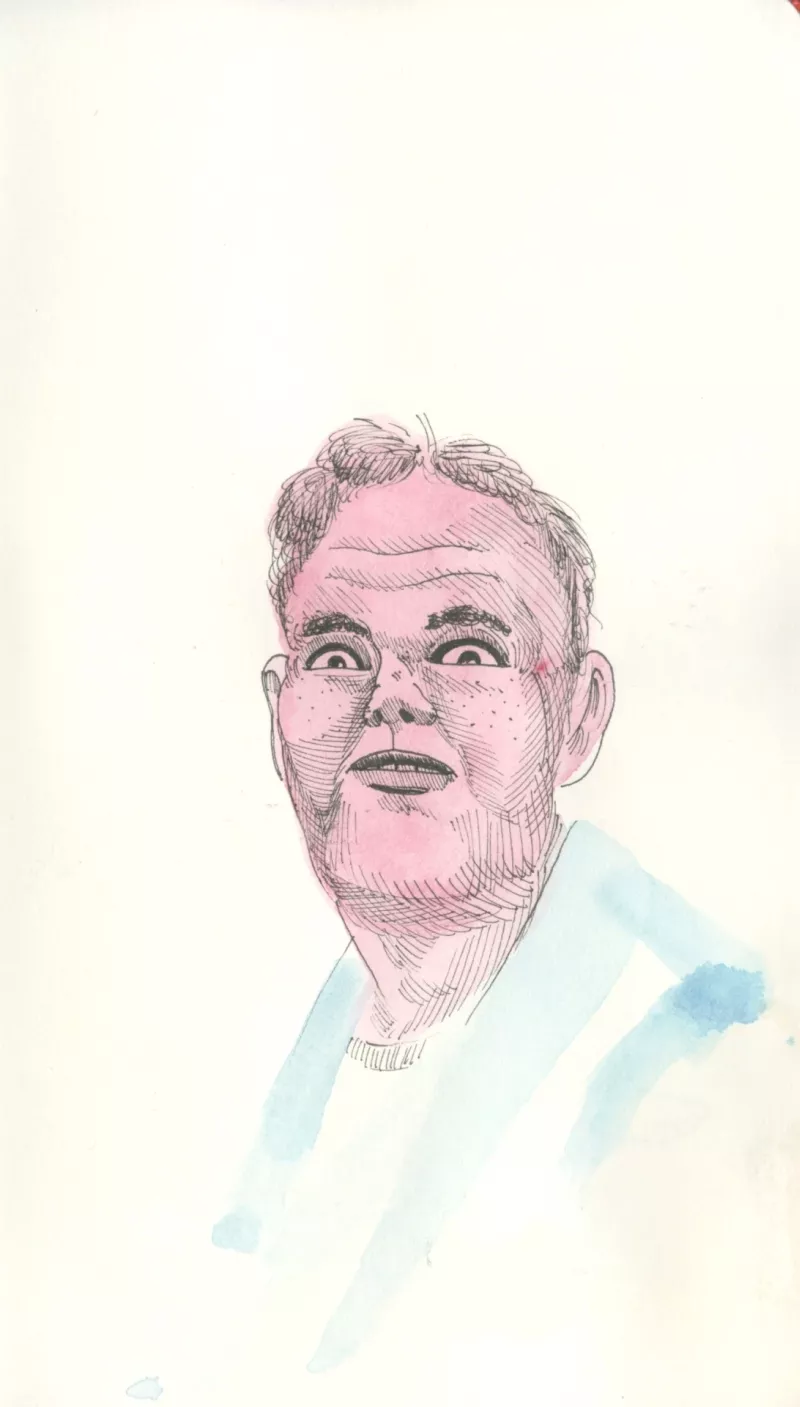 Schwartz, in addition to contributing writings to Fist City's publications, will take the stage as White Treasure. He's been performing under the doom-rap moniker for a couple of years now, popping up occasionally to deliver intense, tongue-in-cheek sets.
Bring some cash for Fist City merch, and photos, too: Polaroid Queen Emily Earl will be on-hand to help commemorate the evening with an analog photo booth. Polaroids are $5 a pop.
"I am hoping to be surprised for the most part," says Matthews. "And I think this condition will also push people to experiment, making the show feel a lot like the shows we had in the gallery."
CS