Oysters are a staple of coastal cuisine. Served raw, steamed, roasted or fried, these beloved bivalves are top-tier offerings at many of Savannah's local seafood restaurants.
Oysters are lauded for their briny flavor and soft texture, so much so that they have an entire day celebrating their impact on the culinary world. If you didn't know, August 5 is National Oyster Day, and there's no better way to celebrate than by enjoying these ocean delicacies at a local restaurant.
Here's a quick round-up of where to get the best oysters around town just in time for National Oyster Day.
Sorry Charlie's
At the top of our list is Sorry Charlie's, a City Market oyster bar serving up succulent shells for your shucking pleasure. Sorry Charlie's boasts the freshest oysters in town, sourced locally and across North America. They offer their oysters in a variety of ways. Enjoy them raw on the half shell with Sorry Charlie's signature hot sauce, mignonette and house cocktail sauce, or have them roasted. The Butter Garlic and Parmesan oysters don't disappoint. Neither do the Casino oysters, which are served with roasted red peppers, jalapeno, bacon and aged Parmesan. Sorry Charlie's also offers a unique take on the Rockefeller, featuring kale, bacon, jalapeno and local shrimp. They also have a delicious Oyster Po-boy. No matter how you have them, you're sure to enjoy the fresh, tasty oysters at Sorry Charlies.
River House Seafood
Located on River St., you'll find River House Seafood, a locally owned and operated fish house known for its Southern seafood specialities. Here, you can enjoy oysters several ways. For a no-frills preparation, order a half dozen or dozen on the half shell raw or steamed. If you like a little crunch, go for the Fried Oyster Platter. The oysters are hand-battered and served with sour cream and chive fries, house-made coleslaw and tartar and cocktail sauces. If you like your oysters along with other seafood staples like shrimp, crab and mussels, try the River House Seafood Boil.
Common Restaurant
Common is a Broughton St. restaurant that is known largely for its appetizing brunch options. But beyond brunch, Common also serves up a great selection of fresh raw oysters sourced from James River in Virginia. Their house oysters come on the half shell with Bhuna cocktail sauce and sangria mignonette. They also offer them smoked in hickory and chilled. They have a variety of other creative preparations including caprese, chimichurri, ponzu, gin and tapenade, and mezcal and ghost pepper. They also offer two dozen raw oysters with a bottle of Champagne Brut, which is a great option for special occasions.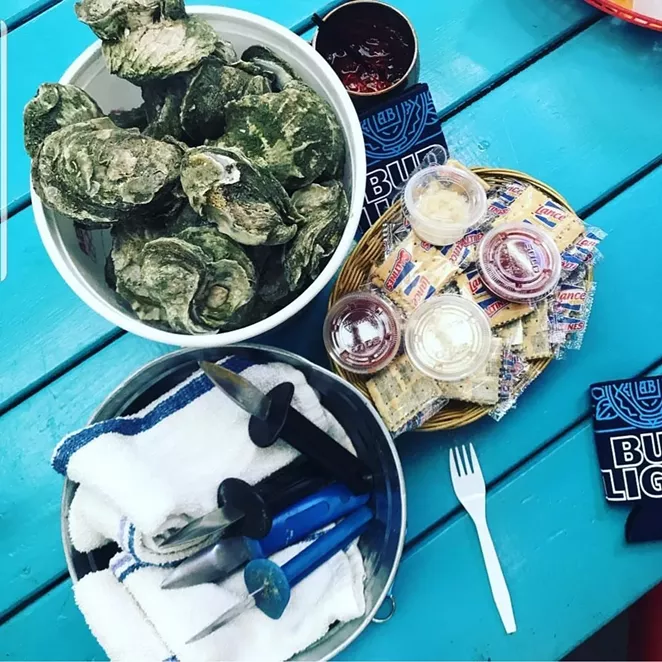 Bernie's Oyster House
Just a short drive from downtown to Savannah's beach, Tybee Island, you'll find Bernie's Oyster House. You know the oysters must be good when they're included in the name. At Bernie's, oysters aren't just another seafood offering, they're the primary appeal. You can enjoy them raw, steamed or fried by the half dozen or dozen and served with horseradish, cocktail sauce and crackers. You can also order a tub of oysters, so you can fill up on your favorite mollusk.
Alligator Soul
Alligator Soul is a fine eatery on Barnard St. known for its farm-to-table seasonal cuisine. They don't offer oysters in a number of ways like other restaurants on this list, but the one way they do prepare their oysters makes Alligator Soul worthy of inclusion. Their Oysters A La Soul are downright delicious. It's oysters on the half shell stuffed with bacon, crawfish, mirepoix and scallions in a creamy roux. They're topped with fresh parmesan bread crumbs, baked to perfection and served with lemon wedges and creole belle habanero hot sauce. It's definitely a unique and flavorful spin.