HAZA is Savannah's latest art gallery with the sensibility of a gallery in a larger art market.
Christina Zanetti, founder and creative director of HAZA, named it in honor of her complicated relationship with her mother, who introduced her to the art world. Her mother is Hungarian, and haza means home in Hungarian.
The physical gallery space is in the Stables, a warehouse of artist studios on Rathborne Drive.
Currently, HAZA exhibits artist Bin Feng's work, a multimedia collection including a trailer hitch full of Feng's toy collection.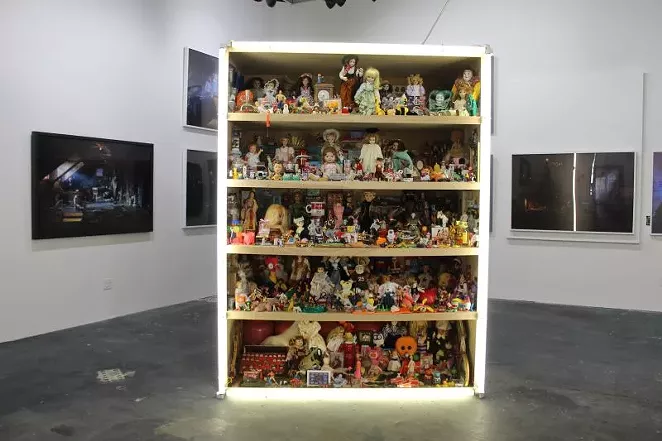 We spoke with Zanetti and Feng last week at the Stables.
How long has HAZA been in the works?
CZ: I've been planning this since junior year of college. In September I began materializing it. In December I had a private opening for Cynthia Knott, one of the artists I represent, and we just had Bin's opening May 24. Currently I represent eight artists. Cynthia and I met when I moved back from Miami—I was directing a galley in the Wynwood area. We used to work together at Kessler's mansion, and we hit it off because we're both from Long Island. She introduced Bin and I.
How do you choose which artists you represent?
CZ: It's based on the artist themselves and their vision for themselves and their work and what they bring to the table. Of course, I have to be passionate about their work. Before I met Bin, I saw "The American Dream" series at an open studio and I was floored. It worked out word of mouth, having lived in Savannah.
How did you decide on this location for HAZA?
CZ: I've looked at a lot of property with my realtor and I was working with my investor in New York, who's backing my vision and my concept for the gallery. We needed a jumping-off point, planning these shows for Bin, then Maggie [Hayes], then my Brooklyn-based artist Nima [Veiseh]—we've got to get these shows out.
Bin has worked with Ryan [Lawrence] and Sarah [Sandin] who lease out the studios here, and they built the gallery back there. He knew them and he mentioned it to me, so we came over here and I was like, "Yeah, let's do it." I leased this specific space for the next five months. Once those five months are done, I'll reevaluate whether I want to stay here, but I am looking at properties closer into town.
Tell me about the exhibition.
CZ: Bin has been marketed from his time at SCAD as being a photographer, so this is his first time showing his mixed media sculptural work.
BF: I was a sculptor when I was in college. I studied photography, but I made installations as well. I've been doing this for five years. Studying in the United States, I made a lot of work other than photography, so I decided to showcase the different art with Christina. The artwork is a five-year collection.
CZ: That's what I like about all the artists I work with and work for. They're not one-trick ponies. They're always pushing themselves to explore.
What's the story behind this trailer installation?
BF: I'm driving my trailer around to deliver all the shows, and it becomes a part of everyday life. This lets me showcase the toy collection I have. I stop at every antique shop along the coast; I take the benefit of traveling. It's two, three years' worth of collection.
Tell me about The American Dream series you did.
BF: The language barrier was the motivation. When I first came here, I was learning the language and I struggled. I had the desire to get connected, to be involved. This is my visual diary of real life. I'm always putting myself in the image to represent a group of people; it's a character.
What's your ultimate goal for HAZA?
CZ: I do love Savannah and I consider it home at this point, but coming back from Miami, I wanted to bring a legitimate gallery back to Savannah. I give artists I found weren't getting the right amount of exposure they deserved, the exposure. As a long-term goal, I'd like to have five or six sister galleries around the country, maybe internationally, and expanding the roster as I grow. Partaking in the art fairs is a big thing. Gallery shops are fine, but people confuse what a gallery is and what a retail shop is. I'd like to help develop the scene in Savannah in my own way.
What do you think Savannah could stand to learn from art markets like in New York and Miami?
CZ: The art business is a very weird, complicated business. Pricing the work and not ruining an artists' career by lowering the prices to where nobody will want to invest in collection. I tell my artists it's not a dictatorship. I like transparency and honesty with my artists. I want them to have a say in how their show goes, who they want to invite, how they want it to look. Art dealers and gallerists get a bad rep, but there are good ones out there.
CS