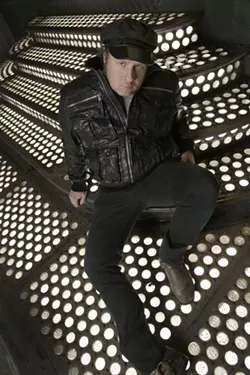 A PEEK into one music video, and it's clear: Jonny Couch is an animal.
Belting over synths in a bubble bath, clad in a signature leather fisherman's cap, dishing out wildly exaggerated facial expressions, cracking whips, downing a slice of pizza on the toilet: perhaps the "Animal Instinct" video shows Couch at his most vulnerable, but it's also his most overzealous, and his most entertaining.
As the VHS tracking adjusts, it's easy to slip into the Tim and Eric absurdity of Couch's aesthetic, but for all the '80s-lampooning and cartoonish acting, there's a genuine heart to the tunes on Couch's debut EP, "Animal Instinct." Over five tracks, cut at Savannah's own Dollhouse Productions, New Yorker Couch unveils a character that's often misunderstood: untamable, too hard to handle, restless.
"I thought you knew the deal with me," he woefully croons to a lover in the album's title track. By the final seconds of closer "State of Mind," one should have a clear picture of Couch's deal: on a bed of pillowy, '80s-style synth ballads and boisterous power-pop, all silliness is reflected back with a true sense of musicianship and earnestness.
Being the center of attention is new for seasoned player Couch.
"I started out as a drummer, just a drummer, in bands, basically doing whatever people told me to do, playing drums to their songs," he explains.
In the mid-2000s, Couch formed The Choke, a pop-infused punk band with vintage flair.
"I finally became a writer," he shares. "I was the drummer in that band, but I co-wrote all the material with the guitar player and became more of a songwriter."
Now that he's "gone solo," Couch has moved from behind the drum kit and to the edge of the stage.
"I have a full backing band, so I can go crazy and just sing and jump on audience members," he laughs.
Stepping into the spotlight was a little nerve-wracking in the beginning.
"I'm not used to being the lead singer," he says. "It came out of necessity, to just want to do my own music. This particular album is more me than anything else I've done, because I'm writing all the material myself. Luckily, I've done standup in college, and that's actually worse, because then you don't even have a band backing you up onstage. You're vulnerable. Because I've done standup, I was able to become a frontman with a backing band. It made it much easier."
The lineup of Couch's backing band varies from town to town when he tours.
"Right now I have three different backing bands," he explains. "East Coast, West Coast, and the Southern band."
Couch looks forward to returning to the Southern band, aka his "Savannah All-Star Band," featuring members of Street Clothes, Wet Socks, and Dollhouse's own Peter Mavrogeorgis.
The producer/engineer/Twisty Cats member and Couch go all the way back to New York City.
"I've been getting in trouble with Peter for a long time," Couch says with a grin. "He's one of the first people I met when I moved to New York in the early 2000s. We always kept in touch; I always wanted to do more recording with him, I never got to work with him as much as I wanted. When I started this new project, I thought I'd try to record a song down there with him. The collaboration went so well I decided we had to put a whole album together. I think the solo project happened by accident as a result of us having such a good time in the studio."
"Animal Instinct" was a true collaboration between Couch and Mavrogeorgis, with Couch handling all of the drums on the album and Mavrogeorgis playing all the guitars and bass and contributing backing vocals. Listen closely, and you'll detect more familiar voices: that's Blake Olmstead Mavrogeorgis chiming in on backing vocals and harmonies and Laiken M. Williams on closer "State of Mind."
"He's an amazing guitar player," Couch says of Mavrogeorgis. "I'm terrible at guitar and bass! I write everything on keyboards and guitar, but I'm a terrible guitar player. I'm a great drummer, so I do the drums. [Mavrogeorgis] brings out the flavor of the song with his musicianship, and he's also a great engineer. So technically, he knows how to do everything, and he has a great sense as a producer. If, on one song, I'm looking for a feel, I want it to sound like this record from the '70s or '80s, he'll know how to do that, and he'll have his own idea of what a song should sound like. He'll help me craft the songs to get the feeling of whatever album, whatever song we're trying to emulate in each recording."
"Animal Instinct" is available on vinyl through Get Hip distribution the day before Couch's El-Rocko show. Having spent time here while recording the EP, Couch is looking forward to his Georgia return.
"My first show in Savannah was at El-Rocko," he remembers. "I was one of the first acts to ever play there. I'm excited to be back and hang out with all my Savannah friends."
CS