On Wednesday, Aug. 31 at 11 a.m., a crowd gathered at 125 Fahm St. for a ribbon cutting ceremony celebrating the new Parker's House: A Home for Women. The newly renovated facility will provide emergency housing to unaccompanied homeless women in the Greater Savannah area. The house is the combined effort of Union Mission, a local nonprofit that intervenes for the homeless population, and Parker's, which is a convenience store brand with locations throughout Southeast Georgia and South Carolina.
Parker's House features 16 furnished bedrooms and eight full bathrooms and is complete with a common kitchen, spacious living room, dining room, computer room, laundry room, learning center, mental health counseling space and an idyllic outdoor courtyard where women can relax. The house walls are beautified with photography from Robin Maaya of the Savannah College of Art and Design. There are also inspirational quotes throughout the building, fostering a sense of hope, comfort and positivity. The house can accommodate 32 women for 90 days. In addition to the facility, Parker's House will deliver comprehensive services to the women in need.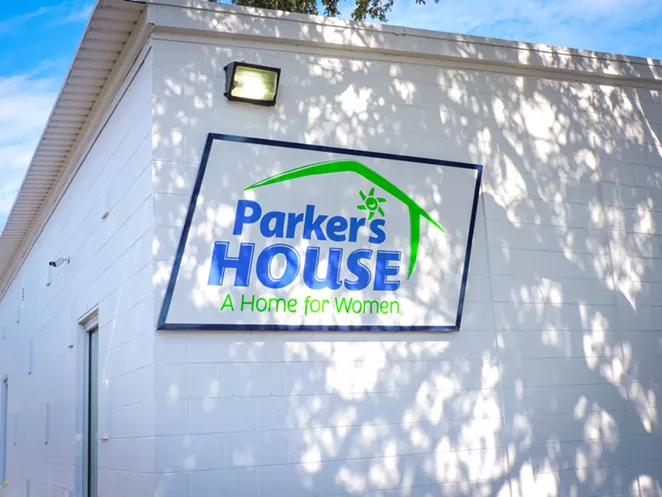 "Women coming here will get a mental health assessment. They'll get food, clothing, transportation, employment support as well as intensive case management . . . There's all sorts of enrichment, peer groups. We have the whole mental health counseling center here. So they'll have a full array of wrap-around services, which means a lot in terms of getting individuals into stable housing. Ultimately, that's our goal," said Michael Traynor, Union Mission President and CEO.
There are an average of 180 women facing homelessness on any given night in Chatham county. And 40 percent of homeless women have faced sexual assault, while 70 percent have faced physical assault. For these reasons, women who are housing-insecure don't always feel comfortable going to co-ed shelters. And prior to the opening of Parker's House, these women would have to travel lengthy distances to find a women's only shelter.
"[Parker's House] is the only shelter that's dedicated solely to women from Florida to South Carolina along the I-95 corridor. You'd have to go to Augusta, Jacksonville or Charleston to find another one like it," Traynor explained.
The house is fulfilling a critical need that will serve more than 100 women annually. Greg Parker, Parker's founder and CEO, is excited about the partnership with Union Mission and how the housing program will help stabilize and improve the lives of homeless women.
"I'm very excited about the fact that what the Union Mission is doing is going to help create a better future for the women who do come here. Some of them are hungry. Some of them have health issues. Some of them have mental issues. Some need help finding jobs. And that's what Union Mission does. Union Mission is a critically important part of our community, so I'm thrilled to be a part of it," Parker expressed.
Women are the core target market for Parker's, and having an opportunity to assist the Union Mission in serving women in need was a major draw:
"This really resonated with us because our brand has been focused on women. Our brand's filter and the focus through which we look at everything is the working mother, and it's been that way for over 25 years. So we felt that there was a need, and when we were asked, [we decided] to step up," he added.
In addition to providing funding for the house renovations, Parker pledged more financial aid to help support continued services provided through Parker's House, vowing to match $100,000 in donations to further assist operations.
Various organizations and local leaders and philanthropists have come together to join Union Mission and Parker's in making Parker's House a reality. And Traynor took time at the ceremony to thank them all.
"The need to expand our emergency housing to unaccompanied homeless women would not be possible without the support of our founding circle members and other generous philanthropic, community-minded supporters," he expressed. "We know Parker's House is going to be transformative and provide the tools unaccompanied homeless women need to lift themselves out of homelessness and into a promising future," he continued.
Many community figures were present to celebrate the opening of Parker's House. Attendees included Commissioner Bobby Lockett, Union Mission Board Chair Neilie Dunn, local celebrity Paula Deen, and various business leaders. Mayor Van Johnson was also in attendance for the ribbon cutting ceremony and addressed the crowd:
"We're not the most beautiful city because of how we look, we are the most beautiful city because of who we are," he began. "When you look at a community that has come together, to work together, to be able to address a common cause, that is the mark of a great community. That is the mark of a beautiful community. And Savannah is that. . . We fully recognize that it's not a crime to be homeless. It's a crime not to do something about it. . . Because of this effort we'll be able to take care of 100 unaccompanied women who are finding their way. . . The greatest thing about our community . . . is that we can do good work together. And we don't care who gets the credit."
Parker's House officially opened its doors to homeless women on Tuesday, Sept. 6. To learn more about Parker's House and the services they provide, visit unionmission.org/parkershouse.