or as much time as we spend talking about the food scene around here (disclaimer: That is all I do), it is hard to fathom why Savannah doesn't have a major food festival event on the calendar. The Savannah Food and Wine Festival went away after 2019 for more reasons than we have time for here, and nothing has really come along to take its place. Until now.
The Heritage Fire Tour is a 14-city series of one-day events making its way across the country. A traveling food festival, if you will. Chefs from a particular city/region are invited to participate, and it doesn't take much to get them to show up. They've been doing so since the first event in Napa just about 13 years ago.
Originally it was called Cochon 555 and developed a solid reputation and serious following throughout the industry. On April 16, they'll be here in Savannah.
The original intent with Cochon over a decade ago was to create an event that was focused on education and camaraderie amongst chefs. The foods are prepared largely over an open fire and sourced locally, with sustainability a major factor in what is offered.
Sounds like a fancy-pants backyard cookout, doesn't it? Well, that's because it kind of is, but the food is a few steps above Nana's potato salad and coleslaw. The entire Heritage concept is based upon locally raised proteins in support of local farmers and purveyors. The antithesis of industrial agriculture.
"Exactly what is prepared varies per chef, proteins, and vegetables," says Lauren Melamed, Senior Marketing Director for A21, the parent company that is putting on this tour. Their approach is serious business. A21 is responsible for nearly 2 dozen major festivals nationwide, including the Atlanta Food and Wine Festival, South Beach Food and Wine, as well as New York City Food and Wine. Serious business, indeed.
"There will be pigs, ducks, fish, and of course, shrimp," Lauren says. "It used to be a very formal competition. Now there will just be a 'consumer vote' prize awarded to the best dish.
The local lineup is outstanding. Practically a who's who of some of Savannah's best restaurants will be represented, including Common Thread, Folklore, Emporium Kitchen and Wine Market, Farm Bluffton, Fleeting, The Garage, Late Air, and Rhett. The lineup should feature 20 chefs.
"I'm super stoked," says Victoria Shore, newly named Executive Chef at Fleeting in the Thompson Hotel. "I've always loved live fire restaurants. I love getting to work with the smoke and the grill and the nuance. It's not as failsafe or predictable as some of the other techniques that we use here (in a restaurant)."
"Cochon 555 in Atlanta, I never personally got to attend, but a lot of chefs that I worked with did, and it was a huge success. They really enjoyed it."
She isn't the only one that is excited. A lot of times chefs will turn their attention to a particular weekend a few days out. I can tell you this is different. I've been hearing buzz and excitement from a handful of participants as far back as January and various points along the way.
They are clearly fired up. Pun very much intended.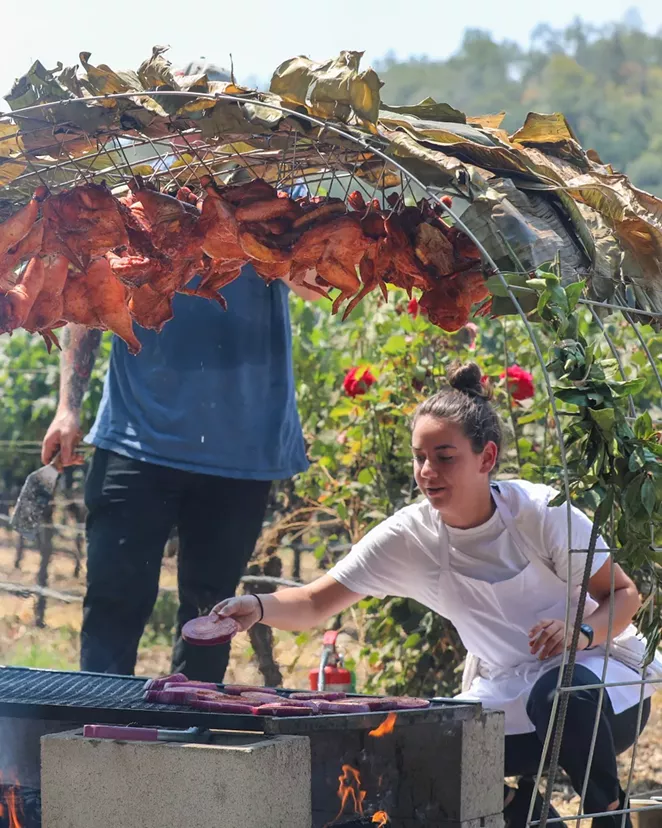 They are expecting roughly 600 people at the 3-hour event at The Westin Savannah Harbor. All guests are entitled to unlimited food and drink, including specialty cocktails, wine, and craft beer. It is a 21-plus event, and while it is entirely outdoors, the puppies are not welcome.
General Admission will set you back $125.00. VIP Tickets (which provide you 45 mins early entry) are $175.00. Not a bad deal for one of the best food days of the year in Savannah.
The Heritage Fire Tour will stop in Savannah on Sunday, April 16, from 4pm until 7pm. You can see more of what it is about and a link to tickets now at heritagefiretour.com