ON GAME NIGHTS at Grayson Stadium, the excitement in the air is palpable.
The crowd scrambles for a seat well before the start time to catch a glimpse of the main attraction.
Just before the first pitch, there they are, sauntering onto the field, all in matching outfits and ready to bring the house down.
The crowd takes note and the din turns into a roar as eleven of Savannah's finest sexagenarians start shaking it to Thriller.
Wait, who did you think I was talking about?
Anyone who's been to a Savannah Bananas game knows that sure, the ball players are pretty damn good, but the Nanas are the stars of the show. Led by head Nana Karen Olenick, the hottest dance group in town is comprised only of ladies age 65 or better.
The Nanas get three chances to shine on the field: one routine in the character parade, one in the pregame show, one during the game. Each set is 90 seconds of dancing to crowd pleasers, from Prince to Justin Bieber and anything in between. They swing big yellow bats for Trace Adkins' "Swing" and wear big sunglasses and fake hair for Lady Gaga's "Bad Romance."
The Savannah Banana Nanas have been around as long as the team. Olenick remembers owner Jesse Cole coming to her five years ago, before the baseball team had even begun, with a video of a senior dance group at a basketball game's halftime.
"He said, 'This is what I want. Can you do it?'" she recalls. "But they were all not in sync, and I said, 'We can do better than that!'"
At the time, Olenick was leading dancers at Smart Senior over at St. Joseph's/Candler. She was able to bring six ladies to the Nanas, but to round out the league, she had to get recruiting.
And recruit she did. Agnes Brantley and Elaine Wilson met Olenick at Generation One. Diane Kastick saw the Nanas at a Christmas party for seniors. Kathleen Watson met her in the doctor's office.
After a while, word spread about the Nanas. Cindy Goldberg watched the Nanas dance at a game and decided to join, then invited Gail Case in her YMCA dance class to join. Sharon Jacobs' daughter pushed her to join, knowing it was right up her alley.
Every Nana must be at least 65 years old, but you'd never know that from watching them move. They practice three days a week for two hours each. The Nanas invited me to sit in on their practice at the Zoo Health Club, and just watching them put my own moves to shame.
Before the pandemic, Goldberg, who's 77 years old, would join the baseball players in doing push-ups on top of the dugout.
"I just thought to myself, 'I know I can do that, too,'" she says. "Three or four times, I'd get up with the players and do that. I think I got a lot of recognition, of people saying, 'That's amazing you can do that.'"
For seniors, getting up and getting active is a benefit to their health in all aspects, from physical to mental to social.
"With the virus going on, everyone's stuck in the house," says Linda Socks, noting that dancing with the Nanas is a fun shake-up to her typical gym routine. "I was bored, and I needed to do something with an outlet."
While some of the Nanas have previous dance experience—Olenick line danced for 23 years before moving to Georgia from New Jersey, and Kastick was a ballroom dancer in a showbiz family—many of them are newbies to dance and performance.
"I'd never danced on a team before," says Case. "I was like, 'Okay, this is a leap!'"
"I had to get rid of a fear," remembers Jeannette Grayson, "and that was the fear of getting out in front of all those people and making a mistake. I got over that. I made a mistake out there and the fans loved it anyway!"
All the ladies praise Nana Karen for being a great and patient teacher. Brantley and Socks also help out during practice, taking the dancers aside if they need more help learning a step.
The camaraderie between the Nanas is clear through their eagerness to help each other out.
"I've been in a lot of girl groups, and these girls are the best girls. No nitpicking, no cliques," says Wilson. "If you need something, there's somebody that's always there and you don't feel bad about going up and saying, 'Hey, I didn't get this; can you help me with this?' All the girls are great."
The Nanas are also, incidentally, great role models for senior women.
"The thing I like the best about the idea of the Banana Nanas is that in our society, I think older women are often marginalized and invisible, which drives me nuts," says Kastick. "I love that you see a bunch of women 65 and better featured, and the fans go crazy when we come out."
"Girls just want to have fun, but so do old ladies!" adds Case. "There's not a lot of opportunities to go somewhere and dance, not a lot of places for people our age to really just dance like you want to."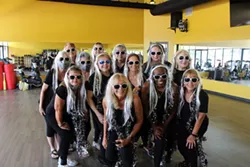 At Bananas games, even if just for a few minutes, older women have a chance to shine in the spotlight for their adoring fans. The Nanas have quite a following, and younger women—my own mother included—can't wait to join their ranks.
The Bananas season has been a bit different this year because of necessary pandemic restrictions. Capacity in the stadium was reduced by half to allow for social distancing, and everyone entering the stadium is required to have their temperature taken.
What about the Nanas, who are all part of an older demographic that's more at risk? They took the restrictions in stride—they get their own row in the stadium, and they had to cut their dancers from 16 down to 11. (The Nanas that I did not get to interview are Sandy Sikes, Barbara Floyd, Dorre Miles, Sharon Seng, Roe Zaplinski, and Tara Gates.)
They feel safe in the stadium and with each other, and they love that they're able to continue performing for their adoring fans.
When the Bananas season ends on Sept. 3, the Nanas will take some time off from performance, but preparation for the next season begins with tryouts in the winter. It's pretty low-stakes: every Nana who tries out gets in, as long as she's 65 years old. That age limit is quite strict.
But even when they're not performing, the Nanas are still friends that stick together. Their camaraderie has been a major perk of their involvement.
Says Nana Karen, "This is just a wonderful group of women."
CS